Over the last two and three-quarters seasons, Ben Bishop has been an absolute workhorse for the Tampa Bay Lightning. Their number one goalie since the 2013-14 season, Bishop has played in over 60 games in each of the prior two seasons and needing only 15 more to reach that mark with 23 games left on the Lightning schedule, barring an injury, he should top that mark again this season.
To illustrate how difficult this level of work is to achieve, only three other NHL goalies have played over 60 games in the two previous seasons: Marc-Andre Fleury in Pittsburgh; Kari Lehtonen in Dallas; former Lightning goalie, Mike Smith in Arizona. Lehtonen and Smith are not on target to surpass 60 this season. Fleury needs 17 more games in the Penguins remaining 24 games to reach the yeoman mark of 60 for the third consecutive season.
Of these four netminders, Bishop has won 101 of the 170 games he has seen action in for a .594 winning percentage. Fleury is second in terms of effectiveness winning games at a .567 clip. So, for sheer resolve and fortitude, Bishop has played more games than just about any NHL goalie since the start of the 2013-14 season and has won close to 60% of those games.
High Performance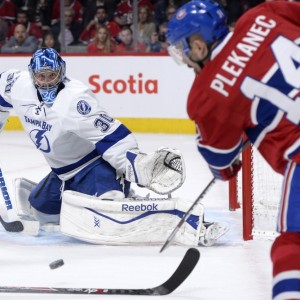 Let's look at some other key goalie stats to see where Bishop fits. This season, of goalies who have played 35 or more games, Bishop ranks sixth in save percentage, tied with Henrik Lundqvist at .923.  I chose 35 games because at this point of the season that would be approximately 60% of the games played signifying a bona fide number one goalie.
In goals against, of all goalies who have played 35 or more games, Bishop ranks third in the NHL allowing 2.13 goals per game. Trailing only Cory Schneider of New Jersey and Petr Mrazek of Detroit. Clearly, on stats alone, Bishop has and continues to set himself at the top of the pack of goalies in the NHL.
What really escalates his stature in my opinion is that he has done this for a lengthy period of time. Two seasons ago, Bishop was one of three finalists for the Vezina Trophy, awarded annually to the league's top goalie. An honor like that is truly notable but even more impressive when you realize that it was the very first season in which Bishop was a number one goalie for any team in the NHL. Statistically speaking, this season is even better than two years ago when he lost the Vezina to Tuuka Rask of Boston. If Bishop doesn't receive serious consideration this year for the award, there ought to be an investigation.
Stepping Up in the Playoffs
Last season, Bishop playing in his first playoff game led his team all the way to the Stanley Cup Final. Peeling the layers of that playoff onion just a bit and Bishop's performance was brilliant. In the first round against Detroit, Bishop won two road games including a must win Game 6 with the Lightning down three games to two. He then help finish the Red Wings in a masterful Game 7 2 – 0 shutout lifting the Lightning to the second round.
In the second round against the team that swept the Lightning out of the playoffs in the previous year, Bishop stayed hot. Winning the first two games of the series in Montreal to give Tampa a comfortable lead heading home. After finishing off the Canadiens in six, it was on to the Eastern Conference finals against the New York Rangers.
After dropping the first game of the series by the score of 2 – 1, Bishop hunkered down and won yet another road game to bring the series back to Tampa tied at a game apiece. Heading back to Madison Square Garden tied at two games, Bishop pitched another gem of a shutout in the pivotal Game 5 then as if that wasn't enough, Tampa headed back to New York for Game 7. Again, it was the road warrior, Bishop who stood on his head and shut down and shutout the Rangers to clinch the Eastern Conference Championship and a ticket for the Stanley Cup Final.
The playoff ride for the Lightning ended two games shy of the Stanley Cup. It wasn't due to the efforts of Bishop who won yet another road game in the Madhouse on Madison. If the season before began to make a name for Bishop with the Vezina finalist year, then last season's stellar playoff performance began to etch his name among the best of the best.
To follow the two seasons with the kind of season Bishop is having this year, then he is playing like an elite goalie. Performance? Check the stats on the last almost three seasons. Success? Leading his team to the playoffs two years in a row and vying for their third consecutive post-season appearance. Consistency? In one of the arguably toughest sports, in the most visible position with pucks and players coming at you at lightning speed, Bishop playing 60 games or more for his team and winning almost 60% of those games is about as consistent as there is from any goalie on the planet. Elite? Yes, Ben Bishop is an elite NHL goalie.
Born in Chicago, Illinois. Grew up playing and loving sports. Spent most of my formative years playing, debating, arguing and talking sports. for the last couple of years I have written about hockey. I am currently a Tampa Bay Lightning contributor for The Hockey Writers. I know that I may not always be right, but I am passionate about hockey and it is damn hard to hide that passion in my writing.