It appears as though Peter Chiarelli has decided to take the lead of some of his counterparts and get a jump-start on next week's NHL Trade Deadline. After sending backup netminder Anders Nilsson to the St. Louis Blues earlier Saturday for a prospect and pick, the first year general manager wasted little time in moving what was arguably his only two real trading chips in forward Teddy Purcell and defenceman Justin Schultz.
#FlaPanthers close to getting Teddy Purcell from Edmonton; third round pick. Already have Jiri Hudler headed south from Calgary.

— George Richards (@GeorgeRichards) February 27, 2016
While the return of a third-round pick from the Florida Panthers for the pending unrestricted free agent may not excite many across Oilers Nation, it was about what should have been expected heading into the yearly circus that is the Trade Deadline. After struggling through much of his first season in Edmonton, the 30-year old rebounded with a solid campaign in 2015-16 and in the process, turned himself into a piece Chiarelli could ship out-of-town without retaining salary…which was something that seemed rather unlikely a year ago.
Purcell Continues to Struggle With Consistency
However, let's not forget Purcell has scored just three goals since potting a pair against the Winnipeg Jets in a 3-1 win on December 21st. Not sure about all of you but in my mind, trying to convince another organization to part with a second-rounder or an additional pick for a guy with three goals in his last 26 games, playing almost exclusively on a line with Taylor Hall and Leon Draisaitl, was likely next to impossible. While we do know there were other teams interested, most notably the Los Angeles Kings, no one was willing to go above and beyond what the Panthers offered.
[Related Article: Steven Stamkos, Connor McDavid, and the Edmonton Oilers]
Much like the Nilsson to St. Louis deal, which brought back a goaltending "prospect" in Niklas Lundstrom that will almost certainly never play a game in the NHL and a fifth-round pick in this year's draft, the Oilers accomplished about all that should have been expected. Contrary to what some might suggest, Purcell was downright terrible during his first kick at the can in Edmonton and has been inconsistent through much of his career. With that said, he has proven capable of putting points on the board when playing alongside talented linemates but without a bidding war, they were never getting more than a third rounder in return.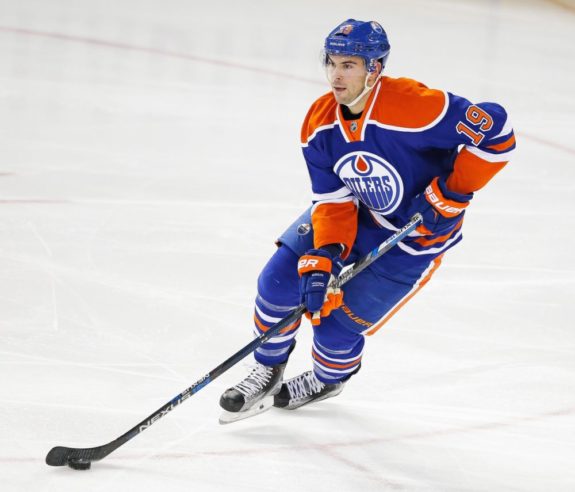 An Experiment Gone Wrong
While the Oilers were able to secure a decent pick from Florida without retaining any of Purcell's remaining salary, they were not so fortunate when it came to moving Schultz. In order to get the Penguins to agree to part ways with their third-round pick, Chiarelli will continue to pay half of the money still owed on the 25-year old's $3.9 million deal. Again, far from an ideal outcome but when one considers how badly this union went for both the player and organization, it was a reasonable return for what has become a tainted asset.
EDM get 3rd round pick from PIT for Schultz.

— Bob McKenzie (@TSNBobMcKenzie) February 27, 2016
For anyone who has watched the former second-round pick of the Anaheim Ducks do his thing over the last three seasons, this should not come as a surprise. After putting together what could only be viewed as a fairly successful rookie campaign under the guidance of former head coach Ralph Krueger, the much-maligned blueliner hit a wall on the development side of the equation. Be it the fact he had to deal with so many different coaches, was forced into a role he had no business being in, was nowhere near as good as advertised or a combination of all three, the results speak for themselves.
[Related Article: Would Chiarelli, Oilers Trade Eberle and Hall?]
While a change of scenery could help revive Schultz' once-promising career, that won't help the Oilers in any way, shape or form. In fact, should the Kelowna native rediscover his game and find a way to live up to his potential, it would not look good on the organization. Unfortunately, that is something this GM can not worry about and to his credit, he recognized the need for a change and did his best to deal with what had become an unhealthy situation for everyone involved.
Finding Cap Relief Was A Necessity
In the end, the Oilers walked away from a rather eventful day with three extra picks in their back pocket and some much-needed relief under the cap. Let's not forget, Edmonton was in danger of possibly having a rookie overage because of potential payouts to Leon Draisaitl, Connor McDavid, and Darnell Nurse but that is no longer the case thanks to yesterday's moves. Had the situation not been dealt with, there was a real possibility the organization would have been hit with a penalty on their cap for 2016-17 that would have been somewhere in the neighbourhood of $2 million.
[Related Article: Should the Oilers Trade Nail Yakupov?]
Add that on top of what will certainly be a buyout of veteran rearguard Andrew Ference this summer and suddenly you are talking about a $3 million shortage on the cap. Luckily for the organization, that is something they no longer have to worry about but you can bet the focus will now shift to the ten draft picks the club currently have in their possession and what they plan to ultimately do with them.
Don't forget. Oilers still owe 2nd round compensation to Boston for Chiarelli signing in either '16 or '17. What's a 3rd and 5th worth?

— Bob Stauffer (@Bob_Stauffer) February 27, 2016
While the Oilers do still owe the Boston Bruins a second-round pick for hiring Chiarelli, according to Oilers NOW host Bob Stauffer, they might be able to parlay a "third and fifth round" pick in a deal with the Bruins that would allow Edmonton to keep their second-round picks in each of the next two drafts. Regardless of how things play out, the addition of three potentially useful assets in exchange for what was deemed nothing more than expendable pieces can only be viewed as a win for the organization and a solid day at the office for Peter Chiarelli.
** Additional Note – Under the current CBA, teams are allowed to exceed the salary cap during the season by 7.5 percent as a result of potential performance bonuses. However, if that is the case at year-end, the overage total is carried over as a penalty on that team's cap for the following season.**