If you had asked me heading into the 2015-16 NHL season if there was any shot of Tampa Bay Lightening forward Steven Stamkos becoming a member of the Edmonton Oilers prior to the start of the 2016-17 campaign, my answer would have been a resounding no. While the chance of the one-time 60-goal man hitting the open market via free agency has looked like a real possibility for some time now, Edmonton just didn't seem like a realistic landing spot.
The latest to mention the Oilers (among others) was Bob McKenzie. Others have mentioned it, esp. Stamkos playing with McDavid.

— Woodguy (@Woodguy55) December 17, 2015
It was  back in mid-December when TSN's Bob McKenzie mentioned the Oilers  as potential suitors for Stamkos but not much was made of it. After all, if he was not going to stay in Tampa Bay it seemed as though the 26-year old was destined to find his way into a Toronto Maple Leafs uniform. While that may be how this whole ordeal ultimately plays out, do not be surprised to see Peter Chiarelli throw his hat in the ring after watching his team suffer through what has been yet another disappointing year in the Alberta capital.
Edmonton Could Be the Perfect Fit
On the surface, it would seem rather odd for Stamkos to even consider signing with a franchise that continues to struggle to find its way out of the basement in the Western Conference standings. However, the one big plus the Oilers have in their favour is a kid by the name of Connor McDavid. Especially when you consider what the two-time Rocket Richard Trophy winner had to say about the 2015 first overall pick during an interview with Craig Custance of ESPN.com back in early September:
"This guy is a special kid," Stamkos told ESPN.com. "I think he's better than me right now. I wouldn't have a second thought on saying that."

Stamkos, 25, also said McDavid is better than he was at 18 years old.

"Oh, he's way better," Stamkos said. "He is good. The best I've seen for a player that age."
Clearly, he is a fan and after being handed the short end of the stick for the better part of the past two seasons under current head coach Jon Cooper, this could be the exact sort of situation Stamkos would thrive in. No question the Oilers still have a ton of work to do but something tells me the opportunity of playing with an elite talent and pushing the 100-point plateau for the first time since 2011-12 would be a rather appealing scenario.
[Related Article: Would Chiarelli, Oilers Trade Eberle and Hall?]
While Toronto will take a serious run at convincing the hometown hero to return to his old stomping grounds, as far rebuilds go, the Maple Leafs are still in the midst of their teardown and have no player who is even in the same stratosphere as McDavid. The current standings may suggest a different story but the Oilers are much further along in their rebuild. Obviously, whatever team decides to set their sights on Stamkos in free agency is going to have to cough up some serious dollars and term but few can offer both the opportunity and money Edmonton can.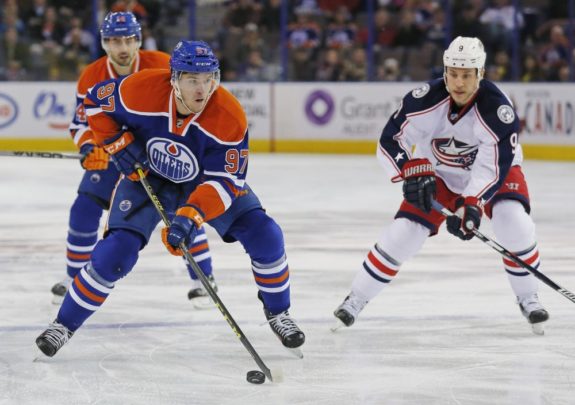 Oilers Would Need to Move Core Pieces
Much of the reason I decided to put together a piece on whether Chiarelli would seriously consider trading both Jordan Eberle and Taylor Hall, was tied to this very topic. It is no secret this team needs to improve its defence and could likely benefit from a shakeup to help try to change the losing culture that has overtaken this organization. In my mind, that can be addressed via trade and in the process free up enough cap space for the general manager to go after replacements for whatever forwards are sent out-of-town.
If the plan is to go big-game hunting, the Oilers would need to have at least $10 million to play with and moving two of their so-called core pieces would free up $12 million. Yes, the guys coming back the other way would probably be making a pretty penny of their own but let's not forget Edmonton will also have somewhere in the neighbourhood of $15 million coming off the books this summer. So in other words, the cash will be there if management wants to take a serious shot at getting this done.
https://twitter.com/loc8ingoil/status/701798349213569024
By the sounds of it, one of the sticking points with Stamkos is he wants to play centre. In my opinion, he probably lets that slide if can play alongside No. 97 on a nightly basis. Should that not be a stumbling block and the Oilers decide to part ways with Eberle and Hall to upgrade their backend, it would give Todd McLellan four centres to use inside his top six forwards. You heard me right, four. Leon Draisaitl, Connor McDavid, Ryan Nugent-Hopkins and Stamkos. Can you say depth and flexibility?
[Related Article: Should the Edmonton Oilers Trade Nail Yakupov?]
Does that mean the Edmonton Oilers are the frontrunners to come out of free agency with Steven Stamkos signed to a long-term pact? Hardly, but the notion that it is just a matter of "when" and not "if" he inks a deal with the Toronto Maple Leafs is just not true. There will be more than a few teams interested in adding the first overall selection of the 2008 NHL Entry Draft to their organization for the next seven years and it is a decision that will likely be far more difficult to make than many seem to think.