Following a one-sided trade with the Chicago Blackhawks, the Montreal Canadiens might just have the Toronto Maple Leafs to thank.
Bergevin Works His Magic
Of course, Canadiens general manager Marc Bergevin deserves a lot of the credit for the deal that saw the Habs acquire a second-round pick and a former-first-round one (2011) in Phillip Danault for pending unrestricted free agents Tomas Fleischmann and Dale Weise.
However, maybe it's the Maple Leafs that set the market ahead of the February 29 trade deadline, when they traded Roman Polak and Nick Spaling for two second-round picks and Raffi Torres.
That said, it's abundantly clear that the Canadiens did even better, and that's not even taking into account the negative-value, ethical albatross the Leafs had to take on by acquiring Torres in their deal.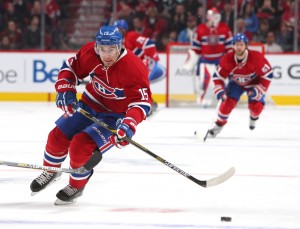 Breaking it down further, the Habs and Bergevin probably even pulled one over arguably one of the league's best GMs in Stan Bowman. Chicago should be building up for a Stanley Cup run, but instead took on the Habs' scraps for two serviceable futures (soon after reacquiring initial-salary-dump Andrew Ladd for much more than they first got in exchange from the then-Atlanta Thrashers).
Fleisch Forward
To be clear, Bowman most likely knows what he's doing. Ladd is a legitimate top-six guy at this stage of his career, with sandpaper. And Bowman? He's got the assets to trade away and the holes (in theory) to fill in his lineup. One would think he could just go about filling them more affordably and with better players.
In Fleischmann, the Blackhawks are acquiring an offensively inclined depth player in time for the playoffs, but one who didn't even get dressed in half of the Western Confernce-finalist Anaheim Ducks' postseason games last season… by his former Washington Capitals head coach Bruce Boudreau, no less. Hell, Fleischmann only got dressed in two of seven games against Chicago last spring (going pointless).
Ultimately, Fleischmann proved this writer wrong when he earned a contract with the Habs out of training camp. He undeniably deserves credit for so doing, as it's an accomplishment rarely achieved by PTO signees. Nevertheless, down the stretch, Fleischmann showed that maybe he gave all he had auditioning for his roster spot.
For example, he had four goals and 11 points in his first 15 games as a Hab, but scored nine over his last 42. That's pro-rated to less than 18 over an entire season, and this is a player that is supposed to help out a Stanley Cup contender? That's the output they pretty much had in 23-year-old Danault, minus his two-way play.
Weise Experiment Over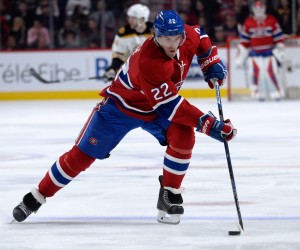 Meanwhile, in the case of Weise, the Blackhawks actually, admittedly, got a depth, hard-working player of value. During his time in Montreal, Weise proved to have above-average speed, size, and even offensive instincts, all of which are assets that have allowed him to get promoted onto the top-line in a pinch whenever needed (or, at times, whenever not by head coach Michel Therrien).
Weise is nevertheless clutch and, even in the bottom-six role he will most likely be playing in Chicago, should chip in the odd critical point this upcoming postseason. However, from Montreal's perspective, they had nothing to lose trading him, as he would have likely commanded a huge raise from his current salary after he passed his career-high 10 goals from last season in December of this one.
It's ironic though that this move to Chicago may actually prevent him from even reaching his career-high 29 points, from which he's just three away. It remains to be seen, in other words, how offensively effective Weise will be in his presumably new, better-suited role.
So, as mentioned, they had nothing to lose and they really didn't lose anything either, considering the Habs acquired Weise from the Vancouver Canucks for Raphael Diaz, who's not even an NHL player anymore. As such, there's really no way to badmouth this trade.
In essence, seeing as Montreal didn't have to give up anything to sign Fleischmann, the Habs essentially transformed a current American Hockey League defenseman into an NHL-ready prospect and a potential future one with the second-round pick.
Sure, the pick may only be in 2018, but it's not as if Montreal was in a position to be picky. They were already getting much more than they should have in Danault. The pick is gravy. That they're in theory getting worse as a result of this trade in the short term, to hopefully get a higher draft pick this summer? Their cake, to eat too.