Montreal Canadiens forward Dale Weise is a lot of things. He's a hard worker. He's deceptively fast. He's already hit his career high in points (17). And, yes, he's even a first-liner right now.
All these things, but there's at least one thing he most certainly is not: Someone who should be on the ice in the final minute when the Habs are in need of a goal. And, yet, on Sunday afternoon, there he was, with the Habs trailing 3-2 against the Arizona Coyotes, in the offensive zone.
No Excuses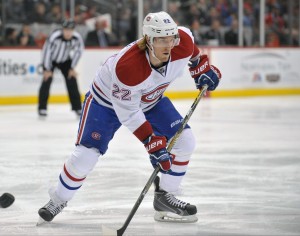 Needless to say, Montreal was not able to pull even, embarrassingly falling to one of the worst teams in the league, one day after that team lost 7-2 to one of the not-so-great teams in the league in the Ottawa Senators.
Granted, the loss isn't solely on Weise's shoulders. Nor is it on goaltender Dustin Tokarski, despite letting in three odd goals, the second of which was just a hair better than Toronto Maple Leafs goalie Jonathan Bernier's gaffe on a shot from center ice against these very same Coyotes last week. And, at this point, being a hair better than the Leafs is essentially being all but bald with one hair remaining.
No, this loss was an entire team effort. It had been several weeks in the making too, dating back to Montreal's impressive 6-4 victory over the New York Islanders back on January 17, the last time Tokarski was in nets. Afterwards, Montreal turned the net over to a healthy Carey Price who proceeded to allow just three goals over the next four, being named the league's first star of the week for his efforts.
The Dale Weise Experiment
Despite the four victories by Price, the Islanders victory was the last decent game the team played as a unit. It was also the first of six straight games head coach Michel Therrien opted to move Weise onto the first line.
Now, Weise deserves props in that he did score in that Islanders game. However, he's only earned a single assist since, with the production of linemates Max Pacioretty and Tomas Plekanec also going south by way of the toilet.
Pacioretty only has two goals, Plekanec a single assist since the Islanders game, when the latter had four and the three together exploded for seven points total.
There's little denying that Pacioretty's two goals have both been dramatic and all-important game-winners. However, considering prior to the Islanders game, Pacioretty had been on a six-game goal streak and that he scored 39 last season, one has to seriously wonder the following: Isn't it more likely Pacioretty's two game-winners have more to do with him than anything Weise brings to the table?
Isn't it more likely that Pacioretty scored those two goals in spite of Weise, not because of him? And, finally, isn't it possible that Pacioretty would have had more goals, at least more scoring chances if someone else were on that line instead?
Yes, Montreal had one good game with Weise on the first line. However, following that game, Montreal's offense dried up faster than exposed hands in -40-degree weather. It went just as cold too.
Silver Lining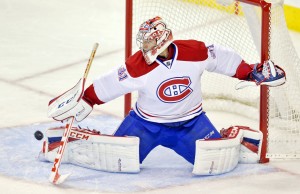 Sure, Price might have only allowed three goals over the next four games. However, Montreal scored just seven, less than an average of two. They also got outshot in three of the four and 139-109 in all. And, yet, Weise stayed on that first line because the team was winning.
I mean, why mess with a good thing, right? Even though it's clearly not that good of a thing… like smoking. It takes the edge off after a hard day's work right? Where's the harm?
That's why this loss to Arizona is a blessing in disguise. Oh, you have to look very, very hard to see through the Ghostface mask… or anything else you can think of that's more unpleasant than going face to face with a murderous ghoul.
It really is an apt comparison for no other reason than the bad habits were slowly killing Montreal. Instead of waiting for them to set in even more and the other shoe to drop against a divisional rival during a four-point game, Montreal lost to the lowly Coyotes. It could have been worse, in other words (although it didn't look it at the time). And, now, they can move on, beginning with Weise off the first line.
A Weise Decision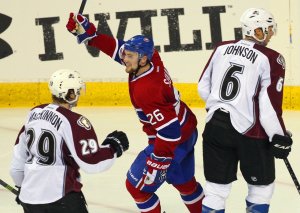 This isn't to say Weise is a bad player or that he alone is the reason Montreal's offense went MIA the last few games. He just belongs on the first line the way a car does in a tree. Sure, you can easily arrange it, but it amounts to a car wreck.
P.A. Parenteau would be the logical successor, were he not injured right now. That leaves Jiri Sekac, who just may end up positively surprising on the top line. It's about time he got another shot playing with his countrymate, Plekanec, anyway.
Based on data compiled by members of the University of New Brunswick's faculty of computer science, Sekac has played on a line with Plekanec for a grand total of 26:59 this season. Coincidentally, the other player on that line was Weise. There may be some connection to that low grand total.
Meanwhile the Pacioretty, Plekanec, and Weise line? They played together a total of 80:31. That makes it the seventh most common line of over 20 different forward combinations put together by Therrien this year.
While the takeaway here is the Habs could undeniably use more consistency game to game in terms of linemates, this is one time Therrien had best go back to the drawing board. If not, he'll find himself going back to the white one in need of a goal or two with less than a minute to go much more often than not from here on out.