It was a short introduction to the NHL for Petr Straka. The 22-year-old winger was called up to the Flyers last week after appearing in only 99 games of professional hockey. And even though the speedy Czech celebrated Super Bowl Sunday with the news of being sent back down to AHL Lehigh Valley, it's what he leaves behind that adds to the optimism for the organization.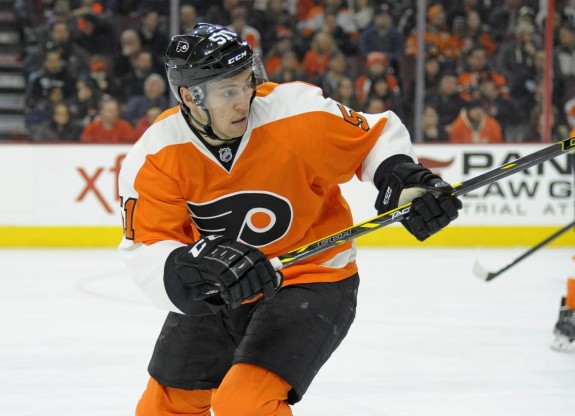 Petr Straka's Cup of Coffee
Petr Straka was never really part of the original plan, as far as this season goes. The 2010 second-round pick has recently earned the praise of scouts, who collectively agree that his two-way play has developed according to schedule.
But despite Straka's growth in skill, questions continued to linger around his consistency. Before his NHL call-up last Tuesday, the left handed forward notched 17 points in 39 games for the Phantoms. That, of course, followed his 27 points in his first 60 games in the AHL from a season ago.
A speedy winger with great hands, Straka has learned to play effective hockey at both ends of the ice. Although he sometimes struggles with his consistency, Straka has a nose for the net and will only get better as he continues to develop and get stronger. — Hockey's Future
Much like life in general, though, Philadelphia's circumstances changed the course of Straka's professional journey. The suspension of Zac Rinaldo, matched with a concussion to Scott Laughton, and an illness to Michael Raffl, left the Flyers no other choice than to give Straka his first shot at the NHL.
The Philadelphia Flyers have recalled forward Petr Straka. Straka was a scoring star in the QMJHL, now playing in Lehigh Valley (AHL).

— Allan Walsh (@walsha) January 27, 2015
"He's a goal scorer," said Flyers coach Craig Berube before last week's tilt against Arizona. "He's got real good wheels. So that's good that he'll add speed to our lineup tonight and he's got the ability to score goals."
Although Straka's stint lasted three games without a goal, the 6-1, 185-pound prospect has appeared to have left his mark. Skating alongside fellow call-up Ryan White and veteran Wayne Simmonds, Straka recorded a pair of assists on an average ice time of 9:27.
"His skating and skill is what I noticed," said Berube. "He obviously can really skate and he has good hands. He played well for us."
The Right Choice
While three games is a minuscule sample size, evaluating Straka's work not only tells us what we didn't know before his call-up, but perhaps gives a preview of what's to come in the future – whenever that may be.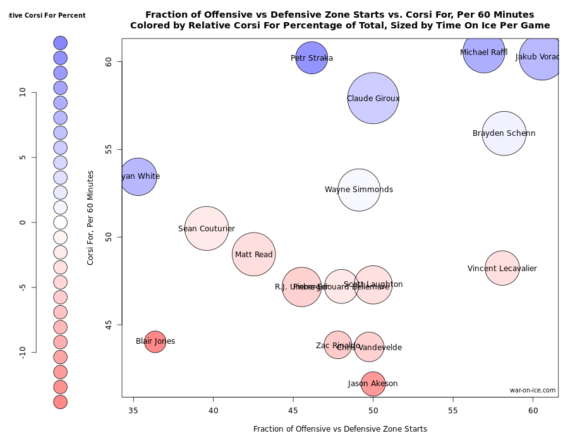 While the color of each bubble is indicative to Relative Corsi-For Percentage – blue being favorable to red – the size of each illustrates time on ice per game.
For those who questioned the decision to pluck Straka from the pipeline in lieu of Jason Akeson or Blair Jones, the chart above suggests it was the right one. Further, the comparison to Rinaldo is bad news for the feisty fourth liner.
Although severely disproportionate, Straka's 59.2 Corsi-For percentage leads all forwards who are either currently in the lineup, or was at one time this season. This is in addition to his 0.2 ZSO percentage relative to the team, which is lower than that of both Akeson and Raffl.
In Saturday's 1-0 shutout win over Toronto, Straka not only assisted the game's only goal, Michael Del Zotto's fifth of the season, his plus-14 Corsi-For tied him with Ryan White for the team's highest mark among forwards. That's with registering only one shot on net in 11:09 of ice time.
If there's one storyline that can be pulled from this game, it's that the Flyers need to take a longer look at Petr Straka at the NHL level. It's only been a handful of games since his call up but the 22-year old has been noticeably involved.

Wait.. what's that you say? The Flyers sent him back down to Lehigh Valley? Of course they did…. — Andrew D., Broad Street Hockey
With Michael Raffl and Scott Laughton on the brink of returning, it was Straka who drew the shortest straw when determining who the odd man out would be. At 26, and 144 NHL games to his credit, it's Ryan White who stays with the big club instead of Straka. But that doesn't seem to deter the Plzen, Czech Republic native.
Petr Straka doesn't know what a loss feels like at the NHL level.

— Tim Riday (@TimRiday) February 1, 2015
"What can I do?" said Straka after Thursday's win over Winnipeg. "I just get out there and try to enjoy my time here. Do my best to make them think about sending me down next time. I'm happy that we're winning games and that's all that matters."
The Flyers did exactly that – win. And based off of all of the findings, Petr Straka actually had a significant role in that.