So we are finally here. After playing out the string for the better part of the past three and a half months, the Edmonton Oilers 2015-16 campaign finally came to an end on Saturday evening in Vancouver. While no one has any complaints with what we saw from Todd McLellan's side during last night's finale, an entertaining 4-3 shootout loss to the Canucks, a 29th place finish in the overall standings was not exactly what Peter Chiarelli had in mind for his first year at the helm of the organization.
#Oilers fall 4-3 to #Canucks in the shootout. Oil finish with 70 points for first time since 2011-12. Also finish with 31 wins.

— Alex Thomas (@Alex_Thomas14) April 10, 2016
[Related Article: Changing the Foward Mix]
With that said, the notion of this somehow being a playoff team was something that likely never even entered into the equation for the former Boston Bruins GM. After all, this year was not supposed to be about reaching the post-season. How else can you explain the Oilers starting the year with the backend that they did? Let's call a spade a spade shall we? This was always going to be a season about evaluating what was already here. Mission accomplished.
Time For Change Has Arrived
While nothing will officially take place until after the Stanley Cup is awarded in late June, you can bet Chiarelli will be a busy man over the coming weeks. As we all know, this summer will mark a turning point of sorts for this franchise and it will be up to the 51-year old to ensure he winds up making the right call when it comes to transforming the look of this lineup. Unfortunately, it will be a decision that could easily blow up in the Oilers' face.
[Related Article: Where Do Yakupov and the Oilers Go From Here?]
It is no secret that the chances of Jordan Eberle, Taylor Hall, and Ryan Nugent-Hopkins all remaining in Edmonton are not good, nor should they be. Standing pat and simply doing nothing is no longer an option but the idea that the so-called "original core" are the only ones on the chopping block is simply not accurate. Contrary to popular belief, Chiarelli would certainly listen to offers for Leon Draisaitl, Oscar Klefbom, or Darnell Nurse but the potential return would have to be substantial.
Odds to win NHL Lottery#Leafs 20%#Oilers 13.5%#Canucks 11.5%#CBJ 9.5%#Flames 8.5%#NHLJets 7.5%

— Sportsnet Stats (@SNstats) April 10, 2016
While Edmonton still has no idea where they will be selecting during the first-round of this summer's NHL Entry Draft, they do know it will be a Top Five pick. Should the Oilers happen to end up inside the Top Three, it would be awfully difficult for Chiarelli to trade it outright for immediate help. Could it happen? Of course, but the return would have to border on the ridiculous side of the ledger for them to seriously consider walking away from any one of Auston Matthews, Patrik Laine or Jesse Puljujarvi.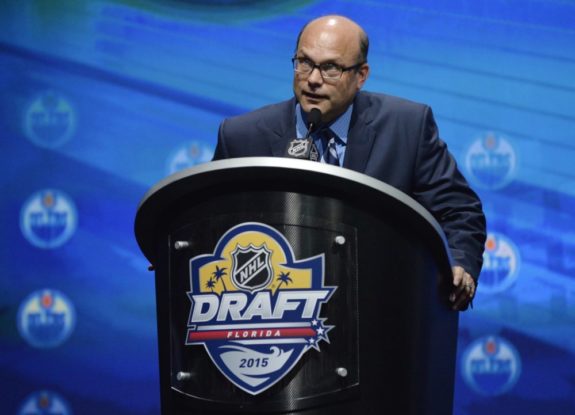 Draft Lottery Result Could Change Things
Now the potential to move down a slot or two in exchange for a piece that could help this group in 2016-17 is real but it likely only occurs if the Oilers happen to win the Draft Lottery and have the Arizona Coyotes or Toronto Maple Leafs come calling. However, if Edmonton happens to wind up sliding all the way down to No. 4 or No. 5, don't be surprised to see Chiarelli deal the pick and look to add a truly impactful player to help his head coach put this rebuild over the top.
[Related Article: Wayne Gretzky and A Season Like No Other]
In my mind, it is fairly cut and dry. The Oilers will do one of two things. 1) Keep their first-round selection and trade two or maybe even three of the aforementioned players; 2) Move their pick, one of those "core" pieces and an additional asset or two in order to change the makeup of this roster. While it may sound simple enough, the risk in taking such a leap cannot be ignored.
There's a few oilers playing their last game. I'm really looking forward to chiarelli's decisions

— Al (@Graderal) April 10, 2016
Just look back at recent Edmonton Oilers history to see what can happen when an organization decides to go all in with inexperienced players and not surround them with guys who can help do some of the heavy-lifting. At this stage of their careers, both Ryan Nugent-Hopkins and Taylor Hall fit that bill…which would make moving either one extremely difficult. As we  all now, it wasn't pretty the first time around and something tells me Peter Chiarelli has no interest in repeating history.
Rob Soria is the Author of Connor McDavid: Hockey's Next Great One. He has chronicled the Orange and Blue since creating his Oil Drop blog in 2011 and has also had his writings featured over at HometownHockey.ca and Vavel USA, where he has covered the NHL, MLB and ATP Tour. Rob was born, raised and still resides in Edmonton, Alberta and can be reached via twitter @Oil_Drop.