It wasn't supposed to go like this. After having the good fortune of winning the 2012 NHL Draft Lottery, the Edmonton Oilers used their third consecutive No. 1 pick to select Sarina Sting forward Nail Yakupov. With fellow first overall selections Taylor Hall and Ryan Nugent-Hopkins already in the mix, adding the talented Russian to the equation looked to be a move that would eventually help put the Oilers rebuild over the top. Unfortunately, that is not how things have played out and we are now on the verge of watching the two sides part ways after just four seasons together.
Nail Yakupov: 'I asked a trade and #Oilers gave a permission to speak to other teams, about 8 of them were interested, but smth went wrong'

— Igor Eronko (@IgorEronko) March 27, 2016
While yesterday's report from Sport-Express writer Igor Eronko seemed to catch many by surprise, the fact of the matter is no one should have been caught off guard by Yakupov's apparent trade request. In a year that hasn't exactly gone as planned for either the organization or the 22-year old winger, it appeared to be only a matter of time before this situation came to a head and clearly that time has arrived. With four meaningless games left on the schedule and Edmonton set to play just twice over the next six days, this story won't be going away anytime soon.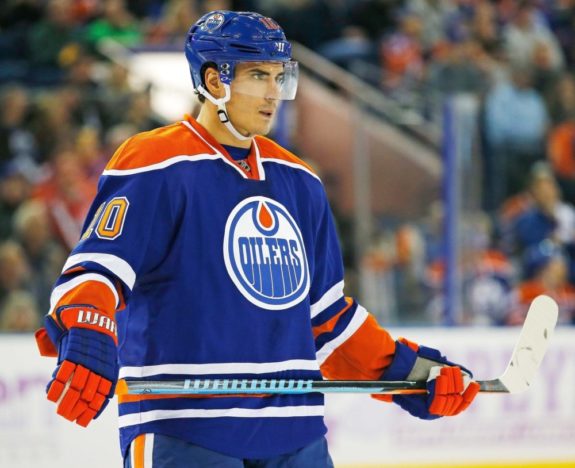 Yakupov Is Still Finding His Way
Anyone who has watched the Oilers with any sort of regularity knows all too well how things have unfolded for Yakupov since his arrival. The combination of the kid's inability to consistently produce offence, coupled with the team's want for him to be a better player in all areas of the ice, has led to the youngster being used in a variety of different roles. While he has seen time up and down Todd McLellan's lineup in 2015-16, it is his continued inability to score goals which kept him from becoming a regular fixture on one of Edmonton's top two lines.
[Related Article: Changing the Forward Mix]
There is no question that playing alongside the likes of Lauri Korpikoski and Mark Letestu for extended stretches has hampered his ability to put points on the board, though he has also seen time with Leon Draisaitl, Jordan Eberle, Taylor Hall, Connor McDavid and Benoit Pouliot. Yet both of his "inferior" linemates have managed to light the lamp with greater frequency than Yakupov.  As much as some Oilers fans like to go on at great length about the lack of opportunity the two-time 30-point man has been given during his time in the Alberta capital, which is a reasonable point of view to have, the numbers are there for all to see and they are not pretty.
https://twitter.com/NHLbyMatty/status/714251500734656512?ref_src=twsrc%5Etfw
Through 56 games, Yakupov has scored six goals….four fewer than both Korpikoski and Letestu. In fact, if go back and look at his last three seasons, he has found the back of the net a grand total of 31 times in last 200 games. Over the course of an 82-game schedule, that works out to less than 13 goals a season. While his rookie campaign of 17 goals in 48 games was far better, if you remove his six-goal outburst during the Oilers final three games of 2013, we are talking about a 20-goal pace. Not exactly the sort of production you expect from a No. 1 pick four years into his career.
The Dallas Eakins Effect
Now does that mean all of this is on the player? Of course not and there is more than enough blame to go around. It may have started with the Craig MacTavish/Dallas Eakins regime but not much has changed under Peter Chiarelli and company. Obviously, the shortcomings in Yakupov's game have played a large part in the role he has been handed but recognizing a player's strength and putting him in a spot to succeed is on the guy standing behind the bench. Continually trying to pound that square peg into a round hole is a pointless endeavour and one this organization has been trying to do with this player from the moment he arrived.
[Related Article: Oilers Would Be Crazy to Target Milan Lucic]
With that said, at some point it is on the individual to make a concerted effort to change his ways and do his best to try and earn the trust of his coach. We have to see that from Yakupov on a consistent basis. Most coaches will ask so many times before reaching their breaking point and unless the player in question can bring something else to the table that is desperately needed for the team to be successful, like scoring goals, that fuse gets shorter and shorter with each passing day. Some will argue the same rule does not apply to a guy like Jordan Eberle but there is one major difference between the two…he scores goals and has done so from Day One.
The #Oilers Yakupov's trade request is irrelevant. He is not the type of player that McLellan or Chiarelli would go forward with on top 6.

— Paul Almeida (@AzorcanGlobal) March 27, 2016
If you are a complementary piece of the puzzle, which both Eberle and Yakupov are, you have to go out and find a way to have an impact on a nightly basis. In this particular case, it comes down to scoring goals and only one of the two players mentioned does that with regular frequency. Call it a double standard or whatever you would like but at the end of the day, it comes down to effectiveness and nothing else. At this stage of the game, Nail Yakupov still has a chance to develop into that kind of player but it won't be as a member of the Edmonton Oilers and that should be viewed as nothing other than a major disappointment for those inside the organization.