Sidney Crosby has returned in full force, dominating the NHL while clawing his way to the top of the league's scoring ranks. He's currently ranked third, behind only Jamie Benn who sits in second and of course, Patrick Kane.
Kane, following a troubled offseason that included rape accusations, went on a tear this season. He piled up 92 points through 74 games thus far, a number that no one else in the league will touch before season's end. With Kane leading the way from a production standpoint, the Chicago Blackhawks currently find themselves sitting in third place in the Central Division, with yet another real shot at competing for the Stanley Cup.
With the magnificent performance that Kane put together this season, it seemed impossible that anyone could contend with him for league MVP. Of course, that was until Crosby's surge. Alongside his contention for the Hart trophy, Crosby may also be inadvertently saving the league from a public relations nightmare.
What would the backlash be if Kane were to win an award for being the league's most valuable player, just months removed from being accused of such a horrific crime?
This Isn't About Guilt or Innocence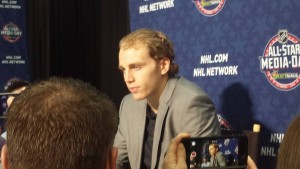 The investigations into the accusations against Kane are complete. Both the authorities working the case and the league itself deemed Kane innocent of any wrong doing, but that isn't what we're discussing here.
Now, we're dealing with the court of public opinion.
The NHL is consistently under fire when it comes to their diversity and advertising. Many view their marketing techniques toward women as discriminatory and almost insulting, as they believe the league views women as an uneducated hockey fan. And, hockey in general has a reputation of hyper-masculinity.
Kane winning would mean marching an accused rapist on stage to accept what is arguably the most coveted award for this league.
Whether or not you believe that Kane is indeed innocent, there's no denying his production this season. He was permitted to play, even while the investigation was ongoing, and the results are in the numbers. However, there's also no denying that his reputation has been tarnished beyond repair, fair or not, due to the incident that occurred. Athletes, whether proven guilty in the eyes of the law or not, have a hard time shaking this type of thing. For example, look at Pittsburgh Steelers' quarterback Ben Roethlisberger's reputation after a very similar string of events.
The league was going to have a hard time justifying someone else as MVP, so they've likely prepared for the retributions they'd face in that instance. All of a sudden though, their old guard may have given them an out.
Another Hart-Worthy Performance by Sidney Crosby
The NHL and professional sports in general will always come down to a "what have you done for me lately?" mentality. Despite a very disappointing start to the season, Crosby launched an assault on the NHL that rivals his career-best production in 2010, prior to the concussion issues that halted him in his tracks. Just how good has he been?
Sid-sational. #MadeOfHockey #RibcorReckoner (via @TSN_Sports) pic.twitter.com/z8RVkvE0ci

— CCM Hockey (@CCMHockey) March 24, 2016
Since that graphic was tweeted, Crosby added another two points over a three-game span, one of which was last night's game winner in overtime vs. the New York Rangers. Kane added two points as well, with two assists in two games on Saturday and Sunday.
A lot of folks have attributed his turnaround to the coaching change that took place in mid-December but as you can see, Crosby began turning things around a month earlier. His production saw a huge boost with Mike Sullivan at the helm but his recent slump was already ending prior to the change.
Crosby's stretch from Nov. 19 now includes 56 games-played and 69 total points, so an average of 1.23 points-per-game. Kane, in that same time frame, played 57 games and is averaging 1.12 points-per-game. While Crosby's production increases as the season progresses, Kane has taken a step back. Consider his following production by month, courtesy of HockeyReference.Com.

A frequent argument over whether or not Crosby should be MVP is that it shouldn't hinge on only part of the season. However, you'll see from the splits above that Kane's current production is similar to Crosby's during what was considered a slump in October. So, that comparison is a wash, with Crosby turning it on when it counts most.
Based on performance alone, the two of them have clearly made a case for victory. While there are plenty of players having very good seasons, no one stands out quite like the two of them. It'll be a fun competition to watch but don't discount the impact of Kane's troubled offseason in this decision.
For a league that can't afford additional bad PR, Crosby looks like the safest bet. My guess is that the league will lean toward Crosby winning the award.
Do you think Kane's less-than-favorable reputation off the ice will impact the decision-making and voting?
Pittsburgh Penguins writer for TheHockeyWriters.Com and PittsburghHockeyNow.Com. Youth hockey coach, and student of the game.