When it comes to targeting players that are headed for unrestricted free agency this summer, Edmonton Oilers general manager Peter Chiarelli has likely put together a list of names he will take a serious run at signing on the open market. While the focus will be on improving the Oilers backend, you can bet the Ottawa native will throw his hat in the proverbial ring in hopes of acquiring veteran forward Milan Lucic, should the 27-year old and Los Angeles Kings fail to come to an agreement on an extension over the coming months.
"Nick Kypreos threw out the Edmonton #Oilers as a chaser, too. A lot of history between Lucic and Peter Chiarelli." https://t.co/MTEqJOPSUv

— InsideTheRink (@InsideTheRink) March 16, 2016
[Related Article: Changing the Oilers Forward Mix]
After watching the former Boston Bruins winger run roughshod over Edmonton for what feels like the umpteenth time, fans across Oilers Nation could not help but take notice of what Sportsnet's Nick Kypreos had to say during the second period intermission of last night's 6-4 loss to Darryl Sutter's side. While he had previously mentioned Chiarelli would have interest in pursuing Lucic via free agency, he hinted at the very same thing during a segment on Hockey Night in Canada's coast-to-coast telecast. Not surprisingly, it has created a bit of stir in this neck of the woods.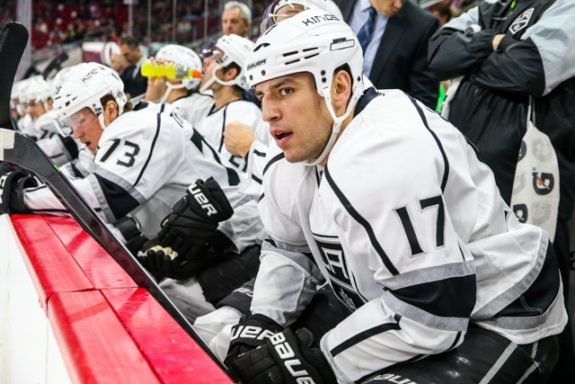 In Many Ways, Lucic Would Be the Perfect Fit
After delivering a performance in which he was an offensive catalyst, (three assists in just under 13 minutes of ice-time), a pain in the ass to deal with, (running over netminder Laurent Brossoit on the Kings second goal of the game but not being penalized for it), and his usual intimidating self, (throwing a couple of thunderous hits on the night and tossing Patrick Maroon around as though he was a rag doll during a second-period tussle), it was hard to not envision Lucic doing his thing in Orange and Blue.
Patrick Maroon vs Milan Lucic from Edmonton Oilers at Los Angeles Kings Mar 26, 2016 https://t.co/LQgQFOIzNK

— hockeyfights (@hockeyfights) March 27, 2016
Having said all of that, this organization would be out of their collective minds to even consider throwing free agent dollars and term at the Vancouver native. Make no mistake, the addition of a player with the sort of skill set the 2006 second-round pick possess would be an absolute godsend for Todd McLellan and his coaching in the here and now. Problem being, the thought of paying Lucic upwards of $7 million a season well into his 30's and on a roster littered with young high-end skilled players, is a recipe for disaster.
[Related Article: Milan Lucic and the Edmonton Oilers]
Again, the 6′ 3" and 230-pound winger may seem like a perfect fit but the Oilers can ill-afford to put their eggs into one basket and simply look to the immediate future. Could you imagine Edmonton having to swallow a ton of money on a deal like this in order to make room on the cap to sign the likes of Leon Draisaitl, Connor McDavid and whomever they end up selecting at this summer's NHL Entry Draft in Buffalo? While the 2016-17 campaign will undoubtedly be viewed as a crossroad of sorts for this franchise, the long-term viability of this team is all that truly matters.
Would love Lucic on the Oilers. WOULD NOT love Lucic at, like, $7 mill a year or whatever he's probably going to command

— Jeanshorts (@JSBMjeanshorts) March 27, 2016
[Related Article: Will Jason Demers Injury Adjust Oilers Approach?]
In order for Milan Lucic to even contemplate such a move, the offer would have to be so enticing that it would seem absurd to even consider as a serious option for this organization. At the end of the day, there will be a general manager and/or owner who will give in to the temptation and give the one-time 30-goal scorer both the money and term he is looking for. The Edmonton Oilers had better hope Peter Chiarelli doesn't take the bait because such a decision could come back to haunt them for years to come.
Rob Soria is the Author of Connor McDavid: Hockey's Next Great One. He has chronicled the Orange and Blue since creating his Oil Drop blog in 2011 and has also had his writings featured over at HometownHockey.ca and Vavel USA, where he has covered the NHL, MLB and ATP Tour. Rob was born, raised and still resides in Edmonton, Alberta and can be reached via twitter @Oil_Drop.