With Connor McDavid mere days away from being added to an Edmonton Oilers roster which already includes the trio of Jordan Eberle, Taylor Hall and Ryan Nugent-Hopkins, the need for a scoring power forward has never been more obvious. It appears as though the Boston Bruins could be open to the idea of possibly moving Milan Lucic in the right situation and landing in Edmonton could possibly be the perfect fit for all three parties.
Lucic suffered through various spells of inconsistency during two of the last three seasons and has repeatedly seen his name pop up in a number of trade rumours.  Who knows, perhaps the Vancouver native would relish the opportunity to take a regular shift with some of the best young talent in the game today? On the surface, it may seem like a match made in heaven but as we all know…looks can be rather deceiving.
Bruins Will Be In No Rush To Help Former GM
There is no question the hulking winger owns the exact skill-set the Oilers have been missing for some time.  However, any potential trade between the two is highly unlikely given their current predicament.  Former Bruins GM Peter Chiarelli is now running the show in Edmonton, so chances are the duo of Cam Neely and the recently appointed Don Sweeney would be in no hurry to help out their former cohort as he retools the Orange and Blue.
Could Mr. Chiarelli possibly pry Lucic and his $6.5 million ticket away from the Bruins? Of course, but it would certainly come at a premium and with unrestricted free agency in the not too distant future there is zero chance that Boston will shake loose the sort of return they would be seeking from the Oilers in any deal involving the three-time 24-goal man.
Some will argue the former Vancouver Giants stand out is not worth his $6 million price tag and if we were talking solely about point production, they may have a point. Over his last three seasons, Lucic has scored 49 goals and collected a grand total of 130 points from his 207 appearances. By no means are those terrible numbers but paying that sort of money for a 50-point player, is a little steep.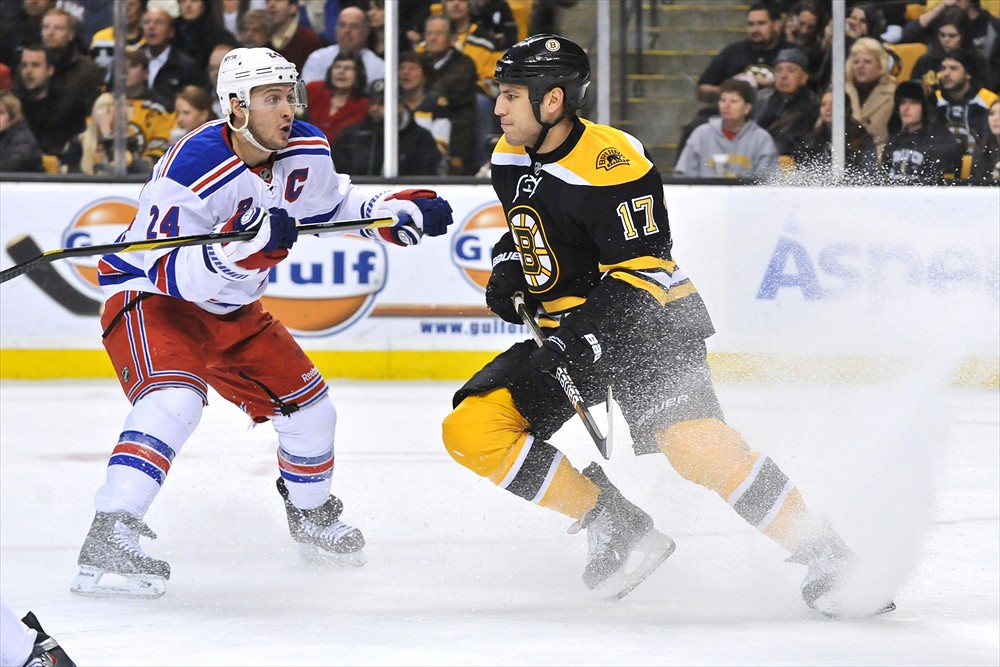 Milan Lucic Is A Rare Breed
However, when the 6′ 3″ 230 pounder is at his best, points are only part of the equation. Not a single team in the league today would balk at the chance to add a guy like Lucic to their roster. Much of that can be attributed to his ability to score goals in addition to being the most intimidating figure in the National Hockey League;  combined you essentially have a $6 million hockey player.
Fans of the Bruins will argue Lucic has been nowhere good enough over the last three years and rumours of his potential departure continue to make the rounds. That being the case, good luck finding a player better suited to jump into Edmonton's lineup and make an immediate impact in the highly competitive Pacific Division.
It is no secret this organization has struggled badly against Western Conference opponents.  More often than not, much of that can be attributed to being physically worn down by their opposition. The teams who routinely impose their will on the Oilers are the Anaheim Ducks, Los Angeles Kings and St. Louis Blues. While all three have talented players littered throughout their respective lineups, Edmonton is simply incapable of dealing with the physical pounding those teams dish out on a nightly basis.
Pouliot Signing Paid Immediate Dividends
Having Benoit Pouliot morph into a first/second winger helped the Oilers combat the problem to a certain degree in 2014-15 but one player can only do so much. Can you imagine how difficult life might be for the opposition if they had the misfortune of having to go head-to-head against line combinations of Hall-McDavid-Pouliot and Lucic-RNH-Eberle? Good luck with that.
Make no mistake, this team needs to address their blueline and goaltending issues to have any shot of making noise in the Western Conference standings next season but that does not mean everything is locked and loaded up front. Adding a "generational talent" cannot hurt but, again, one player won't "fix the mix"…no matter how good he may be.
In a perfect world, Pouliot would be slotted as a third-line winger but the Oilers are nowhere at that stage of their development and to his credit, he delivered during his first season in the Alberta capital. Despite playing only 58 games, the soon-to-be 29-year old set a career-high of 19 goals in '14-'15 and fell just two points shy of matching his 2013-14 total of 36 with the New York Rangers.
Given the opportunity to play a more prominent role has worked out well for the former Minnesota Wild draftee and he has made the most of that opportunity. With all due respect to the duo of Derek Roy and Nail Yakupov, swapping the pair out for McDavid and Lucic would obviously make Edmonton far more difficult team to play against. The fit is obvious, but making it happen is another matter altogether.
Seems like Haggerty would mention Hall or Eberle every month as a potential Bruins target. Now Chia is here. dream come true for him

— Supernova (@romanmaximus1) April 25, 2015
Sorry Boston…Eberle Is Not Coming Your Way
While there are those who seem to have  their heart set on the B's finding a way to get their hands on Eberle in any deal involving the Oilers, frankly, that is wishful thinking. If the new sheriff in town were to entertain the notion of moving one of his so-called "core pieces", you can bet the piece coming back would not be set to hit the open market in a year's time.
Everyone knows the Boston Bruins are in a bit of a tight spot when it comes to the salary cap and, therefore, may be forced into moving Milan Lucic prior to the start of the 2015-16 campaign. Obviously Don Sweeney would be asking for the moon in any trade proposal and who could blame him. From the Bruins perspective, it makes no sense to settle for "secondary pieces" and/or draft picks from the Edmonton Oilers. Unfortunately for them, that is all Chiarelli would likely be offering for a player he once viewed as a prized possession.