A lot can change in a year.
Twelve months ago, the Calgary Flames went into Philadelphia for the annual entry draft as one of the National Hockey League's worst teams. This year, they enter the draft following one of the most impressive turn-arounds in recent memory; a turn-around driven by the team's young, drafted players. Instead of entering the draft weekend adrift with a lot of holes to fill, the Flames are coming off a second-round playoff appearance and the graduation of several young players into the NHL ranks.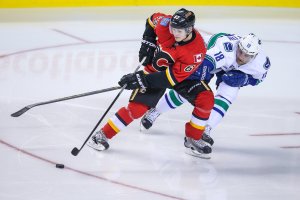 A strong draft can maintain Calgary's upward trajectory. A poor draft? Well, that could potentially derail their progress. It's a pivotal time for second-year general manager Brad Treliving and his staff as they attempt to build upon a very successful 2014-15 campaign.
PICKS
Heading into draft weekend, the Flames have nine picks.
15th overall in the 1st round
45th overall in the 2nd round
52nd overall in the 2nd round (acquired from Washington for Curtis Glencross)
53rd overall in the 2nd round (acquired from Vancouver for Sven Baertschi)
76th overall in the 3rd round
83rd overall in the 3rd round (acquired from Washington for Curtis Glencross)
136th overall in the 5th round
166th overall in the 6th round
196th overall in the 7th round
The Flames don't have a fourth round pick, having sent it to the San Jose Sharks in exchange for T.J. Galiardi two summers ago. The nine picks represents the most chances the Flames have to draft players since 2004, when they had 10 picks. Of course, the draft was nine rounds long back then, so this is relatively unprecedented.
WANTS & NEEDS
For years, the Flames struggled to find center depth – particularly in terms of finding a center to play with Jarome Iginla. With Iginla gone, suddenly the Flames found that depth in the form of 2013 first rounder Sean Monahan, 2014 first rounder Sam Bennett, 2007 first rounder Mikael Backlund, college free agent Josh Jooris and guys like Drew Shore, Bill Arnold and Markus Granlund, who will all factor into Calgary's short-term plans. The Flames are also fairly strong in young goaltenders for the time-being, boasting promising Finn Joni Ortio, NCAA standout Jon Gillies and QMHL star Mason McDonald.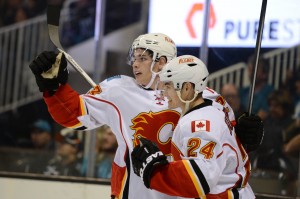 Their biggest issues? Everywhere else.
Aside from Mark Giordano, T.J. Brodie and Kris Russell, the Flames don't have any defensemen that are extremely well-suited for their current roles. The remaining defensive group are arguably overpaid for what they're being asked to do, and on the farm, only Tyler Wotherspoon seems close to ready – though Ryan Culkin made strides in his first pro season and could get a look this year. Outside of the professional ranks, the Flames have impressive Boston University blueliner Brandon Hickey and a lot of question marks beyond him. They need to give themselves options on the back end.
And on the wings? Johnny Gaudreau may win the Calder Trophy, but beyond him the organization has a few promising (if untested) pieces in Emile Poirier, Micheal Ferland and Morgan Klimchuk, and some bottom-six projects in Hunter Smith and Austin Carroll. If this sounds quite lean next to their vastness of centers, it's because it is.
Expect the Flames to focus a lot of attention on wingers and defenders.
DRAFT HISTORY
Tod Button has been the club's head of scouting since the 2001-02 season. This will be his 14th draft as head of amateur scouting.
Their last three years worth of first round picks have produced Mark Jankowski (2012), Sean Monahan, Emile Poirier and Morgan Klimchuk (all 2013), and Sam Bennett (2014). Three of the five spent time with the Flames last season, with Monahan and Bennett playing key roles in Calgary's first-round victory over Vancouver. The Flames have begun to shake their prior reputation for not being a good development organization; there were six different draft classes (2007, 2008, 2010, 2011, 2013 & 2014) represented on their playoff roster.
The Flames have trended towards bigger players in the past couple years, with all of the 2014 picks being six-feet-tall or more. They also spread their picks around under Brad Treliving's guidance: three forwards, two defensemen and a goalie taken with their six picks.
TARGETS & FITS
If the Flames decide to target a defender in the first round, there's a very good chance he'll be from the QMJHL. Saint John products Jakub Zboril and Thomas Chabot or Sherbrooke's Jeremy Roy appear to be the most likely candidates for a selection by Calgary. All three are defensively-sound blueliners with offensive upside. Swedish phenom Oliver Kylington has slid down draft rankings throughout this season – beginning the year as the consensus #3 pick overall – but he remains a smart player who's good enough to play pro in a strong league at an early age.
If the Flames decide on a forward, there's a bit more variety available – though it does depend more on what other teams do. Ottawa 67's captain Travis Konecny is a spark-plug, albeit undersized. Kelowna's Nick Merkley is a Calgary native coming off an incredible season with the Rockets that saw them go to the Memorial Cup Final. Swiss forward Timo Meier, from the Halifax Mooseheads, is a unique combination of size, speed and offensive skill. Russian import Evgeni Svechnikov, of the Cape Breton Screaming Eagles, is another strong all-around player. Sarnia's Pavel Zacha could also factor in, if he's still available at 15th overall.
Beyond the first round, Calgary's three second round and two third round selections gives the team a ton of flexibility. I would expect the Flames to load up on defenders to address their biggest depth issue, but don't be shocked if they take a goaltender in the later rounds. Portland Winterhawks starter Adin Hill is from Calgary and had a tremendous season in the Western Hockey League. The Flames have traditionally taken players from a variety of leagues – spreading around their prospect portfolio, in a sense – so expect to see a lot of different leagues represented in their draft class.
Given last year's draft performance by Treliving's scouting team: if there's a big-bodied player with any semblance of hockey talent, expect them to be strongly considered by the Flames. The team feels they were pushed around by Anaheim in the second round of the playoffs, which will probably confirm to them that their draft strategy from last year was the right one – 6'4″ Swedish defender Adam Ollas Mattsson, 6'7″ winger Hunter Smith and 6'3″ winger Austin Carroll were fairly typical of their depth picks. This year's draft class will likely be quite similar in terms of physical stature.