What does it take to be a good agitator in today's NHL? Obviously, you must have the ability to get under the opponent's skin, but you don't want to be consistently putting your team at a disadvantage by taking silly penalties. You have to be able to annoy your opponent on the scoresheet as well, you certainly can't be a waste of a roster spot. There are some players who have mastered the art of toeing the line of illegal and legal and find a way to get their opponents off of their games. Here are my five best at it in the entire NHL.
#5 – Antoine Roussel – Dallas Stars
Antoine Roussel brings an entirely different sort of annoying at times. He comes at people from all angles. Roussel can put the puck in the net and annoy fans and opponents by doing so. He is not afraid to fight, no matter who is on the other side. He has taken on a variety of players, including Dion Phaneuf, Jarome Iginla, Brent Burns, Corey Perry, Shea Weber and Brent Seabrook. Roussel has made some questionable decisions at times, but he has been a master at getting opponents rattled.
One of the main reasons the Dallas Stars were able to take the Anaheim Ducks to six games in the first round last year was due to Roussel getting into the heads of Ryan Getzlaf and Corey Perry. Roussel is always one of the hardest workers on the ice which is yet another quality that can frustrate opposing players.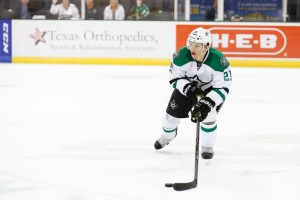 Roussel doesn't just annoy opponents with his antics, but his hard play as well. He was a positive possession player with a 50.64 corsi-for-% at even strength which was impressive considering he started in the defensive zone more often than not. His offensive zone-start-% was 43.41 at even strength, which was the second-lowest on the Stars. He blocked shots, 71 of them, for the highest forward total on the Stars. Although his production dried up towards the second-half of the season, he still managed 13 goals and 25 points on the year. And even though he finished fifth in the entire league in penalty minutes, he took only two more penalties than he drew himself. If he can continue to increase his production on the ice, Roussel will be a player that nobody in the NHL wants to see on the other side.
#4 – Andrew Shaw – Chicago Blackhawks
Andrew Shaw is pretty familiar with Roussel, as they have gone head-to-head several times. Like Roussel, Shaw's production in the regular season is not spectacular but it's pretty solid for a guy playing the minutes he plays. Then the playoffs roll around and Shaw hits a new level. After putting up 26 points in 79 regular season games, Shaw added 12 points in just 23 playoff games. He was easily an unsung hero of the Blackhawks most recent Stanley Cup run.
Shaw always finds himself in front of the goalie and quite bravely so. At 5'11", 179 lbs, Shaw isn't a very big guy but he sits and takes a beating in front of the net to make things happen for his team. He's not always doing legal things in the crease but he certainly gets his point across. He's also had a run-in behind the net, but we don't have to talk about that. Another thing that hasn't been confirmed is the biting of Victor Hedman in the Stanley Cup Final. If that happened, Shaw may have taken the "get under the opponent's skin" expression a bit too literally.
Shaw's underlying numbers are impressive as well and further adds to how frustrating of an opponent he is. He takes a lot of hits but dishes them out at almost an equal rate. He draws more penalties than he takes at even strength, helping get his team to the power play. Once the Blackhawks are on that powerplay, Shaw usually finds himself skating straight to the crease and impairing the vision of the goaltender. Like many agitators, he makes a living in front of the crease and is a big reason the Blackhawks have been so successful over the years.
#3 – Brendan Gallagher – Montreal Canadiens
Some might find Brendan Gallagher's name on this list a bit surprising, but go ahead and YouTube some of his highlights real quick and you'll know why he's here. The Montreal Canadiens needed a pest to match their rival's pest, who we may see further down this list. They have certainly found one in Gallagher. His added ability scoring-wise makes him better than Shaw and Roussel, as Gallagher has posted back-to-back 40+ point seasons. He's no stranger to the agitator part of the game either.
Gallagher can get under your skin and it is truly impressive what he can do with how small he is. At just 5'9", he isn't afraid of fighting or mixing it up with players bigger than him. He once tripped Zdeno Chara in the playoffs right before a faceoff and if Chara dropped the gloves, I don't think Gallagher would have backed down. He is that fearless. He gets the jump on players quite a bit, like during this bout with Cory Conacher. Gallagher is always around a goal crease hacking away at players and goaltenders and just being a general menace in front of the net. Every team in the league should want Gallagher on their team due to his ability to bother opponents with his actions and his talent.
#2 – Brad Marchand – Boston Bruins
Had to figure we would be seeing his name at some point during this discussion. How do I know that Brad Marchand is a good agitator? The mere fact it seems like he's been annoying opponents for a decade despite being in the league for only six seasons is part of it. He seems to enjoy bothering opponents and he doesn't always do it legally. He has been suspended twice for slew-footing players and is not a popular guy around the league thanks to some of those actions. Generally, however, his actions are pretty harmless. His "lifting of the Cup" against Vancouver comes to mind when I think of Marchand. Much like Gallagher, he is a smaller player by NHL standards but he doesn't shy away from dropping the gloves. Marchand can hurt you all over the ice.
Marchand is another one of those pests who hurts you on the scoreboard as well. He has played five full seasons with the Boston Bruins. In four of them he has scored at least 21 goals and totaled at least 41 points. The only season in which he didn't was the lockout-shortened season in which he almost averaged a point per game. He plays a ton of shorthanded minutes for the Bruins and is quite productive in doing so. He's only 27 years old, so there is still plenty of time for Marchand to hone his agitator game.
#1 – Corey Perry – Anaheim Ducks
Could it be anyone else? Let's just get right into it and start listing some of the things Corey Perry has done over the years in the NHL. He once took Jeff Carter's glove and squirted water in it. He took Alex Semin's stick out of hands while Semin was straddling the bench waiting to go on the ice. He has speared Jamie Benn in a not-so-comfortable area of the body. Maybe the worst (or best) thing about Perry is the fact that he also happens to be a really, really good hockey player.
Perry has won a Stanley Cup. He has won two Gold Medals with Team Canada in the Olympics. He's won a Hart Trophy and a Rocket Richard Trophy. He has scored at least 30 goals in a season five times in his career and even managed to get to 50 back in the 2010-11 season. He beats you with skill. He beats you with tenacity. He beats you by getting you off your game. Perry is such a unique player and it makes him so difficult to play against. He frustrates opponents to no end with both his antics and his scoring ability.
In case there were any doubts about Perry being #1 on this list, I'll leave you with this. He once got Pavel Datysuk to drop the gloves and fight him. That's right, Pavel Datysuk. The guy who won four straight Lady Byng trophies for being the nicest man in the NHL couldn't take anymore from Perry so he dropped the gloves and threw his bare fists at him. I don't think anything more needs to be said.