Nick Schmaltz and Tyler Motte are two of the most intriguing young players the Chicago Blackhawks have entering this season. The two rising forwards were drafted into the Hawks organization one year apart from each other, but both signed professional deals this past season in order to have a shot at making the NHL roster for 2016-17. Now, the former Hobey Baker nominees are ready to show Joel Quenneville and the rest of the Chicago organization that they belong with the big club.
Aside from sharing the common goal of starting the NHL season playing alongside Jonathan Toews and Patrick Kane, Schmaltz and Motte also have similar hockey backgrounds in that they most recently played college hockey (Schmaltz at North Dakota and Motte at Michigan). In other major professional leagues having played college sports is more of a requirement than a defining characteristic, but hockey is different.
Since many NHL players are either signed straight from the junior hockey ranks or drafted from Europe, only a fraction of players end up playing college hockey. As a result, athletes who choose this route of pursuing hockey end up playing a unique brand of the game that seems to resonate with many NHL teams — especially the Blackhawks
Hockey Goes to School
The main difference between athletes who play in college and those that stick to the junior route is the level of competition they face. The average age of collegiate hockey players is much higher than that of junior skaters, which oftentimes makes the style of play more physical and defensive. Thus, players leaving the college ranks usually do so having played against bigger players and having been forced to adopt more of a two-way game.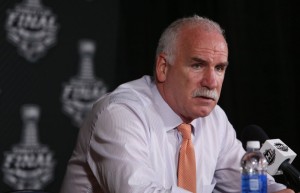 Why would this be especially appealing for the Blackhawks? Well with so much high-end offensive talent already on the roster, what the Hawks really need are guys who can fill in depth roles while Kane and Artemi Panarin give defenders headaches. Additionally, having a coach like Quenneville — infamous for demanding strong two-way play from his forwards — puts extra emphasis on finding skaters who can play that style of game.
Continuing the Collegiate Tradition
Perhaps because of Quenneville's emphasis on two-way play, Chicago has not been afraid to sign and play former college players in recent years. This past season alone saw Trevor van Riemsdyk, Tanner Kero, Kyle Baun, and Vincent Hinostroza all see time with the team. Baun even started the season playing on a line with Toews and Marian Hossa, despite coming almost straight from the collegiate ranks.
Chicago's previous affinity for these kinds of players makes it even more likely that both Schmaltz and Motte will at least start the 2016-17 season on the main roster. Openings at forward following a series of offseason trades means that those roster spots might even be on one of the team's top lines — opportunities that any player in the NHL would love to have.
The offensive skill and early success of these two promising players lead me to believe that they have a better chance than most other players on the roster at playing alongside Toews and Kane.
Bowman said Kero, HInostroza, and Hartman were "exceptional" at prospect camp. Said you can include Motte and Schmaltz in there, too.

— Mark Lazerus (@MarkLazerus) July 15, 2016
It will be a few months before Chicago fans can see these Blackhawks prospects in real action, but the team's past success with former collegiate skaters is a promising trend that they should help continue.
David is entering his final year as a sport management and operations and information management double major at UMass Amherst. Originally from the West Suburbs of Chicago, David has enjoyed watching the Blackhawks for as long as he can remember. When not watching or writing about hockey, he can be found working on the McCormack Future Leaders Conference on the UMass campus.