Let's be clear — that headline is a question, not a statement. More of a devil's advocate piece.
It's summer — everybody is evaluating and, well, overthinking things.
As of today, the Edmonton Oilers believe they have upgraded their defence and will be icing a competent blue line if the current group reports to training camp. That is, if you believe general manager Peter Chiarelli. I'm not so sure, rather a tad skeptical or pessimistic, but more on that later.
Don't Hold Your Breath For Barrie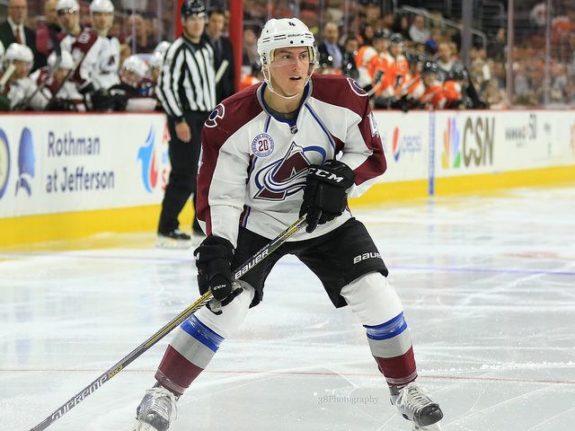 There's still potential for a Tyson Barrie trade between now and next Friday's arbitration hearing. After July 29, that ship has sailed unless the Colorado Avalanche inexplicably walked away from the awarded salary. If accepted, as expected, the Avs would be unable to trade Barrie for a calendar year. That is my understanding of the process that is playing out.
It should be noted that those trade rumours have died down somewhat, but until he's signed, they could get life again. As that date gets closer, if negotiations on a long-term extension with Colorado remain stalled, Chiarelli would be wise to reach out again.
Yes, acquiring Barrie would mean exposing Brandon Davidson in the expansion draft — unless Davidson or Andrej Sekera were part of the package to land Barrie — but let's be real, the Oilers would be crazy to pass up Barrie over concerns of losing Davidson to Las Vegas. If Chiarelli circles back and Joe Sakic's asking price comes down even a little, it's best to make that deal happen.
Shattenkirk Never Happening
Beyond Barrie, Edmonton is seemingly running out of options for that elusive offensive defenceman who can quarterback the power play with a booming shot from the point.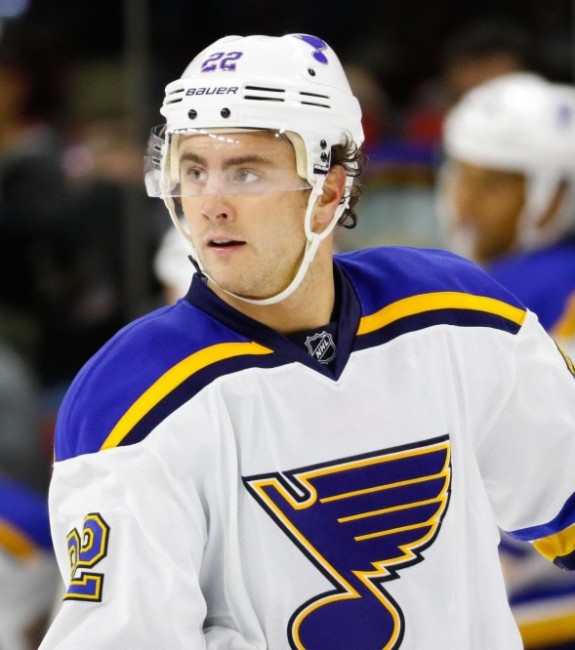 Kevin Shattenkirk has long been another name in the rumour mill, but his preference is to sign with an Eastern Conference team when he becomes a free agent after the coming season. So scratch Shattenkirk off the list, knowing the cost would still be sky high for a one-and-done scenario.
It doesn't help that the Taylor Hall trade set the bar awfully high on what a player of that calibre would command in return. At least an arm, probably a leg, and perhaps a first born too.
If Adam Larsson fetched Hall, what is Barrie worth? Or Shattenkirk? Or the other names out there, that might not be the right fit for Edmonton, such as Jacob Trouba or Cam Fowler. I could be wrong but my assumption is that general managers around the league prefer most, if not all those defencemen to Larsson. So if it now takes more than a Hall type to acquire any of those blueliners, that probably explains why none of them are moving. And, in turn, why Larsson was the best the Oilers could do for Hall. That debate remains open, but I'm not touching it any further today.
Petrovic No Longer A Target
The other recent trade rumour that, to my knowledge, didn't originate in Edmonton had Nail Yakupov heading to Florida for Alex Petrovic. Panthers beat writer George Richards doused that deal, but I doubt those conversations took place since the Hall trade anyway. Beforehand, I could see it, because Petrovic is another budding shutdown type who took a big step last season.
http://gty.im/513652984
The Oilers, and specifically Bob Green, would be familiar with Petrovic from his dominant days with the WHL's Red Deer Rebels, so he may very well have been a player of interest and we all know Yakupov was available in and around the draft. I suspect those conversations took place in Buffalo but failed to materialize.
The Oilers opted for a better version of Petrovic in Larsson — to me, they are cut from a similar cloth, with much the same strengths — albeit at the expense of a much better asset than Yakupov. With Larsson in the fold, Petrovic was presumably deemed redundant. Especially if the Oilers are still holding out hope for Griffin Reinhart on the NHL roster at some point in the coming season.
Petrovic would still be an upgrade on Mark Fayne or a better option than bringing back Eric Gryba, but that need in the top four has been filled by Larsson and the Oilers have likely moved on from Petrovic as a result. If Larsson wasn't acquired, maybe that deal goes down instead and the Oilers end up keeping Hall and signing Jason Demers to a Larsson-money contract — around $20 million over four or five years. That's my hot take, though it's purely speculation on my part.
Perhaps a PTO
Moving along, the other option that could come to fruition as a means of addressing that offensive, power-play void on the back end is through a professional try out. The PTOs are growing in popularity, with the salary cap squeezing out the second wave of free agents and forcing them to audition for jobs. Make no mistake, this would be a temporary, Band-Aid solution.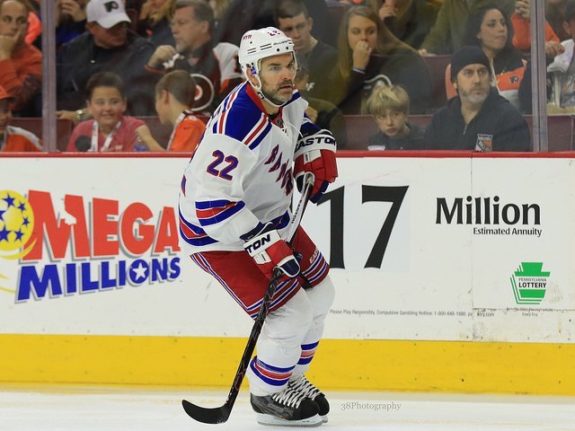 It could come in the form of a veteran like Dan Boyle, who had pondered retirement but obviously has a history with Todd McLellan from San Jose, or a player looking to rebound like James Wisniewski, who is coming off a serious knee injury and was bought out by Carolina after just one season. In fact, Wisniewski was hurt in his very first game for the Hurricanes and hasn't played since, while Boyle was clearly on his last legs with the New York Rangers, who made him a healthy scratch for their playoff finale.
Marek Zidlicky would be another veteran to consider. Or maybe Brandon Gormley, the 13th overall pick from 2010, gets a look as a younger option. Zidlicky is 39 and failed to top 20 points last season but does have more than 400 for his career in nearly 900 games of experience. Gormley hasn't panned out in Arizona or Colorado thus far and is essentially the defence version of Cody Hodgson among those still available.
This offseason was slim pickings for defencemen to begin with, and it's scraping the bottom of the barrel at this point. Anybody coming into training camp on a PTO would be, best-case scenario, serviceable — in other words, not a saviour.
Standing Pat
What if this is it? What if there is no more help on the way? Those are the questions that Oilers fans are starting to ask themselves. With no arbitration hearings pending — at least not pertaining directly to Edmonton — some are envisioning Chiarelli with his feet kicked up in a hammock at his newfound favourite Alberta lake or laying low back home in Boston. He apparently prefers The Druid as a watering hole, but that summer hot-spot is yet to be determined.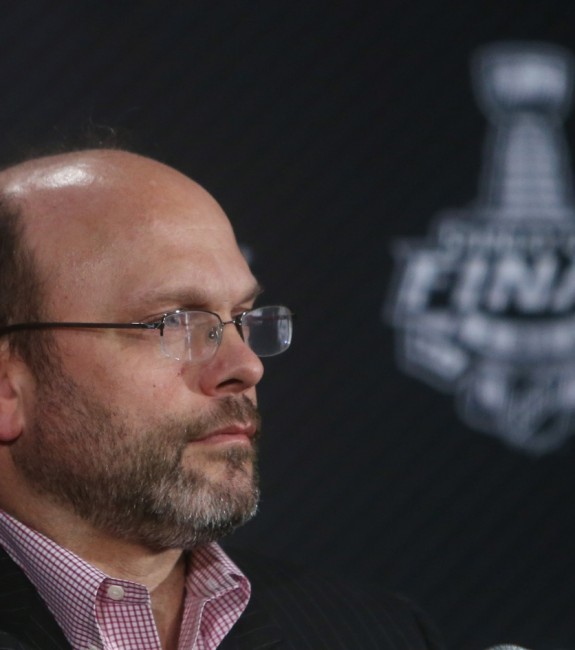 I would imagine Chiarelli's cellphone is still within an arm's reach, especially with Barrie still unsigned. I don't think he's making or fielding too many calls right now, but I don't think he's necessarily done either. Meaning, I don't believe Chiarelli is completely, honestly content with Edmonton's current defence corps.
If he is and if this is "it," then and only then does that aforementioned headline turn into a statement. It took a while, but this is what I was getting at. This is the meat for us to chew on.
There will be much debate from this point on, and I'm not taking a stance on the subject yet. I'm merely asking: Is the Oilers' defence, as it stands, set up to fail again?
I feel that is a legitimate question. I don't think there's any question that the starting six, as of today, are going to outperform the starting six from last October. There will be improvement. There almost has to be. It can't get much worse than last season (or the last decade in general). But that improvement could be marginal. It might not be substantial. And here's why . . . again, from a devil's advocate perspective.
Adam Larsson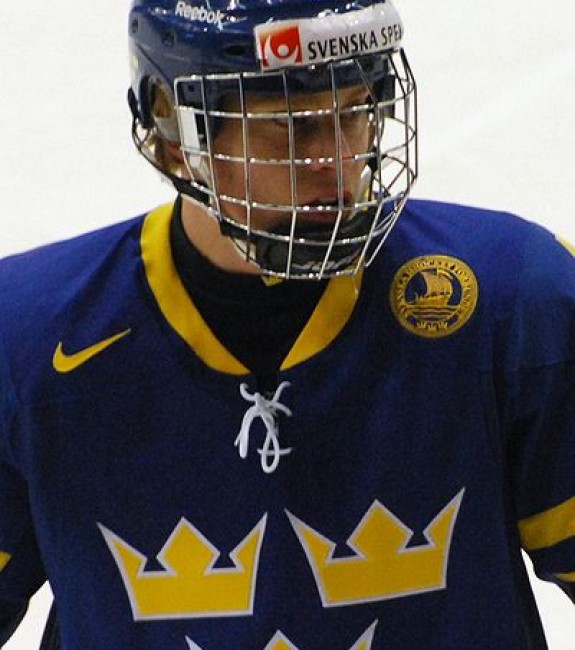 This guy, if he's the only guy added on defence, is coming in with the weight of the world on his shoulders. Milan Lucic might be expected to replace Hall in the lineup, but Larsson will always be the guy that Edmonton got back for Hall. It was a 1-for-1, straight-up trade. Larsson's impact on the Oilers will be compared to that of Hall's in seasons past. Different positions, sure, but the expectations are going to be through the roof for Larsson.
As of now, Larsson is all the Oilers have to show for shaking up their core group of young forwards, and most believe Chiarelli parted with the best of that bunch. Fortunately, Chiarelli didn't declare Larsson a future Norris candidate, but we all saw what happened to Justin Schultz under a similar microscope. Edmonton can be a blood-thirsty, head-hunting market and Larsson is going to have to make a great first impression. Even if his playing style will never be as sexy as Hall's, he needs to hit the ground running and his presence needs to result in more wins or the fans will be missing Hall sooner than later. Let's just hope they don't turn on Larsson before Christmas.
In saying all that, landing Barrie as a "sexier" type would have taken a ton of pressure off Larsson. At least they could have shared it, which might make the pursuit of Barrie worth another call to Sakic. Yes, even if the rest of the league perceives it as another overpayment.
Oscar Klefbom
Speaking of expectations, pretty much everybody is pencilling in Klefbom as Larsson's top-pairing partner. That might be the case, but you're really going to want to temper those expectations.
For one, Klefbom and Larsson have never been partners before. There will be a learning curve between them. They have been on the same teams for Sweden, but not on the ice together for a regular shift.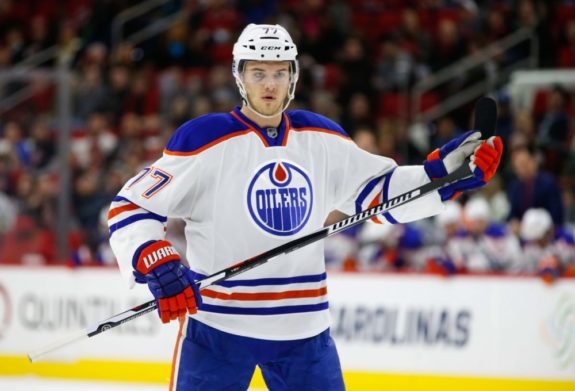 Secondly, and more importantly, Klefbom is coming off an injury-plagued season in which he played only 30 games. Last I heard, he couldn't put on a skate without his foot bleeding. That is a problem and one that could linger into the coming season.
Klefbom has a history of injuries too, pre-dating his (still brief) 107-game NHL career. I won't go as far as labelling Klefbom injury-prone, but I will suggest that it'll take him some time — perhaps significant time — to get back up to speed. Klefbom probably won't come out of the gates looking like the player he was two seasons ago when he put up 20 points in 60 games prior to signing a seven-year extension that will pay him $334 more than Larsson annually. Larsson's contract has five years left at $4.166 million, running through 2021, while Klefbom is locked up until 2023 at $4.167 million.
Those salaries seem reasonable and could become bargains in time, but either or both of those guys could also become whipping boys in 2016-17.
Andrej Sekera
I'll keep this shorter because Sekera is as close to a sure thing as the Oilers have on their defence. Sekera is what he is, a reliable but unspectacular veteran. He's a No. 3, or arguably still a No. 1, on the Oilers, but he'd be a No. 4 or 5 on a current Cup contender.
Sekera turned 30 years old this offseason and he's the highest-paid blueliner on Edmonton's roster at $5.5 million through 2021. He'll be turning 35 then, so he isn't getting any younger and won't likely get any better either. Sekera also has a no-move clause that forces the Oilers to protect him in the expansion draft next June regardless of his performance this coming season.
That shouldn't be a huge issue. The Oilers can expect more of the same from Sekera. They can expect him to be steady but average — much more "average" than Shea Weber, and I say that tongue-in-cheek for those following my Twitter feuds in defence of Weber. For those not following, I've been enlightened to the "fact" that Weber is no longer a No. 1 defenceman, that he'd slot into San Jose's third pairing (behind Brent Burns, Marc-Edouard Vlasic, Justin Braun and Paul Martin), and that he ranks somewhere between "70 and 120" amongst the roughly 210 NHL defencemen in terms of 5-on-5 effectiveness. Analytics are a hell of a drug, if not taken in moderation.
If you believe those numbers, ask yourself: Team protecting 1-goal lead with 2 mins left in game, you'd put 70-120 Dmen out over Weber? #NHL

— Larry Fisher (@LarryFisher_KDC) July 19, 2016
https://twitter.com/realPOSULLIVAN/status/755107440090353664
Brandon Davidson
Sorry, got a little sidetracked there. Back on topic, and what an interesting subject we have here. The sample size is small — very small, a grand total of 63 career games — but promising. Anybody who watched the Oilers with any regularity last season probably took notice of Davidson. He was hard to miss and for all the right reasons. He flashed some serious upside at both ends of the rink.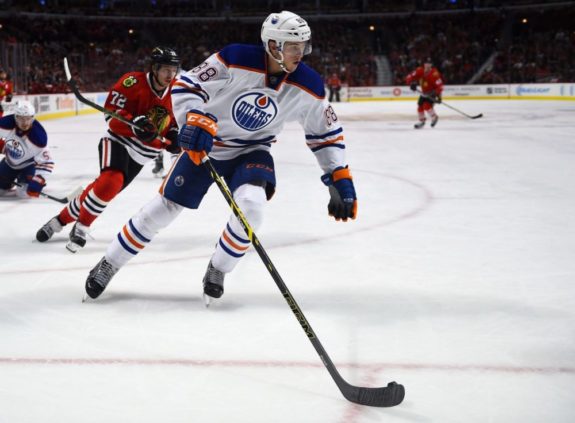 OK, deep breath. I repeat, the guy has played 63 career games. The guy has 12 career points, including five goals. Had he played all 82 games last season, Davidson was on pace for six goals and 18 points.
However, he too got hurt in the second half and had to be shut down early. I'm trying to remember the exact nature of that injury, but I do recall it being described as "serious" and "long-term." That's concerning. Is he fully recovered? Will he be 100 percent to start training camp? Has anybody asked this? That answer seems important.
Regardless, Davidson is far from a proven top-four defender. Yet, that's a role most are pegging him for. In fact, many are already calling Davidson a "lock" to be on Edmonton's protected list for the expansion draft.
That's bold, considering the three above defenders are assured of being protected. Larsson, Klefbom and Sekera, barring being traded, are actually locks. To protect a fourth defenceman, Edmonton would be exposing three extra forwards. The way it works is teams can protect seven forwards and three defencemen or eight skaters of any position (plus one goaltender either way).
So is Edmonton committed, as of today, to protecting Davidson over Yakupov, Benoit Pouliot and one of Patrick Maroon, Zack Kassian or potentially Anton Lander or Tyler Pitlick? That's a stretch. The next 82 games will finalize that decision and it could be disappointing (and humbling) for Davidson's supporters.
Mark Fayne
If those are the top four, and that hasn't been decided yet either, then Fayne likely finds himself on the bottom pair. Here's a guy who struggled mightily for stretches of last season, even getting waived and going unclaimed on his way to a stint in the minors. To his credit, Fayne took that demotion in stride, worked his way back up from Bakersfield and was better in a lesser role the rest of the way.
Fayne hasn't lived up to expectations in Edmonton, and it's unlikely he ever will. He came highly touted as a free agent from New Jersey, where he had logged some tough, top-pairing minutes with Andy Greene. Yes, the same place and the same partner as Larsson last season. Granted, most would agree that the Oilers got the right Devil this time, that reality shouldn't be lost on anybody. It can't be overlooked, ignored or outright dismissed.
Fayne could bounce back this coming season, picking up and improving on where he left off. I read somewhere that Fayne is in the "best shape of his life" this offseason and determined to make amends for a mediocre campaign, but if I'm not mistaken, we heard similar things about Nikita Nikitin leading up to last year's training camp. And one must consider the source — that quote came from Fayne's agent. We shall see.
Darnell Nurse
This kid is a gamer, but he's still a kid in a men's league at the age of 21. Especially for a defenceman. And that was evident last season, with Nurse making his share of rookie mistakes. He did a lot of good, there was a lot to like going forward, but there was also inconsistency and instances where he tried to do too much.
Nurse has sky-is-the-limit potential — there's no mistaking or disputing that — but the sophomore slump is a real thing too. Nurse made last season's team largely on adrenaline and thanks to a lack of competition. He was fired up in the preseason, playing with a chip on his shoulder and wanting to make impression. He succeeded but still started in the minors, mainly because of the numbers game and the amount of one-way contracts that included Nikitin and a healthy Andrew Ference at that time. But Nurse was on the NHL roster before the season was even a month old and stuck around for those same reasons. He was baptized by fire and managed to hold his own for the most part — not backing down from anybody, not even his new teammate Lucic.
The future is bright for Nurse, but the future might not be right now. With a little more competition on the back end — not a lot more, but a little — it's entirely possible that Nurse starts this coming season in the minors again. Whether he likes it or not, Nurse could benefit from more time in Bakersfield. He could be a top-pairing, all-situation defender down there — yes, even power play — and return to Edmonton in due time as a more mature, seasoned and polished player. That development concept didn't resonate with the old regime — management and coaching staff — but Chiarelli and McLellan will almost certainly give it consideration with regards to Nurse.
Jordan Oesterle
If Nurse isn't on the opening-night roster and no other trades or signings take place in the meantime, then Oesterle could wind up as Fayne's partner. He's paid his dues in the minors, more so than Nurse, and brings a lot of what the Oilers are missing. That was also evident in the 17 games that Oesterle got into last season, so much so that McLellan had him playing more than 25 minutes on a couple of nights.
Oesterle seemed to win over this coaching staff and that might give him a leg up in training camp. Especially if the plan is to send Nurse down — assuming they are leaning in that direction unless Nurse forces his way onto the team and into Rogers Place for that Battle of Alberta opener, which is entirely possible too.
With Oesterle, as was the case with Davidson, it's best to approach this coming season with little to no expectations — modest, at most — and hope to be pleasantly surprised. I saw somebody referring to Oesterle as a "poor man's Barrie" and another fan suggested Oesterle was "already better than old-man Boyle."
Slow it down. Back it up. Oesterle hasn't earned that title, nor is he deserving of that description. Baby steps. I'll say this: Oesterle "should" be a better version of Brad Hunt, a capable puck-mover who could see some power-play time if and when he's in the lineup.
Griffin Reinhart
Last but maybe not least — I left Ference off this list because I don't think he'll ever suit up for another NHL game — we shine the spotlight on last season's biggest disappointment in the eyes of many fans. Reinhart, not Ference, that is.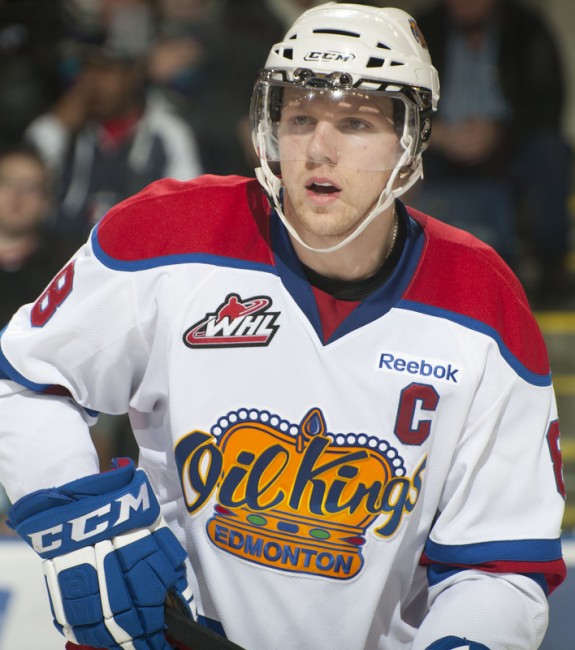 The Oilers gave up a lot to get Reinhart, the fourth overall pick from 2012, who was coming off his rookie season as a pro — spent mostly in the minors, aside from an eight-game call-up with the New York Islanders. Reinhart was well known locally and he was one of Green's guys. They won a Memorial Cup together with the WHL's Edmonton Oil Kings the previous year, in 2014. The Oilers, on Green's advice, targeted Reinhart and paid Garth Snow's asking price of first- and second-round picks.
There was plenty of talent left on the board at 16th overall when that deal went down, and there was enough depth in that 2015 draft to ensure another Grade-A prospect at 33rd as well. Edmonton was on a high from selecting Connor McDavid first overall and decided to make the move, which amounted to — for those who prefer to attach names to trades — Mathew Barzal and Mitchell Stephens, both centres who represented Canada at the 2016 world juniors.
Reinhart made the Oilers out of camp last season — as both Green and Chiarelli basically promised he would — but he was overmatched in the NHL and sent down shortly thereafter. Reinhart didn't dominate the AHL either, but that same lack of competition that made Nurse a mainstay also allowed Reinhart the opportunity to dress for 29 games with the Oilers. He looked decent at times but clearly didn't belong.
This coming season is a big one for Reinhart to prove that he does, in fact, belong. This time, the 'Big Cat' is coming in as an underdog. Very few expect Reinhart to crack the Oilers out of camp. That's not to say it couldn't happen. I, for one, haven't written off Reinhart. I still see what Green and the Oilers saw when they went after him — a big, mean shutdown defender who makes a solid first pass and could develop into somewhat of a two-way threat. Petrovic with a better pedigree. Erik Gudbranson, the third overall pick from 2010 who was acquired by the Vancouver Canucks this offseason, is the ideal comparable in terms of upside — and I know my advanced-stats friends love that guy. For the record, I still like Gudbranson too, though not as much as Weber.
Back to Reinhart, it was obvious that his skating needed work last season. Fortunately for the Oilers, they have one of the best skating coaches in the league in former Olympic gold medal-winning figure skater David Pelletier. You can bet that Pelletier, on Green's advice, is making Reinhart his pet project this summer. Those results will be on display at training camp, but I'm betting that Reinhart will have made big strides in that department.
With improved foot speed and acceleration, combined with less pressure and more familiarity, Reinhart might just make the cut. Even if he doesn't start in the NHL, the Oilers will likely want to get a good look at Reinhart's progress over the course of the season. Why? Because he too is eligible for the expansion draft and would be exposed to Las Vegas. Reinhart, with a strong season in Bakersfield and/or Edmonton, could be on George McPhee's shortlist for Oilers of interest and might get selected ahead of the probable candidates, Pouliot or Yakupov.
Remember, Edmonton made a significant investment in Reinhart and may want to see it through. That could mean protecting Reinhart over Davidson as the fourth defenceman if the Oilers go that route. Laugh now, but let's see how this coming season plays out. For better or worse, from top to bottom on this list.