Andrej Nestrasil of the Carolina Hurricanes says he is ready. After sustaining a fractured vertebrae last February that caused him to miss the remainder of the season, he also has a new perspective.
I spoke with Nestrasil on Friday, September 9 at the team's media day. He told me that is he healthy and ready to play. Nestrasil said,
Three months in the brace, but that was done before June 1st, so I still had June, July and August to get ready. I was kind of hoping for the World Cup, so I was even pushing it because the timeline for the World Cup was September 4th. So by that time I was ready. I felt great.
Nestrasil appeared outwardly to look as great as he said he felt, genuinely looking forward to the weeks ahead of practice and the start of the season.
Nestrasil Has New Perspective
Another of the 'Canes stable of young players, Nestrasil emerged last season as a legitimate forward for head coach Bill Peters. He joked with me that he had gained weight and that "just eating" didn't help while he was out during his recovery. But, he said he feels great now, and appreciates the opportunity he has as a player in the NHL even more. Nestrasil said,
I've been here a week now skating with the guys. It's been awesome. It just gives you a new perspective that you should enjoy being on the ice every day. Not that I didn't before, I did. But, you realize it even more that you're really blessed that you do what you, and that you have the chance to get out there every day.
Sometimes being unable to do what you might take for granted because you've been injured makes you appreciate it even more when you return. That is the case with Nestrasil.
#Canes GM Ron #Francis says Andrej #Nestrasil (vertebrae) should be 100 percent for training camp. #Hurricanes pic.twitter.com/NRUhV3aKmN

— CoastToCoastHockey (@coastocoasthky) August 30, 2016
Pressure is a Good Thing
I asked Nestrasil if he personally felt the added pressure of making the playoffs given how close the Hurricanes came last season. Nestrasil said,
Kind of. It's a big year for everyone, for the coaching staff, management, us players. I feel like it's time for us to step up and crack the playoffs. At the same time pressure helps me. I like being under pressure. I like when people are giving you are hard time if you don't play well. On the other hand they tell you 'good job' after a good game. I like it that way.
Nestrasil also made the point that,
The pressure's part of it. We are professional athletes and we should be able to deal with that by now. If you're not mentally strong, you can't be in this league.
He added that often the difference between a great player making it in the NHL or not is their mental toughness. Nestrasil said,
I feel like everyone's ready for the season and we should be in the playoffs this year.
With the confidence in his demeanor, I have no doubt that he believes the team will fight for a playoff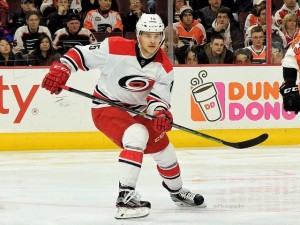 spot.
Bring Back the Line
Nestrasil played with Jordan Staal and Joakim Nordström on the Hurricanes second line for much of last season. There is no question that they clicked. With the departure of Eric Staal, there is speculation that their line will move up to the top. Nestrasil said he hopes they can stay together.
Speaking for myself, I wish we could start that way again. I really liked playing on that line. I liked the role that we were kind of like a shut-down line but at the same time we could contribute offensively. That's great, that's added value to the team.
Tossing in some analytics Nestrasil added,
Our Corsi was through the roof for most of the time when we played together. So I just hope we can pick up where we left it off and go from there and see how it goes.
With the influx of players that 'Canes GM Ron Francis has brought in during the offseason, nothing is set in stone. But, I agree that the Nordström, Staal, Nestrasil line is one that deserves a strong look at being part of the upcoming season.
Nestrasil-J.Staal-Nordstrom line has been 🔥🔥🔥 lately

— Canes Got Next (@CanesGotNext) February 17, 2016
The Young Guy a Veteran
At age 25, the former Detroit Red Wing is close to being one of the older guys in the Hurricanes' locker room. I asked if he felt added leadership responsibilities. Nestrasil said,
Yeah, I actually kind of do. When I played in Detroit I was 23. I was definitely the youngest guy on the team. Then I moved to Carolina and 23 was like an average age. I'm not a guy who yells at everyone in the locker room, but I just try to be positive and lead with the attitude and with the way I prepare for games and practices.
I have to say that Nestrasil comes across ready to play, and ready to win. But, there is a humility about him that comes from realizing that what he loved was close to being taken from him. He's not only ready to hopefully make the playoffs, but he's ready to take the ice every night with a thankful heart.
Mark lives in the Raleigh, NC area and covers the Carolina Hurricanes.