The New York Islanders 2015-16 season was considered by many a positive one, as the team advanced to the second round of the NHL playoffs for the first time since 1992-93. However, despite the team's raised level of success, they haven't had a 100-point scorer since Pierre Turgeon's 132-point season in, you guessed it, the 1992-93 season.
Despite talent the likes of Alexei Yashin, Zigmund Palffy and even current captain John Tavares on the team over the past 25 years, the closest they've managed to get was Palffy's 90 points in the 1996-97 season. Could Tavares be the next Islander to join legends Denis Potvin, Mike Bossy and Bryan Trottier in the team's 100-point club? Or will he continue to hover around the 80-90-point total like he has most of his career?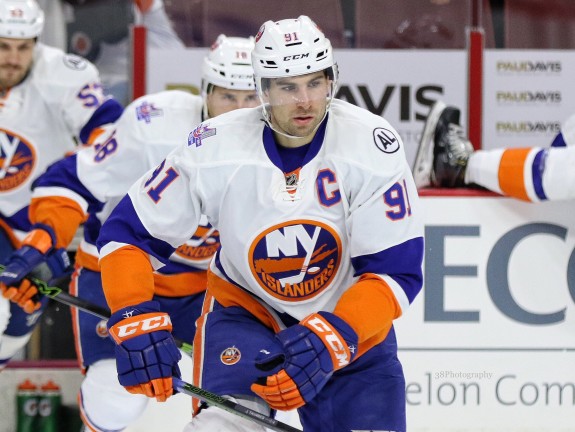 Last Season
After scoring 19 points through his first 18 games, Tavares scored just 10 points over his next 20 games as he battled a mystery ailment that drained the energy out of him. Although he rebounded from that cold streak later in the season, his production was still just barely at a point-a-game, as he tallied 18 goals and 23 assists for 41 points over his last 40 contests.
Tavares was solid during the Islanders run to the second round of the playoffs, with 11 points in as many games, single-handedly scoring the goal that eliminated the Florida Panthers from playoff competition. Considered one of the top players in the league, Tavares still hasn't had that monster season that cements his spot among the NHL elite.
Why Tavares Could Score 100 Points
Tavares' new linemates, regardless of who they are, Brock Nelson, Ryan Strome, Andrew Ladd or PA Parenteau, all have something to prove. Tavares has a habit of bringing the best out of his teammates, but he's never been in a situation where his teammates were extra hungry. This year could be the one that's different. From Nelson and Strome's inconsistency to Ladd's new contract and Parenteau's opportunity on a one-year deal, this group of forwards has an opportunity to do something special with Tavares this season and they know it.
Why He Won't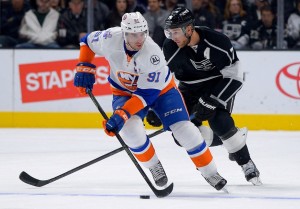 He hasn't reached 100 yet in a season and may not have the support. Nothing against Ladd or Parenteau, but they aren't exactly top-line forwards. Ladd has shown glimpses of 30-goal ability but has never been a consistent force. Parenteau has to prove his season last year with Toronto wasn't a fluke and his injuries in Montreal are completely behind him. Nelson may be the best of the bunch, but he too has yet to turn in an 82-game performance. Strome has to sign first and then his journey to prove his sophomore slump was an aberration will begin.
Projection
Much like season's past, Tavares will have his share of linemates, but building off of his success from last season's playoffs, he will set a career high in goals, assists and points. However, he will not hit the 100-point mark. Scoring 45 goals and 50 assists is nothing to complain about in today's NHL, but he isn't a 100-point scorer yet. That won't happen until the Islanders invest in a legitimate top-three forward to play with him.
Over the past ten years as a working journalist, Patrick Hickey Jr. has covered the New York Islanders, New York Rangers and New Jersey Devils, as well as the Brooklyn Aces of the former EPHL, contributing pieces and/or holding Editorial positions at NBC, New York Sports Day, NY Sportscene Magazine and the New York Times. During that time, he has interviewed NHL stars the likes of Brendan Shanahan, Bernie Nicholls, Bob Probert, Martin Brodeur and Zach Parise. He is also the first winner of the New York Islanders Blog of the Year Award, for his work on TheDriveForFive.com in 2008.