After starting the season with eight defensemen, the Columbus Blue Jackets decided to send one back to the AHL before their first game.
The team sent Markus Nutivaara to the Cleveland Monsters despite making the opening roster and playing 66 games last season. A closer look at this situation reveals why this move makes sense.
Nutivaara Needs Time
With rookie Gabriel Carlsson making the team as the sixth defenseman and Scott Harrington on the roster as a seventh defenseman, it didn't make sense to keep Nutivaara in Columbus when he's exempt from waivers. This afforded the team an opportunity to send him down for a couple of reasons.
First, Nutivaara can play top-pair minutes for the Monsters. He can play 20 minutes per night while working on improving his game.
Second, Nutivaara can get into games while making sure he's fully back from offseason hip surgery. Nutivaara didn't seem limited in training camp or the preseason, but you always want to make sure there are no setbacks.
Nutivaara played his first game with the Monsters on Saturday. Although he made a couple of nice plays during the game, he has plenty of room for improvement.
Coach Madden Assesses Nutivaara
How did Nutivaara look in the eyes of the coach?
"I thought Nuti struggled a little bit," Madden said. "I thought he came on later in the game. For some of these guys coming down to the American Hockey League, the plays don't develop the way they do up there (NHL). Overall, I thought they (Nutivaara and Anderson) played well enough to give us a chance to win."
What does Nutivaara need to work on now?
"Pretty much everything," Madden said. "I thought he was just average across the board in terms of the things he did. I know he's got a lot more in him and a lot more game in him. But he only had one practice with us. I know things aren't that much different (in AHL) but we'll get him going."
Nutivaara played with Dean Kukan throughout the game at even strength and saw time on both special teams units. His night ended with no shots on goal and a -2 rating.
Thiessen stops 18 of 21 pucks in front of 12,115 at The Q on opening night.https://t.co/aF3eBaPFUa

— Cleveland Monsters (@monstershockey) October 8, 2017
More to the Story?
Nutivaara is now exempt from waivers. This means that the Blue Jackets can send him to Cleveland without exposing him to another team on the waiver wire. However this distinction won't last long depending on how the season plays out.
According to waiver eligibility rules, Nutivaara needs just four more NHL games to become waiver eligible. According to Cap Friendly, he signed his entry-level deal at age 22. This means his waiver age is also 22. A player who signs his ELC at age 22 loses his waiver-exempt status after three seasons or 70 NHL games whichever comes first. Because he played 66 games last season, he needs just the four games to need waivers. This happens immediately after completing his 70th game.
This could become an interesting dilemma down the road.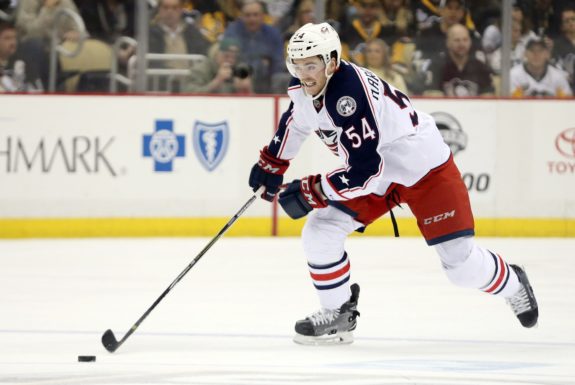 Say the Blue Jackets suffer an injury and call Nutivaara up to Columbus. If Nutivaara plays four games or more, returning him to Cleveland would need waivers. In that situation, your potential sixth and seventh defensemen (in case of injury) both need waivers once the injured player returns. Recall Harrington needs waivers to go to Cleveland.
If this happens, will the Blue Jackets keep eight defensemen again? Remember also Jordan Schroeder will return from injury at some point. As of this writing, the team could keep Schroeder on the roster when ready because there are 22 skaters on the roster. But if the team were to choose to send Schroeder down, that requires waivers. It could get tricky later. The team might have to expose someone and risk losing them for nothing.
Another possibility is keep Nutivaara in Cleveland as long as possible. That way he continues to work on his game and would keep his waiver-exempt status in tact.
As coach said, Nutivaara needs to work on his game. It will take time but Nutivaara will make the most of his time in the AHL. If he gets called back to the NHL, watch the waiver thing. It could make for an interesting situation later.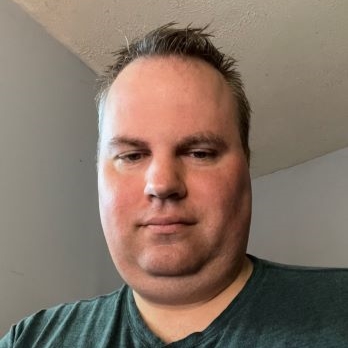 I am a fully credentialed writer who covers the Columbus Blue Jackets, Cleveland Monsters and Erie Otters as well as the Ontario Hockey League and NHL Draft. The 2022-23 season will mark nine seasons with the Hockey Writers. I am also the site's Credentials Manager. Please take note of the updated Twitter handle: @mark_scheig.