An early exit from the 2017 Stanley Cup Playoffs has the entire Blue Jackets organization rethinking where the bar needs to be set. The most successful regular season in franchise history followed with only five games of postseason hockey. For the Blue Jackets, especially head coach John Tortorella, that's not good enough. In fact, it can be evaluated as a failure of a season.
That's where this team is now. It's crazy to think about for a team that has only three playoff wins in as many postseason appearances in their history. But even though the season is finished in Columbus, it's still sort of difficult to feel too disappointed. Why? Because the future of the Blue Jackets shines extremely bright. Brighter than it has ever shined before.
Jackets fans have plenty to be excited for after a storybook regular season. And the thing that they can be most excited about is the future of the Jackets' defensive unit.
State of the Blue Line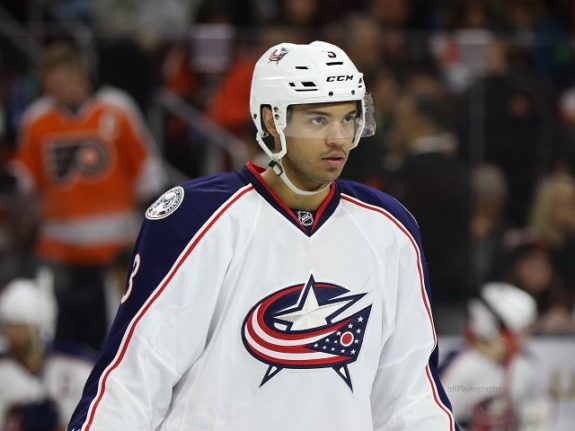 Seth Jones. Zach Werenski. Ryan Murray. Markus Nutivaara. Gabriel Carlsson. What do they all have in common? They're all 23 or younger and have at least top-four potential. Jones and Werenski will comprise the top pairing for a very long time. Meanwhile, Murray, Nutivaara, and Carlsson, along with other defensive prospects will be filling out spots in the bottom four.
With a shutdown, big-boy second pairing in Jack Johnson and David Savard, though, there are currently open spots only on the bottom pair. Among non-free agents this summer, Johnson is the Jackets' oldest veteran defenseman at 30 years old. Savard, meanwhile, is also considered a veteran at only 26.
Breaking Down the Young Defensemen
What can't you say about the play from Jones and Werenski? Jones was an All-Star this year and Werenski is a Calder Trophy finalist. Jones led the team in ice time per game and Werenski led all rookie defensemen in points. These two were incredible all year long anchoring the blue line, and they're only going to get better. Jones is 22 and Werenski is 19. I mean, c'mon. It shouldn't be fair to be that good and that young at the same time.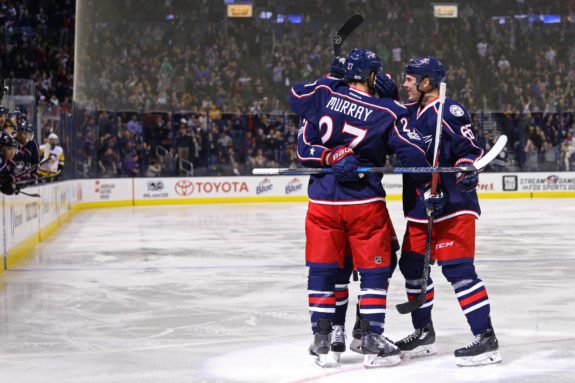 Guys like Murray, Nutivaara and Carlsson are great options as the fifth, sixth, and seventh defensemen. The 23-year-old Murray will give you a solid two-way game. So will the 22-year-old Nutivaara, but he's likely to bring more offensively. Scott Harrington, 24, is another depth defenseman who can provide solid minutes.
Carlsson is a prototypical defensive defenseman. In the defensive zone, he's as solid as it gets. He separates opponents from the puck and his first pass out of the zone is exceptional. The 20-year-old came out of nowhere to appear in the Jackets' final two regular season games. Then he continued to play in all five postseason games as well. This kid has already proved to be valuable to the Jackets and his role will likely expand starting next season.
And, like I said before, there are some other guys who could throw their names into the ring come training camp. There are probably more forwards that have a chance at cracking the roster next season. However, there is one name that came up in Jarmo Kekalainen and John Davidson's exit interview: Vladislav Gavrikov. The 21-year-old has been playing in the KHL for three years now. Jarmo and JD were able to see him play overseas, and they're very excited about him. The sixth-round pick in 2015 might have a chance to compete for a roster spot at training camp this summer.
A "Luxury"
The Jackets are loaded with young talent all over their roster. Their defense, though, is the most encouraging bright spot as far as position groups go. The top six, seven, maybe even eight is already complete. Because of this, the Jackets don't need to engage in free agency. Thus, they don't need to spend money on a free agent d-man unless they make a trade involving one or more of their own. At the moment, that doesn't appear likely to happen, though.
Management has to be thrilled with the amount of defensemen that can crack the lineup right now. This is an extremely good problem to have. Kekalainen called it a "luxury" in the exit interviews. To have this many solid, young defensemen is a rare commodity around the league. In the NHL, you might not find a better defensive core than the one blooming in Columbus. And the best thing about it is that it's only just getting started.