There is something that most NHL teams have and the Wild need, and that's a pure goal scorer. They have been without a pure, natural goal scorer since the Marian Gaborik days. Gaborik parted ways with the Wild following the 2008-09 season and has left a void that the Wild have not been able to fill.
Consistency is Key
Since then, the Wild have not had a 40-goal scorer. Zach Parise had 33 goals in 2014-15, the most since Gaborik left. Those 33 goals are the only time that Parise has eclipsed the 30-goal mark in a Wild uniform. In 2014, Jason Pominville scored 30 goals, which lead the Wild that year. Besides those two seasons, the Wild have not had a 30-plus goal scorer.
The Wild have had a more dispersed, offensive group over recent years, which has proven successful for them. This season, the Wild had four different players reach the 20-goal mark. Having the offense spread out so much made for a tough matchup for opposing teams, but didn't help the Wild in the postseason, where they were eliminated in five games. In fact, the Wild's top three goal scorers in the regular season were all held without a goal in the playoffs.
Pure Goal-Scorer Necessities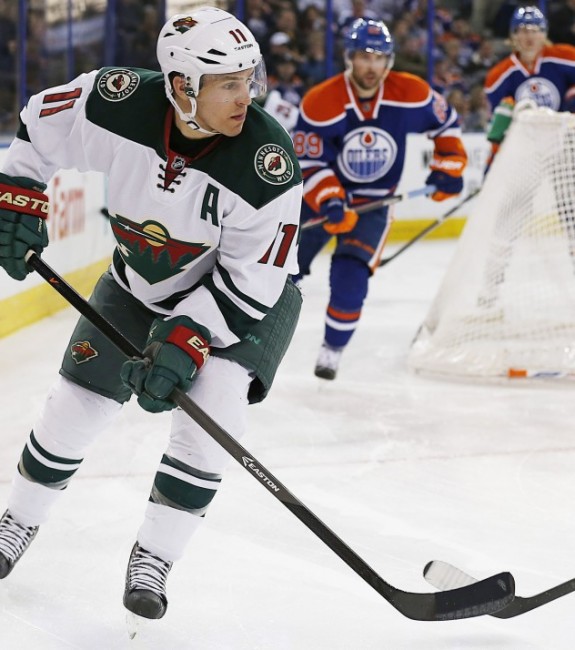 The Wild have made the playoffs five straight years now. In those five years, the Wild have failed to ever get beyond the second round, never having a pure goal scorer step up and lead the way. When you look at teams like the Blackhawks, Capitals, Penguins, Sharks, Blues and Lightning, they all possess at least one pure goal scorer who can single-handedly take control of a game and put up points.
Not only is having a pure goal scorer beneficial from a points aspect, it also forces teams to game-plan around that specific player or two, which naturally creates opportunities for other players on the team. That's why teams like the Blackhawks have so many guys putting up 15-25 goals a season. Teams key in on Patrick Kane, who will draw in multiple defenders. This leaves other guys like Jonathan Toews or Artemi Panarin with golden chances on almost a nightly basis.
The Wild have plenty of talent on their roster. They have young studs in Mikael Granlund, Nino Niederreiter, Jason Zucker and Charlie Coyle, who are all capable of putting up 25-35 goals a year. They also possess veteran scorers in Parise, Eric Staal, and Pominville. These guys all have the talent to be consistent pure goal scorers for this team. They have all put up 20-plus goal seasons for the Wild, but none have been able to hit 30-40 goals on a consistent basis, thus lacking a pure goal scorer.
Adding Scorer Will Prove Beneficial
Adding a pure goal scorer will not only help the team, but individual players. If the Wild could add a 40-goal scorer, it would add a whole new dynamic to the team. It would force teams to key in on that one player. This would take pressure off of players like Parise, Granlund, Niederreiter and Coyle, giving them more offensive opportunities. That's a major benefit of having a pure goal scorer. He can make guys around him better and can step up when other guys are struggling.
Finding a Pure Goal Scorer
Now, having a pure goal scorer doesn't always help. The Blackhawks showed us that when they were swept by the Predators in the first round, but it's something that is worth looking into for the Wild. The Wild haven't achieved their goals having multiple 15-25 goal scorers and a spread-out offense. Adding an elite skater who can put up big numbers could help them reach the ultimate goal. The Wild will have roughly $11.4 million in cap space this summer. Veteran winger Jason Pominville could possibly be moved this summer, which would open up another $5.6 million in cap space.
Unfortunately, the free-agent market is going to be thin this summer. T.J Oshie and Patrick Eaves are the only two 30-goal scorers who are set to be free agents this summer, and neither has been known to consistently put up big numbers. The Wild also have to re-sign Mikael Granlund and Nino Niederreiter to extensions this summer. If the Wild re-sign them, they will be better off looking at trading for a goal scorer.
Guys like Frank Vatrano and Jonathan Drouin could possibly be available. Drouin has been part of trade rumors for over a year now and looks to have developed into a dynamic young player. Vatrano had a great year for the Bruins, but the Bruins are likely going to make signing him to a new deal a top priority.