The two best players in San Jose Sharks history have expiring contracts. In almost every meaningful category, one is first in franchise history and more often than not, the other is second. Goals, assists, points, games played. The list goes on. Joe Thornton and Patrick Marleau have combined for over 2,000 points in teal.
And yet, they are not the cornerstone contracts Sharks general manager Doug Wilson needs to extend in the offseason.
Two players have contracts that expire just over a year from now. These two extensions, which Wilson indicated he wanted to be done by the start of training camp (September), are San Jose's critical deals.
The two players are Marc-Edouard Vlasic and Martin Jones.
The Defenseman
Vlasic is an all-around defenseman. He is a good skater capable of moving the puck. He has a respectable offensive game. But he's as good as it gets when defending top-tier players.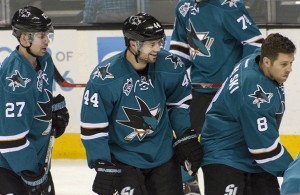 In the Sharks' past two playoff series, he defended Connor McDavid and Sidney Crosby. Until McDavid's empty-net goal with under a second left in the series, McDavid didn't have a single even-strength point. Last season, in his battle with Crosby in the Stanley Cup Final, the Pens star managed just four assists (one on an empty-net goal).
Holding down elite offensive players is one of hockey's rarer and most coveted skills. Vlasic is under the radar to most hockey fans, but he's no mystery to the NHL's 31 general managers. If Vlasic gets to the open market, the list of interested teams will be, well, every single one; the bidding for his services will be fierce.
Teams are always looking for players who can change a playoff series result. Vlasic is the rare-skill difference maker teams crave as the try to reach the next level. Further, if he is on your team, he won't be shutting your guy down.
Vlasic's deal is for $4.25 million per season, perhaps the best bargain non-entry level deal in the league. If he hits the open market, expect the first digit to start with a seven. For next season, nine defensemen have annual cap hits of $7 million or more, with Norris finalists Victor Hedman and Brent Burns joining the group.
The lone drawback with Vlasic is his age. He is 30 now, still very much in his prime. But any lengthy deal will go beyond his prime years.
The Goalie
Jones had a so-so season, entering the playoffs ranked 14th in save percentage among the 16 starters. But Jones has something on his resume the Sharks have needed for a long time. He plays big in the playoffs. He posted a .935 save percentage this playoff season and .923 last season, stealing some critical games along the way. One pays a premium for an average regular season goalie who spiffs up his game when the lights brighten.
Jones has also been a workhorse, leading the league in games played over the last two seasons. In his first season as a starter, he played 89 games (including the playoffs). The last goalie who played 90 or more in a season was over a decade earlier: Martin Brodeur.
Jones's deal sits at $3 million per season. There are 18 goalies with cap hits of $5 million or more, but Jones can make a reasonable case he's closer to the $6 million range. Fifteen of the 18 make $5.66 million or more, which is half the league. Jones has a solid case for being paid in the 'above average' category.
Further, Jones is just 27, meaning the entirety of his deal will happen during his prime years.
Cornerstone Contracts
Between Vlasic and Jones, the Sharks can expect the two deals to have an annual cap hit between $12 and $13 million. This is roughly an additional $5 million against the salary cap, and it might even get close to $6 million.
These two upcoming deals fit among the Sharks' cornerstone contracts. They will join Brent Burns, Logan Couture and Joe Pavelski in this category. These pricey, long-term contracts are for top-end players. Assuming Vlasic and Jones sign new deals, the Sharks will have locked up their core: two forwards, two defensemen and a goalie.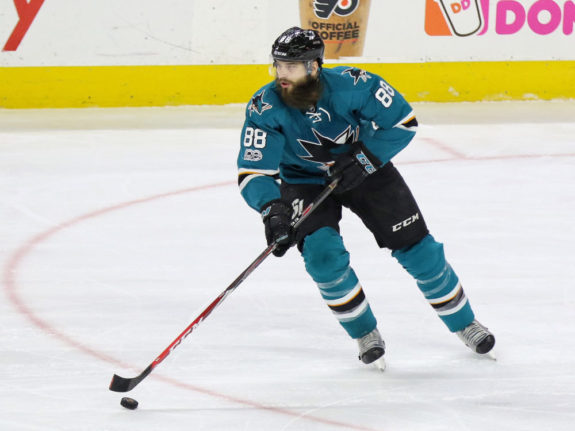 Completing these cornerstone contracts will help San Jose proceed with other deals.
Additional Factors
Other issues factor in. These include the player Las Vegas selects from San Jose in the expansion draft and the Sharks' commitment (or lack thereof) to winger Mikkel Boedker. Boedker didn't come close to playing up to his $4 million annual deal, which has another three seasons remaining.
The league's new cap figure will also play a role. The final factor is perhaps the most difficult. It is the cap wiggle room San Jose will want so it can land a top-flight center. Without question, the Sharks are looking for the player who, at least partly, fills Thornton's jumbo-sized skates as his career winds down. Whoever it is, he'll be expensive.
More Deals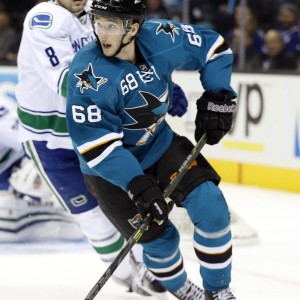 The Sharks have other contracts to negotiate, but none are 'move the needle' sorts. Marcus Sorensen, Melker Karlsson, Joonas Donskoi and Chris Tierney will get raises, but as restricted free agents, they'll be modest raises.
Cap space will steadily open up. Joel Ward's deal expires at the end of next season and Paul Martin's the following season. These older players combine for over $8 million cap space, meaning there will be cap space in the not-too-distant future to add a very good player. But with San Jose (unlike Toronto, Edmonton, etc.), there is urgency now—time is not on their side.
The Legends
After San Jose gets (mostly) through these issues, they'll know what they can do with Sharks legends Thornton and Marleau.
Navigating the salary cap in the near term is challenging. The 2016-17 Sharks had a terrific roster, but key players were injured while others were overused. A longer summer to recover, coupled with wiser use of high-mileage players, means the Sharks can be very competitive next season. The cornerstone deals with Vlasic and Jones provide the foundation for San Jose's next several seasons. Assuming they happen, when it comes to new deals, the team's legends are not at the front of the line.