The other seven remaining teams in the NHL playoffs should be afraid of the Pittsburgh Penguins. Not because the Penguins are playing phenomenal Hockey right now, but because somehow, they continue to win despite playing poorly in long stretches. When the Penguins faced the Columbus Blue Jackets in round one, they were dominated for most of the five-game series before emerging victorious and moving on to face the Washington Capitals in round two.
There's no way they could keep that up against the number one team in the NHL, right?
Game 1 between the Penguins and Capitals came down to many of the factors that were covered ad nauseam prior to the series beginning. Pittsburgh's blue line, goaltending, and of course, Sidney Crosby versus Alex Ovechkin. Crosby netted two goals, Ovechkin scored one and generally speaking the Capitals dominated the Penguins defensive corps for the majority of Thursday night's contest. There were a few bright spots, however, that the Penguins can build on going forward.
And we're not even talking about goaltending yet.
No Generalship, But Lethal Countering
The 2017 version of the Penguins is far different from the team we watched win the Stanley Cup just one year ago. Last season's Penguins were a possession monster, completely overwhelming opponents on the forecheck and absolutely owning the puck in all situations. Teams were unable to deal with their speed and the Penguins' potent offense took advantage of prime opportunities generated by their relentless attack.
That isn't the case this spring, however.
The Penguins lack ring generalship and they're relying heavily on their ability to counterpunch quickly and effectively. Look no further than Nick Bonino's game-winning goal on Thursday night, tallied after a long stretch of Capital's dominance. Bonino took advantage of Washington's defense pressing, caught Brooks Orpik flat-footed and essentially won a foot race that sprung him on a partial breakaway. The lack of awareness by Kevin Shattenkirk helped as well, as he committed to Scott Wilson along the boards leaving a gaping hole down the middle for Bonino to use to his advantage. 
Ian Cole's stretch pass to Wilson was impressive, and this goal is a perfect example of how quickly the Penguins can make you pay for your mistakes. This isn't the first time I've typed this in the past few weeks and it likely won't be the last, but the Penguins are doing their best impression of Rocky — a movie icon normally associated with Philadelphia, rather than Pittsburgh — by welcoming opponents' blows, weathering the storm and then just when you think they're getting buried — they strike.
And despite looking like underdogs, they just keep winning.
A Few Bright Spots
Outside of the most obvious bright spots — taking a 1-0 series lead and taking away Washington's home ice advantage — there were a few players who stood out in a game that was largely disappointing in terms of performance. First and foremost, Marc-Andre Fleury.
The Flower is truly in full bloom this spring, continuously bailing out the defensively chaotic Penguins and smiling the entire time. Afterward, when media asked Fleury for his thoughts on the game, he said it was fun. How could he not be enjoying this? Just a few months ago, we all wondered how much longer he'd wear a Penguins jersey and debated tons of trade scenarios that sent him packing and now, he's carrying this team on his shoulders at the most important time of the year. The Penguins were bested in the shot attempt battle by a tally of 72-32, according to NaturalStatTrick.Com. They were outshot 30-18 and the Capitals created 41 scoring chances to Pittsburgh's 15, 12 of which were high-danger opportunities.
Hopefully, someone is buying Fleury a steak dinner after that one.
Stories about Crosby versus Ovechkin were written over and over again, and have grown tiresome. But on Thursday night, that's exactly what the world was exposed to for at least a brief period of the contest. Crosby's two goals — which Ovechkin eventually partially answered with one of his own — came just 52-seconds apart at the beginning of the second period. His first goal was a fantastic setup by rookie sensation Jake Guentzel on a two-on-one but his second was more impressive, mainly due to his 200-foot effort leading up to burying a rebound.
The whole sequence started with Crosby's backcheck and crisp first pass to escape Penguins territory. He followed the play, yelled for Patric Hornqvist who cradled Olli Maatta's rebound in front and Sid beat a sprawling Braden Holtby. Crosby was fantastic throughout the entire game, one of the very few Penguins deserving of such praise.
Who else is worthy?
Maatta put the puck on net, creating a rebound opportunity that led to the Crosby goal above. The pairing of Maatta and Trevor Daley is quickly becoming a top pair for the Penguins and deservingly so, as both of them are seemingly shedding some of the issues we saw near the beginning of round one. Maatta's skating has been much better, his decision making is impressive and he also looks far more confident than we've seen recently, allowing him to rely on his gut and avoid second guessing himself. It's encouraging to see.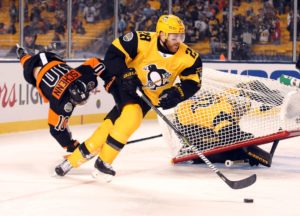 Ian Cole was rock solid on Thursday night, providing exactly the sort of two-way defensive play the Penguins need from him. He made the initial stretch pass to set up Bonino's game-winning goal, blocked eight shots, and stymied multiple Washington rushes with great gap control and stick work. he may have been Pittsburgh's best defenseman in Game 1.
The Penguins will need to be better in Game 2 if they plan on taking a 2-0 series lead and potentially applying a chokehold that Washington can't escape. If Carl Hagelin returns — which looks to be a real possibility despite some issues that forced him to stop skating during the Columbus series — it could be just the boost this team needs to ramp up the pressure on Washington's defenseman and tilt the ice a little more in their favor.
My original prediction of Capitals in six games may be in jeopardy.