The San Jose Sharks entered the 2016 offseason with deserved pride in their run to the Stanley Cup Final. But even before the Pittsburgh Penguins put the Sharks away in Game 6 to win the Cup last June, there were obvious issues awaiting the Sharks for 2016-17.
• The long season meant a shortened recovery time in the offseason.
• The World Cup of Hockey meant certain players would have even less recovery time.
• The World Cup of Hockey plus mandatory shutdown periods for each team meant the regular season had compressed schedules, with more than usual back-to-back and three games in four nights situations.
• As with every season, the Sharks expected to be among the league-leaders in travel miles.
• The Sharks had four players aged 35 or older in the 2016 playoffs.  Each was under contract for 2016-17, in a significant role. This included their two highest paid forwards and second highest paid defenseman.
While other teams shared some of these issues, in total the forecast had a uniquely harsh impact on theSharks. With this information in hand, the question has to be asked: what exactly did the Sharks do to mitigate these known issues? The answer: precious little.
Obvious Challenge
The 2016-17 Sharks were susceptible to fatigue and injuries. The coaches, players, management and media knew this from the start.
The roster, from a talent perspective, is as good as any in Sharks history. But history shows it is very unusual for a team to go deep in the playoffs in one season and again in the next. The accepted reason is simple enough; the long regular season coupled with a short offseason is insufficient for players to fully recover, leaving them depleted for the next season. The battle of attrition to get to the Stanley Cup Final impacts teams in the following season.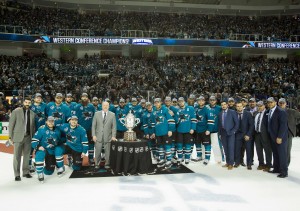 Knowing this, teams can attempt to mitigate the issues. It is a process that begins in the offseason, ramps up in October and doesn't end until game 82 in April.
For San Jose, added factors made their particular challenge even greater.
The Players
The Sharks' top players played a lot. Five key Sharks – the two highest paid defenseman and three highest paid forwards – all pushed the playing time envelope.
Joe Pavelski (age 32), Brent Burns (32), Joe Thornton (37), Patrick Marleau (37) all played 82 games last season and didn't miss a game this season until Thornton missed game 79. Paul Martin (36) played 78 games last season and 81 this season, the most regular season games he's played in a two-season stretch in a decade. Include playoff games and its the most he's ever played in a two-season stretch ever, even before this season's playoffs began.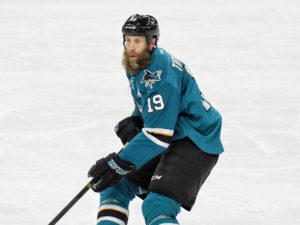 All five played in the full 24 games of last season's playoff run. Over the two-season stretch entering the playoffs, Pavelski led all forwards in ice time (including playoff games), while Thornton and Marleau were both top ten. Burns led all defensemen in ice time, Martin was top 30.
For these quality players, it is in their DNA to play if they can. Several Sharks players entered the season with lengthy consecutive game streaks, including Marleau (whose last missed game was in 2009), Pavelski (2011) and Burns (2013). Thornton had missed just nine games since getting traded to San Jose in 2005. Players take pride in playing.
Pride Cometh
The pride players take in playing is admirable. But there is a difference between effort and results. In a season with known challenges with fatigue and injury risks, these key Sharks needed to play smarter, not more.
There is no criticizing the courage of Sharks players. Logan Couture and Joe Thornton both played in the playoffs, despite severe injuries. One could question their sanity– a player competing with a broken mouth (Couture, click on the link with caution, it's not pretty) and another with two torn knee ligaments (Thornton), but not their courage. These are extraordinarily tough players.
In the NBA, coaches now routinely give top players games off to preserve their health and energy for the playoffs. Sharks general manager Doug Wilson was asked about this. "Trying to convince some of our players not to play, they are a creature of habit and they want to play, sometimes you have to protect the players from themselves." Wilson went on to suggest it was important to play the right way down the stretch. But the stretch (March) is too late to begin the process of keeping players fresh.
Wilson went on to suggest it was important to play the right way down the stretch. But the stretch (March) is too late to begin the process of keeping players fresh.
A Formula
The Sharks needed to consider adjustments to playing times for their key players. The team should create a target for playing time for certain players, somewhat analogous to a pitch count in baseball for pitchers. A reasonable target is 17 minutes per game for 78 games (for forwards). Players could sit out four games during the season and this would be 'compressed timeframe' games, either at one end of back-to-back games or the third game in four nights.
Giving players reduced games, reduced 'compressed timeframe' games and reduced ice times give them a better chance to be stronger throughout the season; while proportionally lowering their bumps, bruises and major injury risk.
Using players more efficiently isn't bubble-wrapping them. For the Sharks' veteran forwards, the roughly 1,400 minutes of ice time under this plan would be sufficient to get their game to a high level, help the team make the playoffs and avoid individuals playing past the point of diminishing returns.
If some players give up ice time, it means other players get bigger roles. For the Sharks, their fourth line was particularly effective. Lower line players Marcus Sorenson and Ryan Carpenter averaged just over ten minutes of ice time in a combined 30 games. Melker Karlsson averaged 12 minutes, Kevin Labanc 13 and Chris Tierney 14. All these players could have expanded their roles, allowing top players to play a bit less with an occasional game off. Combined, these five players were plus-20. They were an asset, not a liability.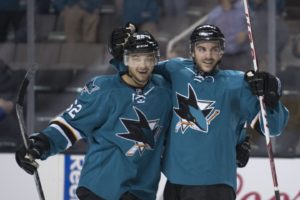 On the back end, Dylan DeMelo played 16 minutes a night, but only 25 games and finished a plus-2. A plan that rotated DeMelo into the line-up to occasionally spell Martin and Burns could have been implemented.
More or Less
Applying a formula means the best players play less. This does not mean the team is worse. For lesser-used players, more can be more and for heavily used players, less can be more. San Jose had the roster to pull this off.
The lone top-tier player whose ice time diminished significantly in 2016-17 was Marleau. He did not play in the World Cup of Hockey and DeBoer dropped his ice time by ten percent from last season (two minutes a game). Despite this, Marleau's even strength goal totals and points both jumped. His even strength goal total increased by 42% and his even strength points by 30%. He went from a minus-22 last season to a plus-4 this season. For Marleau, less was more. A lot more. He was also one of the better players in the series against Edmonton, scoring goals in three straight games.
For Pavelski and Thornton, more was less. Pavelski put up at least 37 goals in each of the last three seasons but dropped to 29 this season. Thornton dropped to 50 points for the year, 32 less than last season and his lowest (non-lockout season) total since … 1999(!). Both Joes played past the point of diminishing returns.
If top players play fewer minutes, it puts greater demand on the rest of the roster. There are risks, but also benefits. As younger players are given greater responsibility, they develop their NHL game more, which means they can contribute more in the playoffs.
This sort of plan is not risk-free, but it is not high-risk either. Younger players are better off seeing more ice time and the older players are better of seeing less.
Shared Responsibility
As Wilson said, top players are driven to want more ice time. Telling them to cut back on playing time cuts against their grain. But Wilson also said players sometimes need to be protected from themselves. Who drives this decision?
It has to come from multiple levels, but the coach is the lynchpin. He has to buy in first. DeBoer never bought in. He openly recognized the issue in the preseason and he recognized it after the season ended. In between, he paid it lip service. When questioned about the workload of goalie Martin Jones (the top goalie workload in the NHL over the past two seasons), DeBoer was openly dismissive.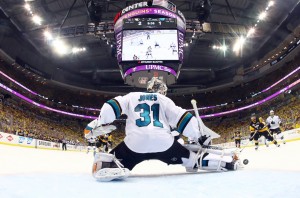 DeBoer was willing to risk overplaying his players. The problem with this approach is simple. There is downside risk, but no upside reward. Using a heavily-used player less won't make him worse, but using him too much might.
The Sharks entered the playoffs injured and fatigued. There is no way to know if major injuries to Thornton and Couture could have been avoided by less playing time, though given the random nature of the injuries, a 10% drop in ice time only results in a 10% drop in injury risk. Assuming the injuries to Couture and Thornton would still happen, the Sharks' season would end the same way it did. The question, though, is did San Jose take their best shot?
Three Keys
Fatigue, predictably, was an issue. DeBoer even stated the team "ran out of gas" in March.
The player who declined most notably in March was Burns who turned 32 on March 9th. He dominated the Capitals that evening, the Sharks' 66th game of the season. Through 66 games, Burns had 70 points and was plus-24. He was the best player in hockey. He also emptied the tank that night. In the 16 games after he turned 32, Burns mustered only six points and was minus-6.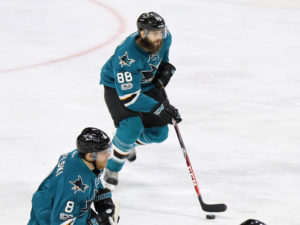 In the playoffs against Edmonton, he had three points and was minus-1. All three points came in Game 4's 7-0 blowout win; he went without a point in five of six games. While he had stretches of strong play in the series (Game 1, when he was most rested and the final period of Game 6), he wasn't close to the dominant force he was for most of the season. Burns played 88 games this season. For 66 games, he was extraordinary. In the final quarter, 22 games, the numbers – just nine points and minus-7 – tell the story.
Pavelski and Burns were the NHL ice time leaders at their position over the past two seasons (including playoff ice time). Before his injury in Game 78, Thornton was fourth among forwards. All played in the World Cup of Hockey.
As described earlier, Pavelski and Thornton had down seasons, while Burns hit a wall in March. Without these players fresh for the playoffs, the Sharks weren't capable of making a serious run at the Stanley Cup.
The World Cup Choice
If winning a Stanley Cup is the goal, tough choices must be made. Martin, Vlasic, Thornton, Burns, Pavelski and Marleau have a combined 86 seasons of NHL experience and zero Stanley Cups. There is no questioning their toughness and the sacrifices they make on the ice to succeed. But to take their best shot at a Stanley Cup, they needed to be a different kind of tough; to take ice time away from themselves when it mattered less so they could be stronger when it mattered more.
Playing in the World Cup of Hockey was a choice.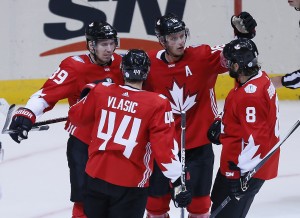 Six Sharks played in the Stanley Cup Final in June and the World Cup of Hockey in September. Thornton, Pavelski, Vlasic and Burns among them. Is playing in the World Cup (for the record, a tournament I've been dismissive of) more important than taking one's best shot at a Stanley Cup?
The Best Shot
When San Antonio Spurs coach Gregg Popovich first starting sitting his star basketball players to rest them for the playoffs, he was widely criticized. Popovich stood his ground; resting his players for the playoffs was more valuable than a single regular season game. The NBA even fined him for this action. No matter, he did what he felt gave his team the best chance at winning a championship. And the Spurs did just that. The championship forced critics to accept Popovich's logic, even if they were dismayed by the tactic. This tactic, while still controversial, has become the norm in the NBA.
While the specifics are different for the NHL and NBA, the objectives are the same. The formula described earlier is one approach. Indeed, this is more valuable in the NHL than NBA (in the NHL, seeding is less important, it is a more physical game, there are fewer backup players per roster, etc). Teams that are vulnerable to fatigue-related issues should use these tactics. No team was more vulnerable than San Jose this season (and perhaps this season's schedule made them the most vulnerable team in the past several seasons).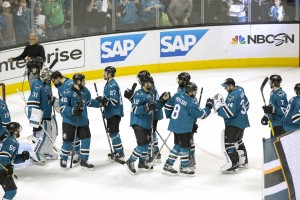 The Sharks' best shot at a Stanley Cup required tough choices on playing time. Skipping the World Cup of Hockey, ending long consecutive game streaks, playing less and missing games even when healthy – these all cut against the grain. One has to want a Stanley Cup a lot to make these sorts of choices. Yet, this is what 'taking their best shot' required.
Players and coaches needed to buy in. Collectively and individually, they needed to acknowledge less was more and act accordingly. They were unwilling to take this course of action. The conclusion, as harsh as it sounds, is inescapable. It would be nice to say the Sharks took their best shot at a Stanley Cup this season. Apparently, they didn't want it enough.
ZEKE is a native of the DC area where he witnessed the birth of the Capitals franchise. After graduating from Cornell University, which had seen hockey glory before he arrived, he moved west to San Jose. There he witnessed the birth of the Sharks franchise. His wait to witness a Championship from any of these teams finally ended in 2018.