For the past several years, Patrick Marleau's seasons have followed a template. Start hot and disappear. His first ten games have been terrific, the rest of the season, not so much. In the prior two seasons, Marleau has been more problem than solution.
I've commented on this before. To summarize, Marleau is not a player capable of handling top line minutes over the course of a season. Last season, Marleau exceeded 20 minutes of ice time nine times in the first 20 games. In the middle of the season, Sharks head coach Peter DeBoer starting cutting back on Marleau's ice time. The results were not altogether clear, but at least some improvement was detectable.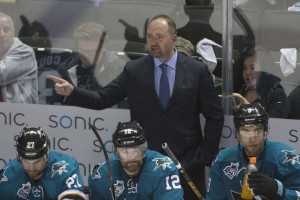 This season, DeBoer changed Marleau's use from the start of the season to better fit the player. With this season now well past the midpoint, Marleau has only exceeded 20 minutes of ice time five times. And his game has improved relative to recent seasons. Less really has been more when it comes to Marleau in 2016-17. His recent four-goal game against Colorado was an exceptional moment. But even taking this brilliant, anomalous game out of the equation, Marleau has been more energetic and more effective. He is averaging a bit over 17 minutes a night, down from 20 he was averaging through this point last season. In game 49 of this season, Marleau equaled his even strength goal total from last season. He sits at plus-2, and should he stay positive on this metric, it would mark his first plus season in the last five. Notably, the prior two seasons were deeply on the wrong side of this metric, a minus-17 and a minus-22.
Marleau's Lesson
With the lesson of 'less is more' applied successfully to Marleau, it is time to apply it to teammate Joe Thornton. Thornton, like Marleau, is 37. And he seems to be slipping. Even Sharks' television analyst Jamie Baker, generally slow to criticize any Sharks player, said Thornton was slowing down. The wear and tear on Thornton is a major concern. Thornton has never been a big goal scorer, but even by his modest standards, this season has disappointed. Thornton has only three goals, all into empty nets. Thornton has played at least 60 games in 16 different seasons, 15 times he has scored at least 16 goals. Even in the season he failed to reach 16, he scored 11.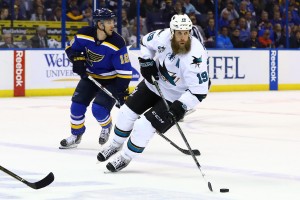 While goal scoring is secondary, for Thornton, handing out assists is primary. His assist numbers are down. Thornton has been good for 60+ assists pretty much his entire career. This season, he is on pace for just under 50. Notably, his power play assist numbers are tracking his historical norm, meaning the falloff is even more heavily weighted to even strength play. Last season, Thornton finished plus-25, the same as his linemate, Joe Pavelski. This year, Pavelski is a plus-7, Thornton is plus-3. Thornton has been double-digit positive in seven of his nine full seasons in San Jose.
Fortunately, DeBoer has some flexibility here.
Considerations
The Sharks are going through a stretch where they are playing weaker teams. This gives them a good chance to solidify a playoff spot relatively early. They could reach 80 points before the team's five-day break begins on Feb. 19. Projecting from the current Western Conference standings, the last playoff spot is 86 points and only five teams project to hit 95 points. The Sharks are projecting to 109.
It's been shown the playoff spot does not have much to do with playoff success. It has also been shown the game 7 "home ice advantage" coming from being a higher seed is meaningless. Over the past six seasons, home teams have lost more game 7s than they've won.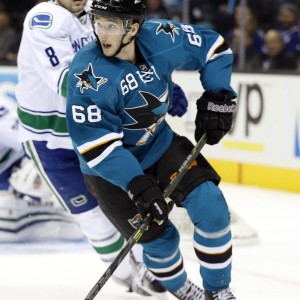 The Sharks fourth line has done an exceptional job. Though Tommy Wingels departure hurts the Sharks depth, the fourth line has been good all season. Sharks analyst Paul Gackle recently suggested a fourth line which might have Melker Karlsson riding the bench. Karlsson actually leads the Sharks forwards in plus-minus. If healthy, the Sharks are among the deepest teams in the league. They can ride their fourth line and still be a strong tem.
Thornton finished his longest season last year with the run to the Stanley Cup Final, playing in all 106 Sharks games. The season finished in June. He came back for the World Cup, playing meaningful hockey again in September, just three months later. The break between meaningful hockey games from the prior season was April to October, six months. The well-rested team went to the Stanley Cup Final.
The Sharks schedule may not be overly difficult in terms of opponents, but it is challenging in a different way. The Sharks, excluding the mandated five-day break, have one of the more compressed schedules the rest of the way.
DeBoer himself has extolled the virtues of rest for his players. He has buy-in from players like Thornton and Brent Burns. If the coaches and players acknowledge the issue, they should be open to other forms of rest. Especially with evidence showing cutting back on ice time makes a difference.
Applying The Lesson Learned
For all these reasons, DeBoer should aggressively cut back on Thornton's minutes. The Sharks can accomplish what they need to accomplish in the regular season without Thornton carrying a major load the rest of the way. The playoffs are different. The Sharks can not accomplish what they want to accomplish in the playoffs unless Thornton carries a major load.
As good as the rest of the team is, they are simply not good enough to compete for a Stanley Cup if Thornton is not controlling the game. People have talked about the Sharks window for winning a Stanley Cup. Joe Thornton's play as an elite center is the window. Sharks management and coaches need to do everything they can to keep this window open.
Zeke's Notes
To no one's surprise, the Sharks traded Tommy Wingels. Wingels' salary cap hit, not his play, was the reason for the trade. The Sharks previously waived Matt Nieto, also not a surprise. Unfortunately for the Sharks, they netted very little back for two NHL-level players. None of the assets acquired are likely to make much of an impact at the NHL-level. The Sharks even retained 30% of Wingels cap hit, a surprising development considering his cap hit was the reason he was moved. It is quite possible, even probable, that none of what San Jose acquired will ever wear a Sharks uniform (two minor league players and a seventh round draft pick). Given the limited return for Wingels, some have suggested it might have been better simply to waive him. For those who believe in hockey karma, trading Wingels to a playoff contender and waiving Nieto so he could go to a team where he will get consistent playing time are both karmic positives.
Two subjects have seen greatly increased discussion recently. Glad to say my readers were ahead of the curve on both.
Back in late December, I wondered if Patrick Marleau could get career goal 500 on career assist 1,000 from Joe Thornton. Thornton was on pace to get to his milestone well ahead of Marleau, but I suggested if Marleau went on  a goal scoring streak, the odds would change. With his four-goal game, the script flipped. Marleau is sitting on 498 career goals. Thornton is eight assists away from his milestone. It is still possible, they will reach their milestones on the same goal, but now Marleau is more likely to reach his milestone first.
Also in December, I also wrote Brent Burns is a worthy MVP candidate. For a while, I was pretty much alone on this front. In the past week or two, there have been a number of recent additions to the bandwagon. Burns faces formidable and deserving challenges from, among others, Sidney Crosby, Connor McDavid and Devan Dubnyk. And they face tough competition from Burns, who is doing things defensemen haven't done in decades. Which is why Burns is very much in the conversation to become only the second defenseman (Chris Pronger was the other) to win the Hart Trophy in the last 40 years. And yes, while his scoring generates headlines, his defensive game is pretty good as well.
Just a few weeks back, the Sharks had seven forwards who were minus players on the season. It is now only two (Chris Tierney and Timo Meier). Marleau, Michael Haley and Mikkel Boedker all moved into the green in the last two weeks. Recent departures Wingels and Nieto were both minus players when they left the Sharks.
ZEKE is a native of the DC area where he witnessed the birth of the Capitals franchise. After graduating from Cornell University, which had seen hockey glory before he arrived, he moved west to San Jose. There he witnessed the birth of the Sharks franchise. His wait to witness a Championship from any of these teams finally ended in 2018.