The San Jose Sharks cleaned out their lockers yesterday after a disappointingly short run in the 2017 Stanley Cup Playoffs. For the last time in the 2016-17 season, players, coaches, and management answered questions about what went wrong and right, the future of players and injury news. Below is an assortment of quotes from the players made available to the media yesterday.
https://twitter.com/zakkthebear/status/856566038934077442
Postseason Disappointment
"The margins are so small. It's a bounce that goes the right way at a different time. In series like these, you can say 'oh yeah, we need luck, we need the injuries to go right' but what it boils down to is the goal at the right time, save at the right time. Really when teams are this close, that's what makes a difference in a series. You can talk about momentum carrying over from game to game and all that stuff. But it is making that big play at that right time that makes all the difference." – Jannik Hansen
"I think it's disappointing. We felt pretty good with our group against another great team. Just tough not to win I think. At the end of the day, that's all it's about." – Brent Burns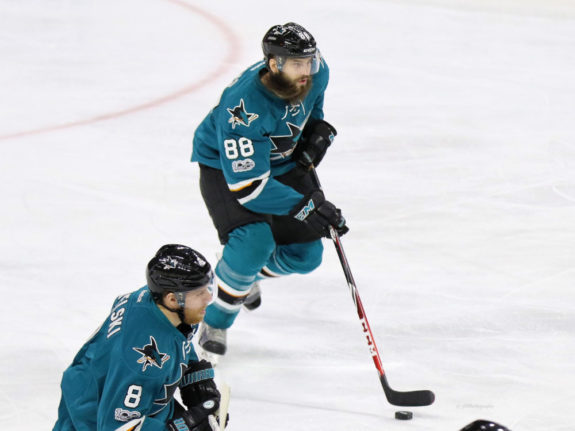 "The expectation is always going to be winning a Stanley Cup, so it's disappointing anytime you fall short of that." – Martin Jones
"I think you come in today, you're disappointed you're not still playing. I feel we had a team that could compete for a Stanley Cup this year and I felt that all year. I felt that even going into Game 6 of the series against Edmonton. To be sitting here on the outside is disappointing. I felt we had a better team than that. there're some things you can't control like injuries and things but I still feel even with that we had the means to find a way and we didn't. So you start doing the autopsy of the season and as coaches, we'll look at everything. Systems, analytics, anything to try to get better. The message to the group is they individually have to look in the mirror on what they can do so we don't feel like this again next year." – Head coach Peter DeBoer
The reality is we didn't get it done. Again, Doug is the guys that pieces that together at his level. Again I felt right up until Game 6 we could compete for a Stanley Cup and we didn't get that done so that's disappointing. We have to look and make sure we use this time to improve. – Head coach Peter DeBoer
Power Play Struggles All Year
"It grinds on all of us. This isn't about Steve, the powerplay is not about Steve. The powerplay is about our whole staff. We sit on all those situations as a group and I'm the ultimate guy responsible for all those things. So I think it ground on all of us. It didn't give us momentum, it didn't create momentum. Even when it wasn't scoring that's what you want your powerplay to do, is at least give you some momentum so you feel good coming out of it. We didn't get that. That's something right at the top of our list." – Head coach Peter DeBoer
"I think some timely bounces would have been nice. I think we made a lot of nice plays and had good puck movement and all that. But the final product was that we didn't score enough goals and that's something we have to look at as a group and as a unit." – Mikkel Boedker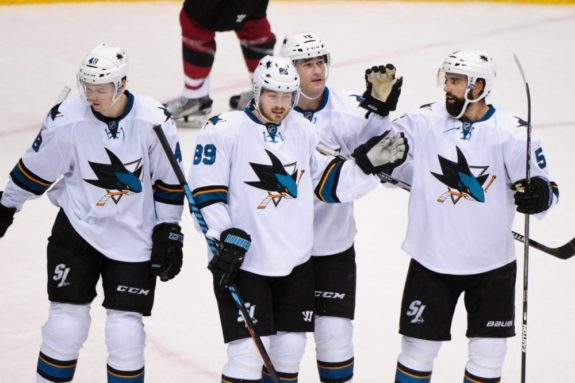 "You don't score. I don't know, It's hard to explain or we would've worked on it and fixed it. It's one of those things…you just have to score. It's hard to see why. We did a lot of different things with trying to change things around and work through it. But it's hard. I mean it's the same unit. We've done it before. It should be one of those things that is a deterrent for other teams. It just has to come through and score." – Brent Burns
"Our power play has to get better. I think we lost a little bit of our identity there. It's always been such a staple we almost took it for granted that it was going to be there and it wasn't this year, so that's something we've got to get fixed." – Head coach Peter DeBoer
What Marleau & Thornton Mean to the Sharks
"Those two guys are legends. I've said it a lot; they've helped everyone in here so much. Off the ice habits, how to be great. They've obviously done a lot of things right to get to be the way they are. Both guys make this a great place to be every day. And that's not even the hockey side, that's just every day being here. Both are going to go down as legends of the game. So to see what they do, how they go into games, how they think about games, it's a huge help." – Brent Burns
"I know what they mean to this organization, their teammates, so we hope to see them back. We really do. I believe they have a lot of really good hockey left. Everything will take care of itself." – Joe Pavelski
"I think they're the symbol of the Sharks, right. When you talk San Jose you always think of those two players. They're a big part of the team, they're a big part of the group. They've been leaders all year again this year. I think they're huge." – Mikkel Boedker
Burns On His Late Season Slump
"We talk about the hockey gods and creating those bounces. You always hear guys if they're going through slumps talking about the big thing as if they're not creating chance if they're not creating stuff. Sometimes it just doesn't go in. You just have to make sure you're doing the same things you were doing before. It's obviously frustrating when it goes, I don't know how long it was, six weeks or whatever. Yeah, it's hard." – Brent Burns
Injuries Plague Late Season & Playoffs
"If I'm playing, then I'm 100 percent. That's the way I look at it." – Joe Thornton
"I didn't see any drop-off in his game. I didn't. I don't know if the injury report has come out yet, but I've never seen a player play with a torn MCL and ACL, basically, [Thornton's] knee is floating there. It was as courageous an effort, him doing what he did, as I've ever seen." – Head coach Peter DeBoer
DeBoer says Thornton's knee was just floating. MCL, ACL injuries

— Curtis Pashelka (@CurtisPashelka) April 24, 2017
"I believe for everybody, a lot of players with injuries. For myself, I need a big summer. I had a lot of things the last couple years. After a long time, I have a little bit of a longer summer. Before I was going to World Championship and now I need rest for a couple of days then start working for next season because it's a big one. The biggest thing is I want to try to be healthy. I believe everything will be fine and I can keep moving forward." – Tomas Hertl, who suffered a broken foot in the last game of the regular season against the Vancouver Canucks
"Bumps and bruises, a broken thumb." – Patrick Marleau provides his own injury report
"It's two huge pieces for our team but [there are] no excuses. Everyone is playing banged up, and every team deals with it. Would it be better to have those two guys back? Yeah, they're huge pieces, so they're huge parts of our team, but no excuses." – Brent Burns
The Sharks Advanced Age A Popular Topic
"I think I have more than a couple of years left in me. I still think I can contribute and play. Until I don't think I can do that anymore, then cross that bridge when it gets there. But I still feel like I have five good years in me and maybe more." – Patrick Marleau
I didn't feel like we were old or I didn't feel that we were slow. I don't think the analytics or the visual of the game showed that at any point. I think for the times that Edmonton had us on our heels with their speed we did the same to them. Over the last 24 months, the only time I felt we looked slow was against Pittsburg last year in the final. Other than that, I don't feel the age or the speed is an issue. We're blending all kinds of young guys. After the Final last year there was a real focus by Doug and everybody here to add pieces with speed and I think we've done that. You see the guys coming in here that all have those type of elements. The teams that really have a chance to win the Stanley Cup are a blend of veterans and young legs. They're not all young legs, that's just not reality." Head coach Peter DeBoer
"Guys like that aren't grown on trees. Both those guys, you hear about the age stuff, but those guys are both still in great shape, every day they put the work in. They're elite players. Age doesn't matter." – Brent Burns
"Old age has nothing to do with it. [Marleau] is 37 and he's one of the fastest guys in the league. When you're 29 you're young, when you hit 30 you're old. It makes no sense. Old has nothing to do with it, it's just [the other] team's better than you are. Old age has nothing to do with it." Marc-Edouard Vlasic
"I don't that's really an issue because the majority of the teams that are still playing are a blend. We have some young players, we have some players that are in the middle range of their career and yes we have some older players. But they have young attitudes. You have to have all those different components. " – General manager Doug Wilson
Busy Offseason Upcoming
"We have a lot of good players to protect. No matter who it is, we're going to lose a good player. And every team is going to lose a good player but it's to satisfy the league's desire to have another team." – Marc-Edouard Vlasic on the upcoming expansion draft.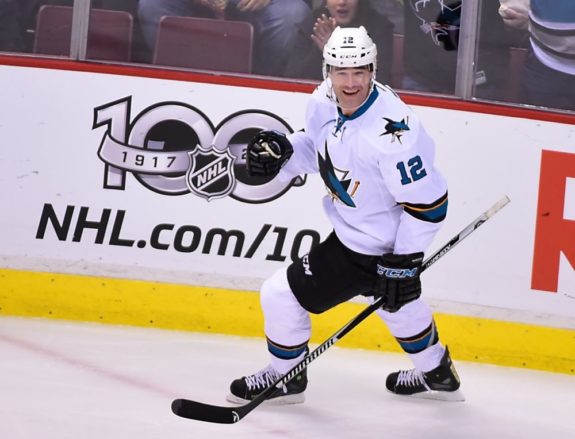 "That's all in Doug's hands. I don't get into that stuff. I love this group of guys, I love coming to work with them. The reality of the NHL is there is yearly change. I don't have control of that of. I don't waste a lot of energy on that." – Head coach Peter DeBoer
"Every year we have guys that have to resign. Next year there are a couple guys up as well. So every team deals with them and management will try to make everything work. Doesn't matter what I want, I have no control over it." – Marc-Edouard Vlasic
"[Thornton and Marleau] have been cornerstones of this franchise for a long time, not only as players but as people. There's a lot of variables that goes into that decision. And the very first one is sitting down and talking to both of them. We haven't had a chance to do that, so we'll get there. There is a [salary] cap system there's a lot of different things, but they are very special members of this organization…they mean a lot to us." – General manager Doug Wilson
Since the trade deadline, as a GM you can't [change] the team up anymore after that, you've already done your things. You focus on the things that you have coming ahead. One is the expansion draft one obviously is the [entry] draft. Another is the ability to acquire some other players whether it be in European free agency or college free agency. So, there's a lot of things we've been working on for quite awhile. We have our first round pick this year that should fall anywhere from 17 to 20, we think we'll get a good player there. We have some college players that we signed, a couple players in the [World Championship], European players that we'd like to target and go after as well." – General manager Doug Wilson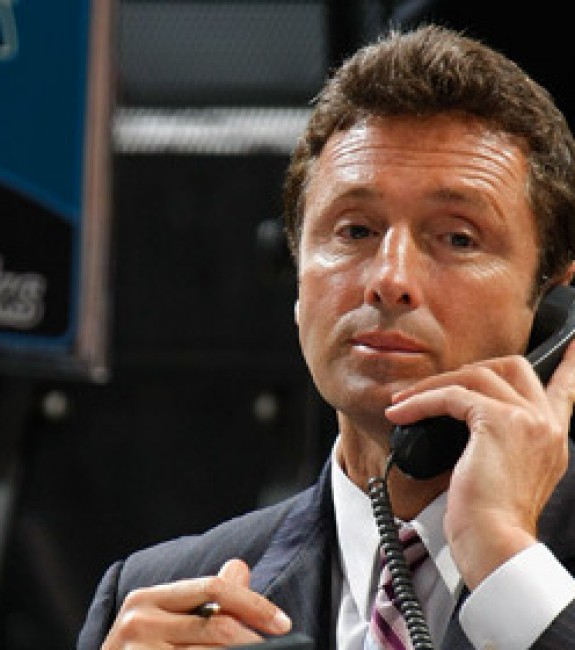 "Everybody is connected. It's a cap system. So until you find out exactly what the cap is going to be…Certainly, Martin Jones is everything we expected him to be, he's crucial. Marc-Edouard Vlasic, arguably one of the best defensemen in the league, you saw what he did against one of the top players in the league. [Vlasic] is still one of the most underrated players in the [NHL] to the outside world. Both of them are both are extremely important to get under contract and we can start those discussions in the next little while." – General manager Doug Wilson
Mikkel Boedker's Disappointing First Season In Teal
"He's played six, seven years a certain way in the NHL. We've asked him to play differently here and there was an adjustment. I saw a huge improvement from day one through the end of the season. I think he's leaving here with a clear idea of the expectation now. We're expecting big things out of him next year. We need him. We need him to take a step." – Head coach Peter DeBoer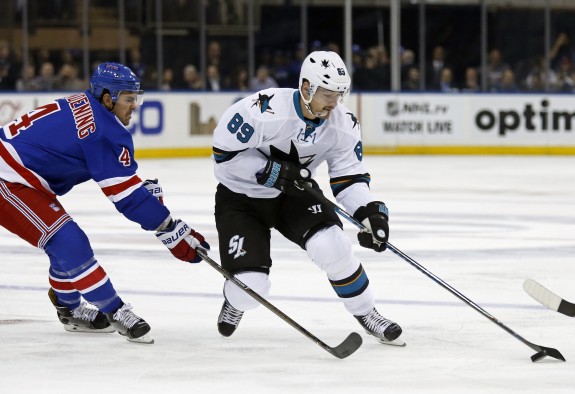 "I think it will be and it can be. I think it's a learning period but you also got to look in the mirror yourself and see what you can change and what assets you need to bring. I think I've learned a lot." – Mikkel Boedker when asked if his time in San Jose can be successful
"I think so, definitely. You always think you can do more and help out more. I know I can but it didn't go that way,  but we're going to work on that." – Mikkel Boedker on the lack of secondary scoring
"Confidence is everything in this sport. When you're confident you playing good, you're feeling good that's when you're playing your best." Mikkel Bodker on how confidence plays a role
"He has the things we're looking for. His career scoring average and things like that. His speed, his [penalty killing] ability. Did he meet the expectations that he had for himself? No. That we had for him? No. But can we get that out of him? Pete believes we can. Mikkel really cares, he can be a difference maker. We certainly need more out of him and he'd be the first to admit it." – General manager Doug Wilson
Young (and Not-So-Young) Players Need to Step Up
"First of all, that's why we brought the Barracuda out here. This was part of the plan two years ago. the infusion of young players is going to be crucial. We've added 34, 35 players the last couple years. And if you notice they all have offensive creativity and speed, but they're three-zone players too, so they can be trusted by our coaching staff. Without getting into individuals, a lot of them have an opportunity right now with the Barracuda in pursuit of the Calder Cup to even show us more of what they can do. You saw some guys that played at the end of the year, certainly in the playoffs that made a difference. But if you talk to Roy Sommer there's probably seven or eight guys on that team that he feels can step in and play. Competition is good" – General manager Doug Wilson
"I think we got a large group of guys I like but need to take a step. Is Sorensen Donskoi next year where he takes a step back or is he going to step forward? We have a lot of guys where there is a lot of potential there. Chris Tierney, there's a lot of those guys. But they need to have big summers and take a step and show they're not just one season or one month players." – Head coach Peter DeBoer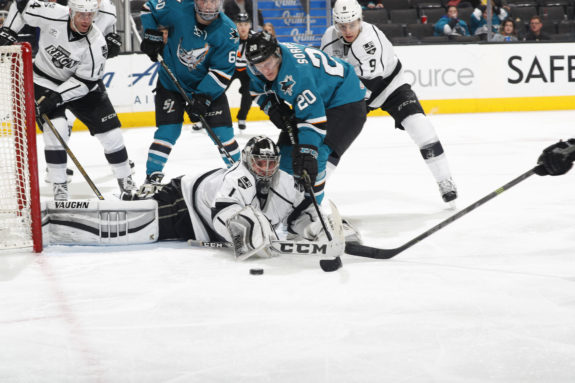 "It's huge. The most recent example is Columbus. They won a Calder Cup last year and they stuck four or five of those kids into their lineup and they were impact guys. I don't think that's an accident. Look at Columbus' rebound season they had. It still remains to be seen whether this is Calder Cup team. I'm hoping it is and I think we have the potential to do the same thing with three or four of those guys. But again, because they're young doesn't mean they're ready to be productive, full-time NHL players. Or because they've played well for a month or for a year, that doesn't mean that it's a career yet for you. They have to have big summers and they have to take some steps. Some of these guys I don't consider young anymore. I don't consider Chris Tierney a young player anymore. Some of these guys have to take some steps. Joonas Donskoi is not a young player anymore in my mind. He has to take some steps." – Head coach Peter DeBoer
"Some of the guys on the Barracuda, the young players that are going to be very important for this team going forward, need to use this opportunity that they have by playing and pursuing the Calder Cup." – General manager Doug Wilson
How the Coaching Staff uses Analytics
"It's a key in that I think it reinforces what your eyes tell you, that's more how I use it. We know what we see and what we feel behind the bench and the analytic piece reinforces your thought process a lot of the time or says hey you're wrong, maybe you weren't as bad as you feel you were in that area or as good as you feel you were. It's a nice check to what we do with our eyes and as a staff." – Head coach Peter DeBoer
"I felt we didn't score easily. The analytics show we created top-five chances in the league but we didn't score easily. So how do we fix that? Part of that is the power play but part of it is finding ways to generate more goals that way. I thought defensively our structure was pretty good and we did some good things. Like I said the chances were there but we have to convert."  – Head coach Peter DeBoer
"I didn't feel like that. I know in the playoffs they had a big job there with maybe the best in the league. I thought they did an excellent job on him. I'm not as worried about possession numbers with those guys because they're defending. We're not asking them to go out there and score goals, they're defending the best players in the league. So I didn't think that's a measurable I use at the top of my list when I'm evaluating those guys." – Head coach Peter DeBeor on Justin Braun and Marc-Edouard Valsic's possession numbers regressing
Other Notable Quotes
"I love playing hockey, so no. It's easier playing hockey than working out. It's a give and take. You're not training you're not doing that kind of stuff, so it's different, but it's not an excuse." – Brent Burns on World Cup participation
"All season I played center, a different position. I enjoy it. It's hard. It's hard to play center. It's different. You have to be [strong] all over the ice. I'm learning still." – Tomas Hertl on his continuing adjustment to center
"Do I feel we ran out of gas? I think there is definitely some merit to that. I also think we had some key injuries during that two-week stretch. I want to make sure everyone understands: it was made out that we were bad for two months. We won five of our first seven games in March. The last two weeks of march were a disaster. We had five back-to-backs, there was some fatigue and some key injuries. I thought we flipped it around the last week of April, won three of our last four games and headed into the playoffs, I thought, in a pretty good space mentally." – Head Coach Peter DeBoer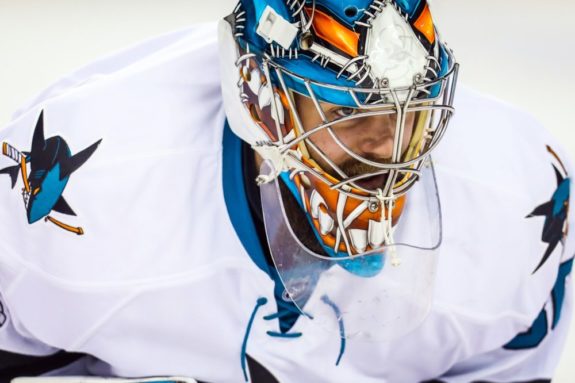 (Sergei Belski-USA TODAY Sports)
"For sure Aaron Dell I thought was outstanding. Grabbed that opportunity and ran with it and was excellent all year. I think…let's see, that's a good question. I think other than that we got what we expected out of a lot of guys and I expected some more out of another handful of guys. There are not a lot of guys that jump out off of that page for me. I thought Patrick Marleau had a fantastic year for us. Jones did the same thing he did the year before. He was as good and that's what we needed. There was no jump but he was excellent the first year and he was excellent again this year." – Head coach Peter DeBoer on which players exceeded expectations