The Case of Todd McLellan
THIS TEAM. Yes, those words belongs in caps. Every year, every team is different. It does not matter if the players, coaches and managers are mostly the same, a new season means it is a different team. It was essential the Sharks did the right thing with THIS TEAM. As Shark fans know, that did not occur this season.
I think highly of Todd McLellan. He is honest and sincere, a man of character. That matters in life and that matters in hockey. Hockey is a very much a people business.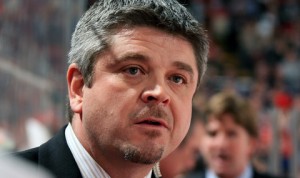 If you want to be in the hockey business, it helps to have a sharp hockey mind. McLellan has that. Listen to him in his interviews and you hear clarity. He does not give the team a pass if they play poorly and somehow win. If the team plays well and loses, he will give credit, understanding that 'hockey happens'. He talks about how necessary it is to follow a process in order to become good, and he is correct on that. He understands the foundation for what it takes to be a good team. What you never hear from McLellan are excuses.
He recognizes that players need to be players. His typical reaction to Joe Thornton's lack of shooting, for example, is a mix of exasperation, encouragement, admiration and reality – he knows Thornton, an elite passer, is not going to change on that. McLellan clearly respects Thornton skills and did help him to become a significantly more effective two-way player.
I'll roll out a character reference for McLellan. Larry Robinson is welcome anywhere in the NHL he wants to go. Robinson would not have remained a part of the Sharks coaching staff if he didn't have high regard for McLellan.
Earlier this season, just prior to the trade deadline, McLellan hit a pitch perfect note when he publicly told the team 'the cavalry isn't coming'. The message to THIS TEAM was clear: do not expect talent upgrades at the trade deadline, it is up to THIS TEAM, the people in the locker room, to turn it around. Given what the organization was (not) doing, it was the perfect message.
The cavalry didn't come and nothing turned around. Losses in back to back 'save the season' games to Chicago (missing Patrick Kane) and Winnipeg (missing Brian Little and Dustin Byfuglien) pretty much ended any playoff hopes. For a team that finished fifth in the NHL in points last year, it is jarring to miss the playoffs. It is worse to have that fate essentially sealed with a dozen games left in the year. The Sharks, 5th in points (111) last season, project to finish somewhere around 20th this year (on pace for about 90 points).
Stubborn or Politics?  Or Both?
This season's results will pretty much assure there will be new people in suits for next year's team. First on the list to go, I fear, is Todd McLellan. His likely downfall will come from his stubborn streak, further impacted by some very unfriendly internal politics.
One message McLellan has stubbornly refused to hear, this is a four forward line league. You roll four lines for two reasons. First, it creates 60 minutes of pressure, you are never at a major disadvantage, even when match-ups get jumbled during the course of a game. And second, you do not burn out your top players. Your players are stronger at the end of games and throughout the season.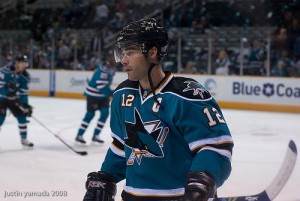 Burning players out is nothing new for McLellan. Defenseman Dan Boyle played huge minutes for the Sharks, even finishing 7th in the league in ice time at age 35, when he was years older than anyone else with similar minutes. As skilled and determined as Boyle was at the time, less would have been more. And now, at age 35, Patrick Marleau is among the league leaders among ice time for forwards. Joe Thornton, also 35, would also be pretty high up in ice time if not for missing a few games with injury. Joe Pavelski, who works as hard as anyone and spends plenty of time battling in the paint with his modest frame, is another near the top in minutes. All three were among the top 30 forwards in ice time last season. Is it any coincidence their play in the postseason last year dropped as soon as the games went every other day? Less is more, something lost on the coach.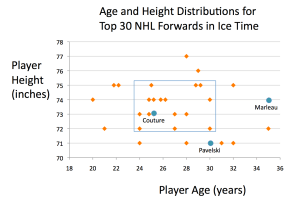 I took a detailed look at what the ice time leaders looked like among forwards. The mid point is 27 years old and the 30 skaters were evenly split between 6'1" and below and 6'2" and above tall. 23 of 30 the skaters are between 24 and 30 years old. 23 of the 30 are between 6'0 and 6'3".  The box from 6'0″ to 6'3″ and 24-30 years is the sweet spot.
Pavelski is a modest outlier at 5'11" and age 30, near one corner of the box. Marleau is a major outlier at age 35. Only Marleau and 1 other player are over age 32. McLellan came to San Jose with a lot of pepper and a bit of salt in his hair. That reversed as he aged. McLellan sees it as he looks in the mirror. Yet, he doesn't see that his own players also change as they age. Though I won't make the detailed argument here, one also wonders why McLellan did not give major ice time to 2 players who are in the sweet spot for defensemen: Justin Braun, who turned 28 last month and Marc-Edouard Vlasic, who will turn 28 this month.  Easily the Sharks best defensive pair, yet neither player is in the top 50 in 'ice time per game' among defensemen.
That is not McLellan's only stubborn flaw. While at times he has gotten creative, that has been the exception. One of the most puzzling aspects of the season has been McLellan's unwillingness to break up Patrick Marleau and Logan Couture (note, he did that for game 71 in Toronto). Both are talented in their own right, but they have limited chemistry together. Hockey is so much about finding that chemistry. But darn it, the coach spent far too long trying to find each a better fit.
The Choices Not Made
The March 2013 move of Brent Burns to forward was only done reluctantly, when the team felt injury prevented him from back skating effectively. It was not a creative attempt to use one of the NHL's most physically gifted athletes, it was done in order to cover up a health issue.
The highly questionable move of Burns back to defense for this season was an organizational decision. I do not believe McLellan, as smart as he is, made that choice. However, he has chosen to stick with that decision. McLellan is tasked with deciding who plays where on a nightly basis. He has every right to be his own man and override what the organization is asking him to do. If there was a risk came with that, he could accept it. By stubbornly sticking to whatever agreement there was regarding Burns, he is stubbornly accepting failure for THIS TEAM. McLellan's actions prove that he knows the liability Burns is on defense. He has changed partners for Burns many times, even moving him to the 3rd pairing in order to minimize the defensive liability aspect of his game. McLellan knows the problem, but he won't challenge the organizational decision.
McLellan stubbornly stayed with the plan when he should have been putting a stake in the ground for himself and his players, refusing to let THIS TEAM fail over a bad, but correctable decision. And as the coach fails to stand up for his players, the players inherently are less believing in the coach. That is exactly how you can lose the room, which appears to have happened. Once the room is lost, you almost always need to change the participants.
McLellan's stubbornness goes beyond these points. Last season, he played only 7 defensemen over all 89 games, despite significant injuries to all 3 older defensemen: Dan Boyle, Brad Stuart and Scott Hannan. Each of whom appeared to have returned to the line-up prematurely. In doing so, he kept Matt Tennyson in Worcester. Tennyson showed he deserved to be in San Jose with his play this year, but again, he found himself back in Worcester, even as he appears to be one of the top 5 Sharks defensemen this year.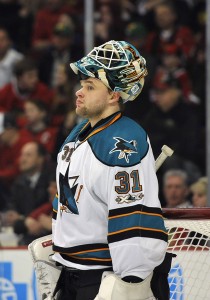 Is Tennyson in McLellan's doghouse? That doghouse has been another area the coach seems to be overly stubborn. Some will cite Tyler Kennedy as another example of that. Kennedy is off to a good start on the Island after being traded there for just about nothing. Perhaps he was a player who might have had a better chance to succeed if McLellan hadn't seen fit to leave him in street clothes for so many games. In a related note, typecasting certain players did not help much either. Andrew Desjardins was never much of a fighter, but he took on that role for the good of the team. Further, he was stuck centering lines with minimal talent, and doing a reasonably good job, given his wingers. He was a good value with one of the lowest cost deals on the team. For all his battle and reasonable skills, Desjardins was 'rewarded' by being shipped out, though fortunately for him, to the contending Blackhawks.
McLellan has stubbornly stuck with goalie Antti Niemi. Last year, back-up Alex Stalock was good, this year he has struggled and appears to be in the McLellan doghouse. But Niemi hasn't been all that good in either year. Certainly not enough to justify the stranglehold he has on the starter's job. The past two seasons, Niemi is 2nd in 'games played' during the regular season among all goalies. That is a stranglehold on the job. He was 26th last year in save percentage and is 22nd this year, which are not 'stranglehold on the job' type numbers. You might give this a pass if Niemi was the sort that rose to the occasion in postseason play, a la Jonathan Quick. But no, that hasn't been the case.
 Belief
Perhaps most important, a team needs to believe in the coach. THIS TEAM in particular needed it, coming off last season's nightmare finish. It seems unlikely that veterans like Pavelski, Marleau and Thornton are looking confidently at the coach. They know the coach is between a rock and hard place on decisions such as Burns on defense. They realize it was not the coach who failed to do anything of substance in free agency or at the trade deadline. Players though, want the opportunity to win. I'm sure that whatever empathy they might have McLellan, they also probably wish he would have fought harder for THIS TEAM.
One added indictment; this season saw little growth in key young players, especially last season's rookies, Tomas Hertl and Matt Nieto. Too many players regressed, only Tommy Wingels really seemed to advance. Rookies were a mixed bag. Melker Karlsson was good, Mirco Mueller not so much. While I think McLellan's track record is respectable on player development overall, it was the major theme for this year and thus under the microscope. When the record is reviewed for this season, I doubt it helps the coach.
 The Fall Guy?
Even with all the non-coaching issues, I see McLellan as the fall guy for this season. Only some of that is fair. My sense is that GM Doug Wilson cut a deal with the owner. The key element of that deal: Wilson's employment will be based on sticking to the deal he made with the owner, independent of the on-ice results. If that is the case, someone else is the fall guy.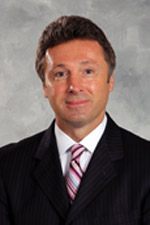 If there is any one area that I most feel for McLellan, it is his loyalty. It is an admirable trait, but what happens when loyalties conflict? Loyalty to THIS TEAM, the players, the coaching staff and to management are all required in his role. But this season, with THIS TEAM, loyalties appeared to be very conflicted. Trying to stay loyal to all likely satisfied no one.
Management failed McLellan. They could have demanded he address his weaknesses.  Demand that Thornton and Marleau only average 17 minutes a night with at least one game off out of every 20. Management could have demanded the back-up goalie play at least 1/3 of the games. They could have demanded 4th line players to average 12 minutes of ice time to insure 4 lines were being used. Each of these actions would have countered a weakness of the coach. Instead, management demanded Burns as a defenseman.
Everyone has shortcomings. Apparently Joe Thornton, for example, has a tendency to lash out. I will repeat what I said near the beginning. McLellan is a man of character and a sharp hockey mind. Paired with a management team that could help him work through his weaknesses, he would make a formidable coach. Put him in situations that turn things like loyalty into a liability, and you magnify his shortcomings.
For all his understanding of hockey, McLellan has had a major part in his likely demise in San Jose. He needed to overcome his blind spots and whether he refused to see it or didn't get much help seeing it, that I can't say. But he did repeat his mistakes, and that should not have happened.
There remains an outside chance that good things can still happens for him in San Jose. McLellan's demise in San Jose, while likely, is not certain. Whether in San Jose or elsewhere, McLellan will have a good life and a good career. He is too good at what he does for things to turn out otherwise. All in all, the Sharks organization and the Shark fans have been fortunate to have Todd McLellan in the house. For however much longer that lasts.
ZEKE is a native of the DC area where he witnessed the birth of the Capitals franchise. After graduating from Cornell University, which had seen hockey glory before he arrived, he moved west to San Jose. There he witnessed the birth of the Sharks franchise. His wait to witness a Championship from any of these teams finally ended in 2018.