Botched Investment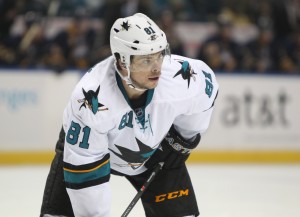 On Monday's trade deadline the San Jose Sharks cut bait with well known role playing forward Tyler Kennedy. Famous for his days contributing offense alongside Jordan Staal in Pittsburgh, Kennedy is in the second of a two-year deal signed prior to the 2013-14 season. That summer, Kennedy was acquired as a restricted free agent by the Sharks from Pittsburgh for a second round draft choice. This past Monday, Kennedy was essentially handed over to the New York Islanders for a bag of chips unless the Islanders win the Stanley Cup. Even if that happens, the seventh round pick this year becomes a third round pick in next year's draft, not in this deep 2015 draft. The Sharks management and coaching staff have only themselves to blame for why they didn't get a better return for Kennedy. He is having a bounce back year this season but that's apparently news to the Sharks.
Now there is no question Kennedy got off on the wrong foot in San Jose. He deserved a mulligan though as he was making a huge cross country move. After spending his entire career with the Penguins he was moving west to new teammates, a new system, and an insanely worse travel schedule. Being on the Pacific coast, the Sharks almost travel twice as much as the Penguins depending on the season and the schedules. Now these might sound like excuses but the fact of the matter is switching conferences for the first time and the increase in travel is tough. Kennedy struggled in year one with San Jose, as he was guilty of frequent bad turnovers. He finished the season a minus-10 after being mostly a positive player with the Penguins. His 17 points were a full season career low but still double the career high mark of fourth line only fighter Mike Brown. Despite being a superior player to Brown in every facet of the game, the Sharks played Brown in six of seven games last playoffs while Kennedy didn't appear one time. Yep, the player known for clutch playoff goals with Pittsburgh sat behind one of the worst players in hockey.
The Sharks, with having Adam Burish, John Scott, and Brown on the roster at the start of this season are one of the few teams that still think designated fighters have a place in the NHL. The talent pool is simply too good in this league to ice players who average less than eight minutes a night on a regular basis. Kennedy owns a career points per game rate over .4. Meanwhile Brown's points per game rate doesn't even register .1. Certainly Brown got under the skin of the Kings early in that playoff series but once the Kings got their heads on straight, Brown was once again, completely useless. He is a terrible defensive player, can't catch or make a good pass, has terrible awareness. He is simply one of the worst players in the NHL. As Kings head coach Darryl Sutter told me after the Stadium Series game, "you're not a playoff team with 5, or 6, or 7 minute players." And if you watched the EPIX road to the Stadium Series, Sutter basically calls out the Sharks for overloading their top three lines.
McLellan's Dog House
Now if the Sharks had given Kennedy the benefit of the doubt to play in the postseason where he is a proven player, that would have gone a long way to getting more than seventh round pick in return. Energy and physical play is great but not without any discernible NHL level skill. Kennedy certainly can't finish worth beans but he drives possession with above average speed and shake and bake moves in the neutral zone. He is underrated when it comes to his offensive creativity, he is good down low on the cycle and can generate quality looks. This season, despite a plethora of injuries, Kennedy has bounced back strong in the games he has played. Nine points in 25 games and one of the few Sharks forwards on the plus side of the plus/minus rating but of course head coach Todd McLellan still scratched him numerous times. The New York Islanders get a steal in this trade as the Sharks simply shot themselves in the foot with the asset that was Tyler Kennedy because they never used him enough. They hardly played him this year even when healthy and every team knew the Sharks wanted to get rid of him. Only a seventh rounder? After giving up a second rounder to acquire him? Might as well have kept him for the stretch run because that is a terrible return on their investment. Parts of two seasons with San Jose, a past playoff stud performer and not one playoff game as a Shark? Unreal.
For some bizarre reason, the Sharks aren't the only team that takes Kennedy for granted. Despite winning the Cup with Pittsburgh in 2009, Kennedy was often a healthy scratch in the 2013 playoffs. Which is peculiar to say the least considering in those playoffs he had five points in nine games with a plus-6 rating. Yeah, a role player with over a half a point per game and well into the plus is someone who should be scratched. That sure made a whole lot of sense Dan Bylsma. This season Kennedy has been a puck possession machine. He owns a 54% Corsi-for percentage, higher than that of now former teammates Melker Karlsson, Tommy Wingels and James Sheppard. The awful turnovers from last season have been far less frequent yet for some reason he couldn't stay out of head coach Todd McLellan's dog house. A strong possession guy, great neutral zone player, limited turnovers, and a 30 point, 82 game scoring pace? You can't ask for much more than that from a third line winger. Yet the Sharks never liked him, never gave him a real chance even though he has been solid this season. Islanders picked up an incredibly useful player with big game experience for basically nothing.
Andrew has been credentialed to cover the Sharks since 2010 and the 49ers since 2012. He graduated with his BA in Broadcast Electronic Communication Arts in 2013 from San Francisco State University.