Many might remember Mike Milbury as the hockey player who jumped into the MSG stands and beat a fan with his own shoe. Others might remember Milbury for his many controversies on and off the ice, but New York Islanders fans are imprinted with other not-so-fond memories of their former general manager and coach.
Even though Milbury, Charles Wang, and Sanjay Kumar helped the Islanders get back to the playoffs in the early 2000s, the various transactions that Milbury made as the GM of the Isles had some long-term effects on the organization.
Here's a look at some of Mad Mike Milbury's (worst) transactions from the late-90s to the mid-2000s:
10.) Traded Tommy Salo for Mats Lindgren & 8th Round Selection (Radek Martinek)
Tommy Salo turned out to be a solid goalie for the Oilers, but the Swedish netminder was showing signs of promise before Mike Milbury traded him. Milbury and Salo had a fractured relationship as Mad Mike assaulted Salo's character during the goalie's arbitration hearing and managed to make Salo cry during the proceedings.
However, Salo had the last laugh as he enjoyed a steady career with the Oilers and the players that he was traded for never really panned out for the Isles. Mats Lindgren was expected to be a good NHL talent but was hampered by injuries and never reached the potential that he was billed for. On the other hand, Radek Martinek turned out to be quite a find for an eighth-round selection, but the defenseman was never able to stay healthy for a full NHL season and spent parts of every season on the IR.
9.) Traded Brad Isbister & Raffi Torres for Janne Niinimaa
Milbury's wheeling and dealing at the 2003 NHL trade deadline wound up costing the Islanders a good grinding winger. Raffi Torres never scored a goal for the Islanders but wound up having 222 points (122 Goals, 100 Assists) in 545 games for five other teams. Torres' frequent shuffling between teams and his high draft position (fifth overall in 2000) indicate that the winger didn't quite live up to his billing, but Torres' physical style of play could have been utilized by the Islanders.
On the other hand, Niinimaa never met expectations on Long Island. As a defenseman that had tallied 30 or more points in five out of his first 6 seasons in the NHL, the trade could have looked good on paper, but it turned out to be anything but good for the Isles. In 136 games for New York, Niinimaa recorded only 44 points, an overall point total that he had accomplished four times (1996-97, 1997-98, 2000-01, 2001-02) while playing for the Flyers and Oilers.
At the time, Niinimaa looked like the solid route for Milbury as the d-man recorded more than 30 combined points for the Islanders and Oilers in 2002-03. However, after recording 28 points in 82 games in 2003-04, Niinimaa's career in the NHL spiraled downward as Raffi Torres' trended upwards. Raffi Torres was only given 31 games to show off his skills and impatience on Milbury's behalf helped the Islanders rid themselves of a hard working forward.
8.) Traded Chris Osgood & 3rd Round Selection (2003) to St. Louis Blues for Justin Papineau and 2nd Round Selection (Jeremy Colliton)
Chris Osgood was a fan favorite in Long Island and Milbury's impatience with the goalie proved to be another great blunder. Osgood was having a sub-par season with the Islanders in 2002-03, but the goalie managed to bounce back in 2003-04 and even had two post-season appearances with the Blues.
Justin Papineau spent time shuffling back and forth between the Bridgeport Sound Tigers of the AHL and the Islanders, but he never developed into anything solid for the Isles. Some have argued that the bigger piece in the Osgood trade was the second round selection that turned out to be Jeremy Colliton, but to date, the center has had a whopping three goals and three assists for New York in 57 games. Neither Papineau nor Colliton has had any sort of impact on the Islanders, but Chris Osgood wound up making several more postseason appearances and even won the Stanley Cup after being traded by Mad Mike.
7.) Traded J.P Dumont & 5th Round Selection (1998) for Dmitri Nabokov
Jean-Pierre Dumont went on to have a great and lengthy career with Chicago, Buffalo, and Nashville after Mike Milbury traded the right winger. Dumont had five seasons of 50 or more points for the Sabres and Predators while Dmitri Nabokov registered 13 points in 30 career games for the New York Islanders.
In Milbury's defense, the Islanders were operating on a very meager payroll back in the late '90s, but to think that the Isles gave up Dumont and a fifth round pick for Nabokov is just absurd. A contract dispute forced Milbury to make a move, but a better suitor could've been found for this deal and Milbury should have netted a greater return than the bust that turned out to be Nabokov.
6.) Drafted Rick DiPietro with #1 Overall Pick at 2000 NHL Entry Draft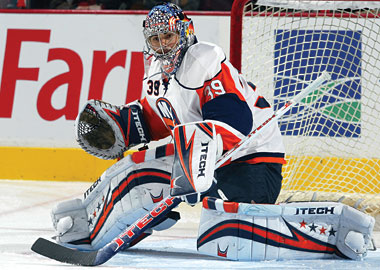 The New York Islanders turned heads during the 2000 NHL Entry Draft, but for the wrong reason(s). Milbury made hockey history when he selected a goalie, Rick DiPietro, with the number one overall. The Islanders had been developing Roberto Luongo, but Milbury was convinced that DiPietro would be the future of the franchise.
DiPietro showed signs of promise during the early 2000s, but various injuries limited the American-born netminder since 2007 and it is debatable if DP is any longer an NHL-caliber goalie. After appearing in 268 games from 2000-08, DiPietro has appeared in 47 games from 2008 until the present day. Since 2008, DiPietro has only once been able to post a save percentage over .900 (.901 in 2009-10) and his GAA has been in excess of 3.00 in three of the last four seasons.
Choosing DiPietro with the number one overall pick had various ramifications for the New York Islanders in the late 2000s to the modern day. While DiPietro played on a couple of Islanders playoff teams, his injury woes and inability to live up to his long-term contract make him one of Milbury's worst transactions. To add insult to injury, DiPietro was selected in front of prominent forwards such as Dany Heatley and Marian Gaborik. Both Gaborik and Heatley are having amazing NHL careers and Islanders fans are constantly left wondering what could have been if Milbury had drafted either forward with the first overall pick in the 2000 NHL Entry Draft.
5.) Traded Bryan Berard & 6th Round Selection for Felix Potvin & 6th Round Selection
Bryan Berard won the Calder Trophy for the Islanders in 1997, but the defenseman wound up having some great years with the Blue Jackets, Blackhawks, Rangers, Maple Leafs and Bruins.
Felix Potvin was not a bad return for Berard by any stretch as the goalie had enjoyed a very successful career with the Maple Leafs from 1992 to 1998. However, Potvin was not the solution in Long Island and the veteran's numbers took a huge hit when he came to New York.
Since the Islanders operated on such a tiny payroll, it could have made sense for Milbury to get rid of Berard for something before the d-man demanded more money from the Isles, but Potvin was a questionable return. In the late '90s, Roberto Luongo was supposed to be the heir apparent for goaltending duties on Long Island and it would have made more sense to get a forward or defenseman in return for Berard rather than bringing in a veteran netminder.
4.) Traded Bryan McCabe, Todd Bertuzzi & 3rd Round Selection (Jarko Ruutu) for Trevor Linden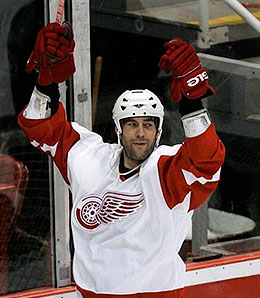 Bryan McCabe, Todd Bertuzzi and Trevor Linden have all had good careers in the NHL, but the potential that Milbury gave away in this deal make this one of his most awful transactions as the GM of the Islanders.
When the Islanders acquired Linden, many Canucks fans were upset that their team captain and fan favorite was traded to New York. However, Linden was a shell of his former self after the 1997-98 NHL season and the talent that the Islanders gave up in exchange for the center was just lopsided.
Bryan McCabe flourished in Toronto and Bertuzzi wound up having six straight seasons (1999 to 2006) of at least 50 points scored for the Canucks. Even though Linden never really worked out for the Islanders, Bertuzzi and McCabe were not given sufficient time to develop on Long Island. Some have pointed out that Bertuzzi would never have succeeded in Long Island because there was so much pressure on him, but that assumption (thanks to Mad Mike) was never allowed to fully play itself out.
3.) Traded Zdeno Chara, Bill Muckalt & 1st Round Selection (Jason Spezza) for Alexei Yashin
It is very hard to argue that without Alexei Yashin, Michael Peca and Chris Osgood, the Islanders would have made a return to the Stanley Cup playoffs in 2001-02. However, the long-term effects of this deal are still felt by the Islanders and their fans.
Alexei Yashin went on to become the captain of the Islanders but was ultimately bought out by the organization. Zdeno Chara went on to win the Norris Trophy and Stanley Cup with the Boston Bruins while Jason Spezza turned into one of the cornerstones of the Ottawa Senators franchise. Milbury simply gave up too much potential for Yashin as soon as he was afforded some job security under Charles Wang and Sanjay Kumar.
Getting Yashin for the short-term would not have been a bad deal, but having Zdeno Chara and Jason Spezza on the same team speaks for itself.
2.) Signed Alexei Yashin to 10 Year, $90M Contract
Yashin's 10-year deal was possibly one of the worst contracts in NHL-history, second only to the 15-year deal handed to DiPietro. Milbury believed that Yashin would carry the team for years, but the forward was anything but the safest choice going forward for the Isles.
In 2003-04, Yashin suffered a laceration to his forearm and was never the same player that he was before the injury. After the 2006-07 season, the Islanders bought out Yashin and will be stuck with paying off the forward until the 2014-15 season. Acquiring Yashin was one thing, but signing him to a mega contract was simply absurd. Even though Yashin posted 50 or more points in four out of his five seasons in New York, he was not the player that Milbury should've spent the bank on.
1.) Traded Olli Jokinen & Roberto Luongo for Mark Parrish and Oleg Kvasha
Trading Roberto Luongo and Olli Jokinen was arguably Milbury's worst move as the Isles' GM. Mark Parrish was not the focal point in the Luongo deal as Milbury expected great things from the enigmatic Kvasha.
Olli Jokinen wound up having great stints with the Florida Panthers and Calgary Flames and Luongo managed to make a Stanley Cup Finals appearance with the Canucks. Both players could have developed into powerful players with the Islanders, but Milbury's dealings on June 24, 2000, will forever haunt Islanders fans.
Mark Parrish wound up being a fan favorite in Long Island and scored some key goals during his stint with the team. On the other hand, Oleg Kvasha wound up being a major bust and was among the many players that Milbury mistakenly put his trust into.
What Could Have Been
It has been constantly mentioned that a team of NHL superstars could have been created from Islander castoffs from the mid-1990s to early 2000s. Players like Bryan Berard, Bryan McCabe, J.P Dumont, Olli Jokinen, Roberto Luongo and Todd Bertuzzi all had great careers in the NHL, but it is a moot point to think of what could have been. Islanders fans have to take solace in the fact that after so many years, it seems as though the organization's rebuilding efforts are finally going in the right direction.
Players such as John Tavares, Matt Moulson, P.A Parenteau, Michael Grabner and many other young players have been assembled by GM Garth Snow as he tries to restore the franchise to glory. It is easy to cry over spilled milk, but for the first time in a long time, the Islanders' fortunes seem to be looking bright. An overnight improvement likely won't happen, but fans can now be reassured that pieces such as John Tavares, Ryan Strome and many others won't be traded based on the general manager's every whim and impulse.