| | | | |
| --- | --- | --- | --- |
| Born: | February 2, 1975 | Draft: | 1993 Islanders #23 Overall |
| Hometown: | Sudbury, ON | Position: | RW |
| Known For: | West Coast Express | Shoots: | Left |
| National Team: | Canada | | |
Todd Bertuzzi (born February 2, 1975) is a Canadian former professional ice hockey winger of the National Hockey League (NHL). Known as a power forward, he has played in the NHL for the New York Islanders, Vancouver Canucks, Florida Panthers, Anaheim Ducks, Calgary Flames and Detroit Red Wings.
Selected 23rd overall by the New York Islanders in the 1993 NHL Entry Draft, he played at the junior level with the Guelph Storm of the Ontario Hockey League (OHL) for four seasons. In 1995–96, he played his rookie season with the Islanders. After two-and-a-half seasons with the Islanders, he was traded to the Vancouver Canucks. Bertuzzi enjoyed the most successful seasons of his career with the Canucks—his longest-tenured team in the NHL—including NHL First Team All-Star honours in 2003.
During the 2003–04 season, he was suspended for the Todd Bertuzzi–Steve Moore incident. In 2006, after seven-and-a-half seasons with Vancouver, Bertuzzi was dealt to the Florida Panthers, with whom he briefly played for until being traded again to the Red Wings. He then played single seasons with the Anaheim Ducks and the Calgary Flames before returning to Detroit in 2009 and finishing his career there. Internationally, Bertuzzi has competed for Team Canada at the 2006 Winter Olympics in Turin, as well as the 1998 and 2000 World Championships.
He is the uncle of Tyler Bertuzzi who currently plays for the Detroit Red Wings.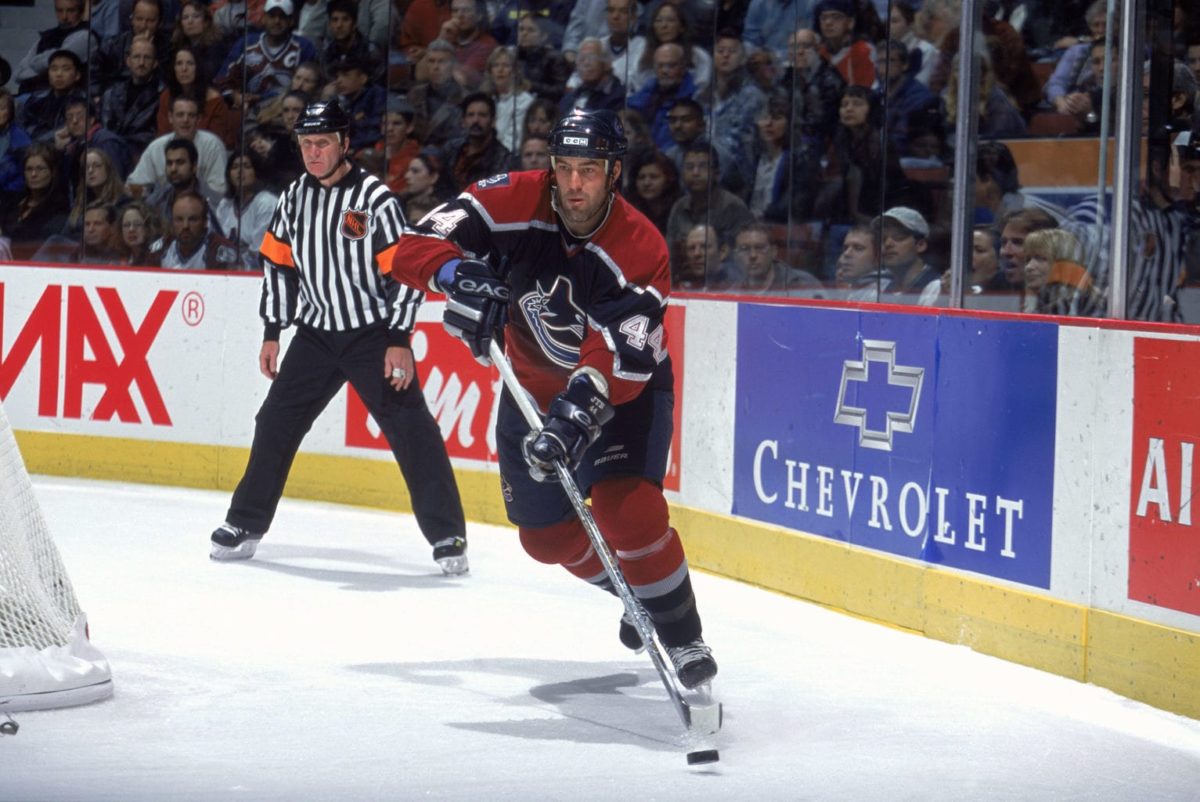 Todd Bertuzzi Statistics
Trade Tracker
Date
Traded From
Traded With
Traded To
Traded For
Feb. 6, 1998
Third-Round Pick
(Jarkko Ruutu)
Bryan McCabe
Trevor Linden
June 23, 2006
Bryan Allen
Alex Auld
Conditional Pick
Sixth-Round Pick
(Sergei Shirokov)
Roberto Luongo
Lukas Krajicek
Feb. 27, 2007
–
Second-Round Pick
(Nick Spaling)
Conditional Pick
Shawn Matthias
Deeper Dive
Achievements
2x NHL All-Star Game (2003, 2004)
NHL First All-Star Team (2003)
OHL Second All-Star Team (1995)
Member of the vaunted West Coast Express with Markus Naslund and Brendan Morrison
Sources