| | | | |
| --- | --- | --- | --- |
| Born: | November 26, 1972 | Draft: | 1991 Red Wings #54 Overall |
| Hometown: | Peace River, AB | Position: | Goaltender |
| Known For: | "Ozzie", "Wizard of Oz" | Catches: | Left |
| National Team: | Canada | | |
Christopher John Osgood (born November 26, 1972) is a Canadian former professional ice hockey goaltender. He is ranked 12th in wins in NHL regular season history with 401.
Osgood spent the first part of his 17-year NHL career with the Detroit Red Wings, then the New York Islanders and the St. Louis Blues before returning to Detroit in 2005. He won three Stanley Cup championships in his career, all with the Red Wings, with two of them coming while he was starting goaltender. Osgood was known in Detroit by his nicknames "Ozzie," chanted by the crowd after a big save, and "The Wizard of Oz." Osgood is currently a Detroit Red Wings studio analyst and part-time color commentator for Fox Sports Detroit.
He was the last NHL goalie to wear a traditional player's helmet/cage combo instead of the newer one piece goalie mask until Rick DiPietro briefly wore one of Osgood's in 2011 after he was injured in a fight with Brent Johnson. He is also one of only 12 goaltenders in NHL history to have scored a goal, and one of only seven to have scored by shooting the puck directly into the opponent's net (not an "own goal"), on March 6, 1996 versus the Hartford Whalers.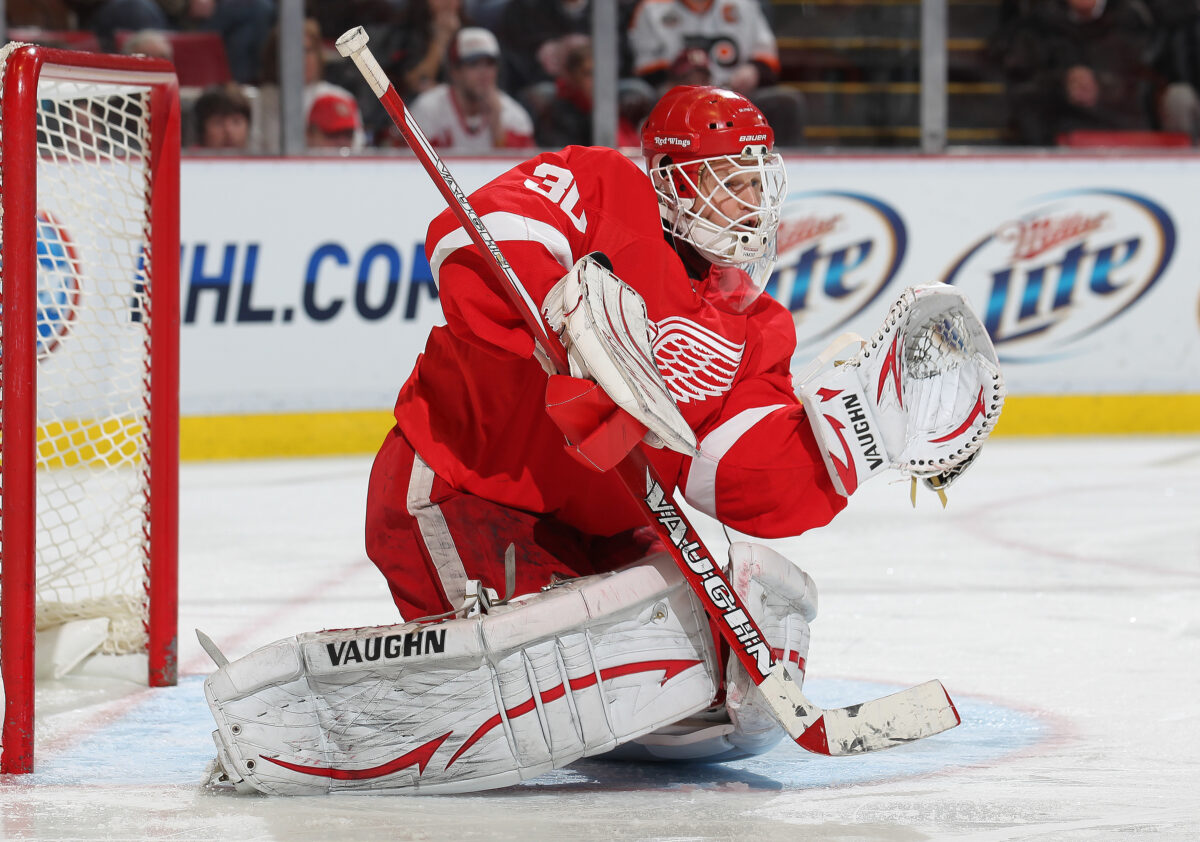 Chris Osgood Statistics
Trade Tracker
Date
Traded From
Traded With
Traded To
Traded For
March 11, 2003
Third-Round Pick 2003
(Konstantin Barulin)
Second-Round Pick 2003
(Jeremy Colliton)
Justin Papineau
Deeper Dive
Achievements
3x Stanley Cup Champion (Red Wings – 1997, 1998, 2008)
2x William M. Jennings Trophy (1996, 2008)
NHL All-Star Game (2008)
NHL Second All-Star Team (1996)
NHL Scored a Goal as Goaltender (1996)
WHL (East) Second All-Star Team (1991)
WHL Scored a Goal as Goaltender (1991)
Sources