My first memory of Chris Osgood is when he played for the old AHL Adirondack Red Wings. Between the Albany fans and Adirondack fans who made the trip down the Northway from Glens Falls in bunches, it was hard not to hear chants raining down his name. One didn't need a program with stats either to see Osgood was going to be a great goalie with the Detroit Red Wings.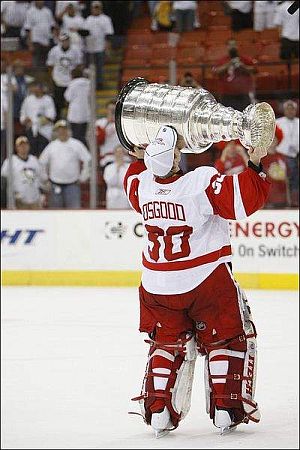 Chris Osgood is Hall of Fame worthy.
Some may say Osgood was a beneficiary of playing on some loaded Detroit squads, which is true. Yet, Osgood did rack up great numbers and he did win multiple Stanley Cup titles. One could make the same argument with Grant Fuhr and the Edmonton Oilers and he's in the Hall. Plus, Curtis Joseph played two seasons with Detroit and didn't win the Cup.
During his 18-year career, the Peace River, ALTA native suited up in 14 of them in two stints with Detroit and also spent parts of two years apiece with the New York Islanders and St. Louis Blues.
Posting the Numbers
A two-time All-Star, Osgood was also twice a recipient of the William M. Jennings Trophy. During the 1995-96 campaign, Osgood topped the league with 39 victories and finished second in Vezina Trophy voting. In 2007-08, Osgood posted a league-best 2.09 goals-against average.
In his career, Osgood had three top-ten finishes in Vezina Trophy voting. Across 18 seasons, Osgood posted six campaigns of 30-plus victories. Plus, Osgood won 401 games, posted 50 shutouts and registered a 2.49 goals-against average and a .905 save percentage.
During his 18 seasons, Osgood's teams never missed the postseason (yes, I know, Detroit basically never misses the playoffs) and his stats didn't suffer any significant drop-off with the Islanders or Blues.
A Postseason Pedigree
With the Red Wings, Osgood won three Stanley Cup titles and was the starter on two of those Cup championship clubs. Grabbing the full reins from the departed Mike Vernon in 1997-98, Osgood helped Detroit repeat as champions, posting 16 wins and two shutouts.
During his second tour with the Red Wings, in 2007-08, Osgood took over for the faltering Dominik Hasek in the Western Conference Quarter-Finals, against the Nashville Predators. With the series tied at two games apiece, Osgood delivered a 2-1 OT victory in Game 5 and a 3-0 shutout in Game 6 at Nashville.
From that point on it was all Osgood, helping sweep the Colorado Avalanche, dispatching the Dallas Stars in six games and finally the Pittsburgh Penguins with the clincher in Game 6 at Pittsburgh. Within that run, Osgood was first among playoff goalies with 14 wins, three shutouts, and a 1.55 goals-against average.
Leading all postseason netminders with two shutouts the following postseason, Osgood brought the Red Wings to within one game of a repeat against Pittsburgh.
It should also be noted that Osgood helped the Islanders break a seven-season playoff drought, where he posted a .912 save percentage in the postseason.
On his total postseason ledger, Osgood has 74 victories, a .916 save percentage, 2.09 goals-against average and 15 shutouts.
A Model of Consistency
From post to post, Osgood's career was consistently solid. Yes, it's helpful to play with the likes of Nicklas Lidstrom, Steve Yzerman, Brendan Shanahan, Chris Chelios, and Sergei Fedorov, etc., but Osgood won in two different eras in Detroit, first as a 25-year-old, then as a 35-year-old. One would also believe the recent induction of Rogie Vachon would make the case for Osgood getting in much more favorable.
Originally published on November 18, 2016