In today's Rumor Rundown, there are rumors about an unsigned player perhaps still looking for a team, a player who is signed but not performing well, and a couple players who need to be signed and their futures seem a bit more Reluncertain.
Bruins/Penguins and Jarome Iginla
Jimmy Murphy points out that Nick Kypreos reported on Hockey Night in Canada, unsigned veteran forward Jarome Iginla is still hoping to return to the NHL and looking for a team while he spends time in Boston and close to his kids. Murphy speculated that maybe Iginla is hoping the Bruins see a fit there. Murphy also pointed out the Pittsburgh Penguins might be an option since they are looking for leadership in the locker room.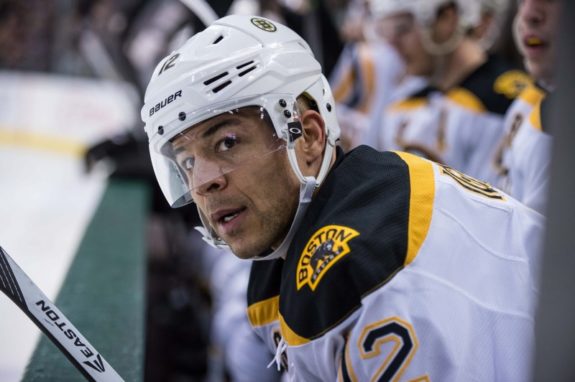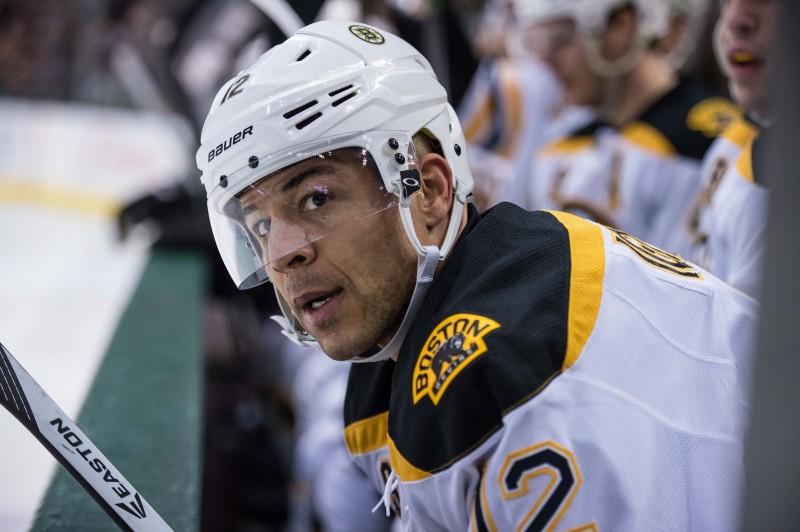 As the season progresses and teams struggle, you have to wonder if clubs that had ruled out Iginla before due to his age circle back. Luke Fox, an editor, and writer for Sportsnet, noted on his twitter feed that the Calgary Flames and Brian Burke "spent a lot of time" evaluating both Jaromir Jagr and Jarome Iginla this past offseason.
Teams like the Edmonton Oilers who are still struggling to move up in the standings and toward an expected playoff spot might have to do something different to get back on track as well.
Related: Rumor Rundown: Iginla, Jagr, Pastrnak, More
Brendan Smith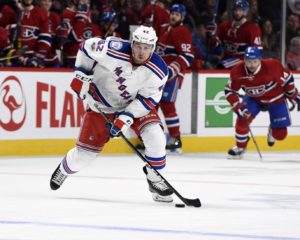 According to Larry Brooks of the NY Post, the NY Rangers are potentially unhappy about the signing of Brendan Smith. The organization brought him in at the deadline from Detroit and signed him to a four-year contract with a $4.35 million cap hit.  The Rangers may be looking to make a change.
The team has been keeping him out of the lineup and he's only played seven of a possible 19 games. It could be a matter of looking to dump his salary and move on if they can find a team to take his contract. They may have to eat a good portion of his salary to make this move possible.
Ekman-Larsson Not Going Anywhere… Yet
Arizona Coyotes GM John Chayka recently shot down Oliver Ekman-Larsson rumors that the defenseman and captain is potentially a piece the club would trade. Jared Clinton of The Hockey News is saying, Craig Morgan of Arizona Sports got the direct scoop that Ekman-Larsson isn't going anywhere.
"I've been on the record numerous times about the subject and have been very clear," Chayka told Morgan. "I haven't had a single conversation about Oliver that has lasted more than five seconds."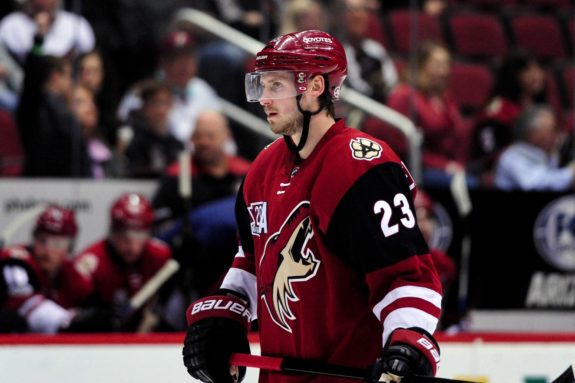 This doesn't mean that teams won't continue to call and it's something the Coyotes might not want to shoot down so quickly if the right offer is made. With as bad as the Coyotes have been and Ekman-Larsson a free agent after next season, he'd fetch a huge return this year and his salary is not one most teams would hesitate to take on.  He'll be looking for one to two million in a salary bump if the cap goes up, but that's not unreasonable.  There are plenty of teams who would give a lot back to the Coyotes that could help them now.
Related: Time for the Canucks to Deal Edler
Erik Gudbranson Comfortable?
Ben Kuzma of THE PROVINCE, is reporting defenseman Erik Gudbranson's future in Vancouver is not a sure thing.
He was almost traded when the Panthers moved Jason Demers and GM Jim Benning has taken calls on the big defender. Benning says he isn't actively reaching out to teams in an effort to move Gudbranson but he's entertaining calls and offers. Meanwhile, Gudbranson is doing his best not to let the trade speculation bother him during the season.
Jim Parsons is a freelance writer who covers the Edmonton Oilers and news and rumors posts here at The Hockey Writers.
You can also catch him writing at NHLtradetalk.com, The Sportster and hosting weekly video casts, THW News and Rumors Rundown, plus Oilers Overtime.
Follow below on any my social media accounts.