The rollercoaster that is the 2014-15 season for the Boston Bruins continues.
After a 3-1 victory in Ottawa on March 10, Boston had a comfortable lead on the Florida Panthers and the Ottawa Senators for the final playoff spot in the Eastern Conference. The Black and Gold appeared to be on course for their eighth consecutive postseason appearance following three straight wins.
But in a span of nine days, the vice grip Boston appeared to have on a postseason berth is now slipping. After suffering a 6-4 defeat in Ottawa Thursday night, the Bruins' playoff chances dropped to 58.3 percent, according to hockeystats.ca.
The Challengers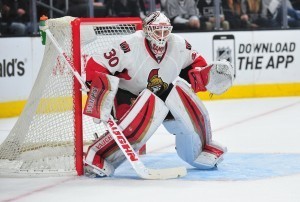 Boston will enter the weekend with a slim two-point lead over the surging Senators. Ottawa has been given new life in the East thanks in large part to rookie goaltender Andrew Hammond. "The Hamburglar" has stolen valuable points for a Sens team in the midst of a five-game win streak.
Ottawa has a game in hand on Boston with three matchups against the putrid Toronto Maple Leafs waiting in the wings. The Sens improved their playoff chances by 11 percent with victory Thursday night over the Bruins.
The Panthers are lurking in the distance as well, sitting five points back of Boston. The two teams will get together on Saturday night in Sunrise, FL for the first of their three remaining matchups.
Calder Trophy candidate Aaron Ekblad (11 goals, 35 points), forward Nick Bjugstad (team-leading 24 goals), netminder Roberto Luongo (24-16-11), and trade deadline acquisition Jaromir Jagr (seven points in nine games) have done their part to keep the Cats alive for a playoff berth. Boston has won 11 straight matchups against Florida, but none have been as important as Saturday night's clash will be between the two teams.
Pucking Smitty
The line of Brad Marchand, Patrice Bergeron, and Reilly Smith has been as cold as the ice they skate on recently. The trio have combined for a goal and an assist (both by Bergeron) in the past six games while compiling an ugly -12 rating.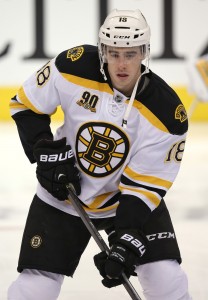 The 23-year-old Smith is more likely to be found on the back of a milk carton than on the ice recently.  His offensive zone turnover enabled Jean-Gabriel Pageau to score a shorthanded goal on Thursday night just 15 seconds after Ryan Spooner scored to tie the game for Boston. Smith played just one shift in the third period on his way to a season-low 7:50 of ice time, recording no shots on goal with a -3.
Since signing his two-year contract extension two weeks ago, the right-winger has recorded just one point in nine games and is mired in a 12-game goal drought. Smith has found his way into coach Claude Julien's doghouse thanks to his poor play in all three zones.
The Young Guns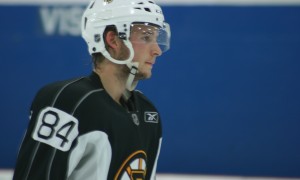 Boston's drive to the playoffs may rest on a couple of kids behind the wheel. Spooner and 18-year-old David Pastrnak, alongside Milan Lucic, have joined forces to create a line that clicked almost immediately.
An Ottawa native, Spooner has done his part to fend off the Senators scoring four goals in two games against his hometown club. Since being called up from Providence, the young center has scored 11 points in 13 games, earning him a permanent spot in Boston's lineup even with the return of playmaker David Krejci forthcoming.
"I'm going to be honest with you: he's not coming out of our lineup playing the way he is," said Julien. "That's just doing the right thing and he deserves it now."
The rookie Pastrnak has five points (goal, four assists) in his last six games while Lucic has looked like a completely different player. The bulky left winger has four points from his last six contests but has been put in a position to "catch up" to his smaller, faster linemates. Spooner and Pastrnak like to push the pace on offense compared to a more methodical approach from Krejci. The trio has made a strong case they deserve to stay together even when Krejci is ready to come back.
The Boston Bruins have not made things easy for themselves or their fans this season. Twelve games is all that remains between them and the postseason. Can they respond to the growing adversity they are facing? Will they crumble?
One thing is for certain: It is bound to be an uneasy sprint to the finish line on April 11.
Joe is a writer covering the Boston Bruins. He is a lifelong native of Massachusetts and is currently a content writer/manager for a newsletter at a Human Services Agency. Joe can be found on Twitter: @JoeCherryTHW