After reading the news of the signing of young Russian Nikita Soshnikov, many Maple Leafs fans probably asked themselves who is he.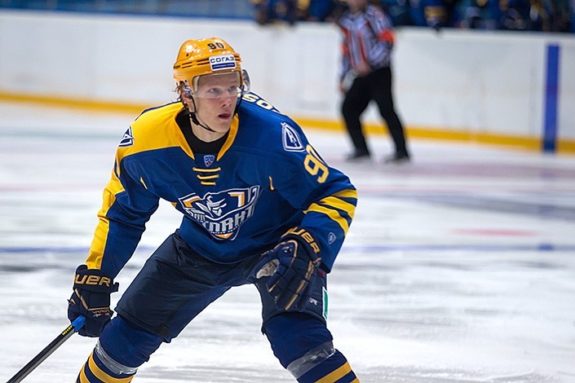 "I am happy to have signed with the Maple Leafs. I am still young, playing in the NHL is my dream," Soshnikov told Atlant's official site commenting on the news. "I want to progress as a player, the financial side isn't important to me, I want to play against the best players in the world."
Soshnikov rightfully wants to progress, but he made many steps forward this season. After being one of Atlant's junior team top scorers in the MHL, Soshnikov this year finally had a chance not only to play in the KHL, but also to play many minutes. The team has had a lot of financial troubles and had to part ways with the most paid players, giving a chance to younger players. Soshnikov was one of them. He started the season a bit slow, but then he gained confidence and started scoring, finishing the 14-15 campaign with 14 goals and 32 points in 57 regular season games, excellent numbers for a KHL player of his age at his second year of pro hockey. It can be worth mentioning that he developed a good chemistry with some of his team mates, namely former Gatineau Olympiques Igor Levitsky and Sergey Shmelev.
A few months ago the KHL posted a video with some good display from Soshnikov in a game against SKA St. Petersburg, where you can admire his skills and skating (Soshnikov wears the #90).
5'11", 185 lbs. Nikita Soshnikov hails from Nizhny Tagil, a city of the Sverdlovsk Oblast in the Ural region of Russia, more known for having produced the Radulov brothers. In 2009 Nikita moved from Nizhny Tagil to Mytischi to play in the Moscow Junior Championship with the local team, Atlant. One year later, the franchise protected his rights during the sixth round of the 2010 KHL Draft. In the 2010-11 season, Soshnikov started playing in the MHL, starting gaining a name for himself thanks to his goal scoring ability. In three full seasons and 10 games of the fourth one, Soshnikov scored 72 goals and 146 points in 164 regular season games, making the 2013 MHL All-Star game. However, Atlant's success in the playoffs is limited, and in his career Soshnikov played only 27 post season games, with a respectable record of 8 goals and 17 points.
Considering his skills and skating, Soshnikov earned a call to the KHL in the 13-14 season, where he spent most of the season with Atlant, with limited ice time. In 33 regular season games, Soshnikov scored two goals and five total points. He also skated with Atlant's affiliate in the VHL, the Buran Voronezh, where he scored two goals and as many assists in four games.
This year has been very good for Soshnikov, who also played a couple of games with Team Russia for the Euro Hockey Tournament, without getting on the score sheet. Signing an entry-level contract with the Maple Leafs has been the icing on the cake for his excellent season.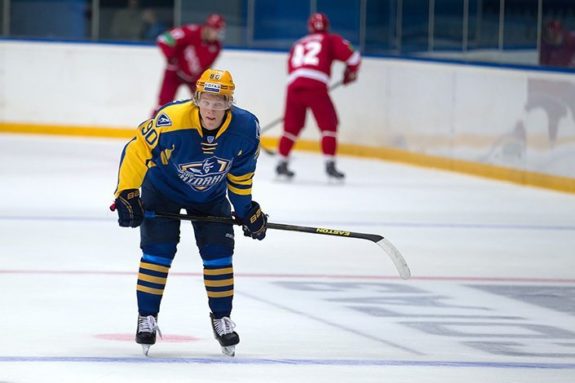 Nikita Soshnikov is an offensive forward with plenty of skills, a good bag of tricks and some good wheels. He is also a hard worker, and won't have many problems in working hard to raise his game of a couple of levels to play in the NHL. He still needs to learn English, though, and that may hinder him a bit, especially in the first phase of his move to Canada. Soshnikov will also have to work on his defensive play and awareness, as he is more of an offensive player who can be a bit one-dimensional, even if he's willing to get back and help his team when needed. It's hard to expect him to play penalty killing shifts, but he can become a reliable player for the Leafs who can provide some much-needed secondary scoring and log power-play minutes with his skills and creativity.
Soshnikov is well aware that he will most likely have to work his way through the AHL, but he is very happy to have chosen Toronto over teams. "There were other teams interested in me," he told Atlant's official site. "But I picked Toronto because I know how much hockey is popular there, and their fans are great. I know that I may have to play in the AHL first. No one promised me a spot in the roster. I know where I'm going, if I'll have to play in the AHL, I'll play there." Wise words for any player who wants to play a long career in the NHL.
Nikita Soshnikov Statistics: