When people think of the Mike Gillis era these days, it's not the brilliant signing of Dan Hamhuis or the highway robbery that was the Christian Ehrhoff trade. They think of the high-profile, boom-or-bust deals executed by Gillis late in his tenure, and while those trades took a lot of criticism at the time, it's hard to argue that they haven't paid off in one way or another for the Canucks. Let's take a look at two of the biggest, most controversial trades from the era of Michael D. Gillis that have paid dividends so far:
The Cody Hodgson Trade
Buffalo Sabres Receive: Cody Hodgson (F), Alex Sulzer (D)
Vancouver Canucks Receive: Zack Kassian (F), Marc-Andre Gragnani (D)
#canucks trade Cody Hodgson for Zack Kassian from Sabres http://t.co/9fAdJH87

— Province Sports (@provincesports) February 27, 2012
Of all the trades done by Gillis and his management group, this blockbuster, made at the 2011-12 trade deadline, took the most criticism of them all. Cody Hodgson was putting together a fine rookie campaign with the Canucks with 33 points in 63 games as a Canuck and for a team that took some heat for being unable to draft and develop talent, Hodgson was seen as a revelation in Vancouver, so when news broke that he was being shipped out of VanCity for a promising but unproven commodity in Zack Kassian, it proved to be immensely frustrating for many Canuck supporters. Early impressions weren't encouraging, as the Windsor native notched a mere three points in 17 regular season games, with two of those coming against the Buffalo Sabres just three games into his tenure.
The following season, the lockout shortened 2012-13 campaign, the young power forward started his season off with three goals in his first seven games alongside the Sedin twins, potentially signalling a breakout year was on the horizon for Kassian. That was not the case, as he scored just four over the next 32 contests, and didn't post a single point in any of the Canucks' four playoff games that year. How much of that sharp decline can be placed on the shoulders Alain Vigneault and not putting him in positions to succeed is debatable, but what isn't is the fact that the campaign was dissapointing for Kassian and the Canucks.
The next season was where Kassian started to show what he was made of, even if it may have taken a bit of time. Through the first chunk of the season, up until the end of December, he had a mere nine points over the course of 35 games played, underwhelming considering what was expected from Kassian under new head coach John Tortorella. Many clamored for Kassian's return to the Sedin line, but Tortorella was insistent on the idea that the young winger needed to improve his play without the puck. Apparently it worked, because once the calendar flipped over to 2014, Mr. Kassian finally put it all together over an extended period of time, leading all Canucks with 19 points in 38 games in 2015, including 12 points in 17 games from March 1st onward. That same year, Hodgson had a very respectable year production wise, with 44 points in 72 games, tops among Sabres during a disastrous year for the franchise. For the moment at least, it appeared as though this trade was turning out to be a win-win situation.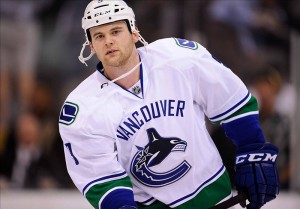 Unfortunately, Kassian was unable to maintain that same momentum going into the 2014-15 campaign, scoring just twice in his first 27 contests. An injury that had him sideline for multiple weeks certainly played a factor in his weak offensive production, but it didn't hide the fact that those kind of numbers were not up to par with what was expected out of him. It got to the point where Willie Desjardins had no choice but to make him a healthy scratch on multiple occasions, indicating a low point in Kassian's career, and triggering several rumors leading up to the NHL trade deadline.
Canucks Trade Rumours Are Heating Up: Bruins interested in Kassian http://t.co/xmLlz8o4mZ @omarcanuck

— Rob Williams (@RobTheHockeyGuy) December 19, 2014
It seems as though that lit a fire under Kassian, as he has gone on a tear of late, scoring eight goals in his past 16 games, including three game-winning-goals and has simply played the style of game expected of him; a physical, aggressive, game-changing style of play. Meanwhile, Cody Hodgson has gone the opposite direction, with just five goals and 12 points, four less than Kassian in 25 more games, while playing nearly a full minute more of power play time per game. Is there time for things to change for both players? Certainly, it's still too early to really tell who won this trade, but at this point in time, it appears like the Canucks are getting more out of their return than the Sabres are theirs.
Oh, and if anyone was wondering, Alex Sulzer turned out to be a pretty solid depth defender for Buffalo, but is now off playing in Germany, while Marc-Andre Gragnani played just 14 games for Vancouver before signing with the Carolina Hurricanes in the off-season, and is now playing in a Swiss hockey league. But chances are, you weren't wondering.
Next up…
The Cory Schneider Trade
New Jersey Devils Receive: Cory Schneider (G)
Vancouver Canucks Receive: 9th Overall Pick in 2013 Entry Draft
NHL draft coverage continues on #TEAM1040 with @patersonjeff. Canucks traded Cory Schneider to NJ for the 9th overall pick, taking Bo Horvat

— TSN Radio Vancouver (@TSN1040) June 30, 2013
The Canucks shocked the hockey world at the 2013 draft by trading young goaltender Cory Schneider to the New Jersey Devils, after spending the entire season trying to ship veteran Roberto Luongo elsewhere. The return was undersold at the time from a Canucks' standpoint, with many claiming "we just traded our starting goalie for a draft pick" as if the 9th overall selection was something to scoff at. In a draft as deep as this one was, a top ten selection was a pretty safe bet to play in the NHL at some point, and while Gillis should have probably gotten a bit more for a goaltender of Schneider's caliber (the Edmonton Oilers reportedly offered a significant package, but Gillis was unwilling to deal within the division), the return wasn't nearly as bad as many made it out to be. With the pick, the Canucks selected centerman Bo Horvat, a pick many questioned at the time, saying they should have selected the more dynamic (and risky) Valeri Nichuskin (who eventually ended up with the Dallas Stars at 10th overall.)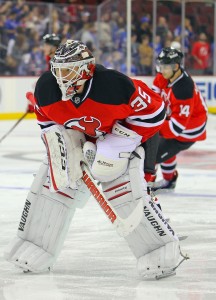 As much heat as Gillis took for the trade, one would be hard-pressed to find any Canuck fans that aren't content with the return at this point. Before the start of 2013-14 season, it was thought that Horvat (along with fellow 2014 draft pick Hunter Shinkaruk) would make the club off the strength off his pre-season. Unfortunately, that was not the case, as Horvat was sent back to his junior team the London Knights for one more year, and had another fine campaign, posting 74 points in 54 games while also playing a key role on Canada' world junior squad. This year however, was different, as Horvat, who many expected to fill in as a decent fourth line center, has developed into one of Vancouver's most consistent and most dangerous offensive threats, while also serving as the go-to faceoff man. Since the all-star break, the 19-year-old has 13 points in 25 games, including nine goals during that stretch. Horvat's 22 total points rank 13th among all NHL rookies, while playing less games than any player ahead of him outside of Dallas' John Klingberg, while also boasting the strongest faceoff percentage among first years with a 52% efficiency rate.
Should Devils fans be frustrated with the trade as it stands right now? Most certainly not, Schneider has done a fine job in the New Jersey crease, with an impressive .929 save percentage, and it's likely that he'll only get better from here on out. However, it appears that this is one blockbuster that will end up being pretty equal when all is said and done.
When looking at these trades a couple of years after the fact, it's hard not to like what you see if you're a Canucks fan. Should Gillis have gotten more at the time? Probably, but what he did get looks pretty darn good right now.
All stats courtesy of NHL.com, hockeydb.com and war-on-ice.com