San Jose Sharks' offseason questions are plenty. The NHL will conduct an expansion draft to stock the incoming Vegas Golden Knights, concerns over depth scoring and what to do with two legends that have been pillars of San Jose's identity on and off the ice all will be tackled this summer. Adding to that already full plate, there are San Jose Barracuda forwards that are knocking on the door ready to challenge for NHL job.  And with rumors of little to no increase in the salary cap, the consequences of these decisions will have a massive impact on the direction of the Sharks' 2017-18 campaign.
Expansion Draft Looms
Wilson confirmed that Martin Jones will be protected in the expansion draft, but would not tip his hand if he would utilize the seven forward/three defender or eight skaters protection strategy.
If they lose a defender in the expansion draft, as expected, they will open up somewhere between $2.1 (David Schlemko) and $4.85 (Paul Martin) million. That looks great on paper, but Brent Burns contract jumps from $5.76 to $8 million next year (and the eight years after that) meaning Schlemko heading to the southern desert of  Nevada desert would not account for Burns' raise. Dylan DeMelo looks ready to fill the gap created by losing a defender if he is not the surprise player selected himself.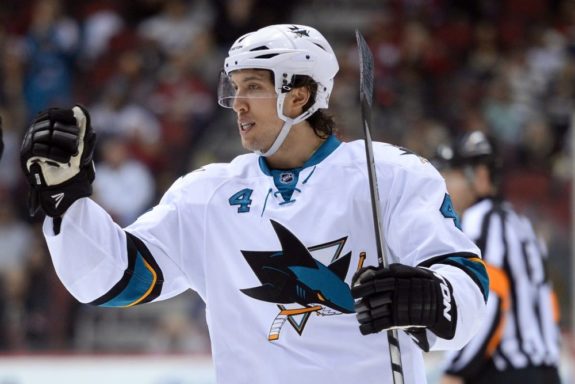 If the Sharks lose one of their unprotected forwards that would save the defensive depth and shed some salary while opening up a roster spot for a young player. This is the likelier of the two scenarios.
2017-18 Verdict: Every team will lose a player but the Sharks as well positioned to protect the cornerstones of the franchise. That said, this will be the first domino to fall and will dictate the rest of the roster moves this summer. 
Secondary Scoring Fails to Show
The Sharks offensive stars did what they could. Joe Pavelski and Burns tied for the team lead with 29 goals. Patrick Marleau potted 27 and Logan Couture registered 25 goals. After that, no San Jose player had more than 11 goals. The players the Sharks counted on to add some goals during the season simply did not and the signing of Mikkel Boedker, at least in year one, fell flat on its face.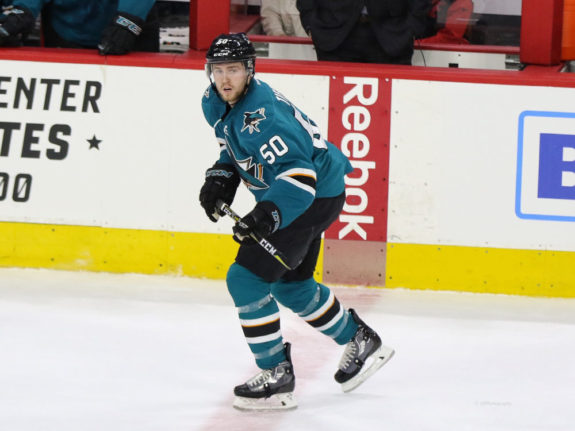 Joonas Donskoi suffered through a pair of shoulder separations during the season and was a shadow of the breakout player he was during his rookie season. Playing hockey is hard enough, attempting to do so with a shoulder injury doubly so. So depending on your slant, Donskoi either had a Sophomore Slump or injury woes. Joel Ward's season was streaky as always but failed to reach 30 points for the first time since 2012-13 season with the Washington Capitals.  Bottom-six center Chris Tierney should not be fifth on the team in goal scoring. Rookie Kevin Labanc's eight goals in 55 games put him in the top 10.
There are too many moving parts this offseason to speculate if there will be money available to address the lack of secondary scoring. It's the most pressing need but other chips will have to fall first.
2017-18 Verdict: It could be dangerous to count on Labanc, Timo Meier, likely Danny O'Regan and possibly Marcus Sorensen to fill secondary scoring roles as such young and inexperienced NHL players. San Jose could have no other choice.
Boedker Signing Backfires
While part of the secondary scoring discussion above, the signing of Mikkel Boedker fell as completely flat as a signing could. The four-year, $16 million deal he signed last year ultimately fell flat of any reasonable expectation. After a showcase season with Arizona where Boedker had the fifth most power play time in the NHL, ahead of players like Thornton, Marleau, PK Subban, Claude Giroux and other NHL superstars.
The power play showcase resulted in 19 points on the man-advantage in the 2015-16 season yet lead to a singular point with the Sharks second unit. His speed was the most important ability Boedker brought after the Sharks' lack of speed was exposed in their loss during the Stanley Cup Final. But all the speed in the world will not cover up the fact that his 26 points resulted in Boedker's lowest offensive output in five years. The Sharks are straddled with his $4 million salary cap hit for the next three years, barring a miracle trade or expansion draft selection in the offseason.
Everyone involved seems to think he can return to form. Doug Wilson spoke to the media on locker clean out day and said head coach Peter DeBoer believes Boedker can rebound. DeBoer mentioned that Boedker now has a clear understanding of his role and what he needs to do this summer.
2017-18 Verdict: Is a bounce-back year possible? Sure. Can it be expected? No. Either way, Wilson needs to work the phones and make sure his counterparts around the NHL know Boedker is available. 
What to do with the 1997 Draft Class
Almost 20 years ago, the Foo Fighters released 'Everlong', Austin Powers was prowling the silver screen, Tony Blair became the Prime Minister of the United Kingdom and Joe Thornton and Patrick Marleau went first and second overall in the 1997 NHL Entry Draft.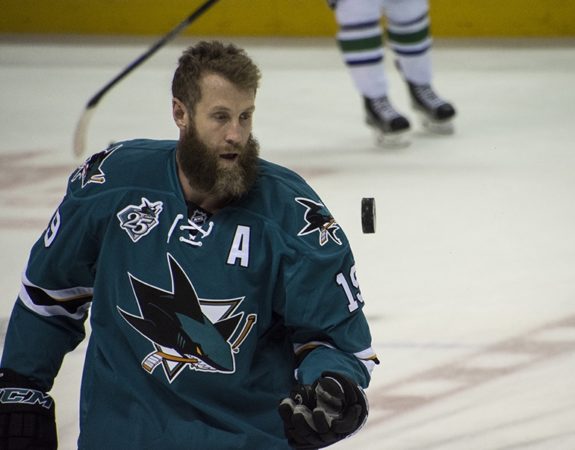 There is no denying what the two forwards have meant to the San Jose franchise. Thornton is the best pure passer of his generation and recorded his 1,000th assist this season. Marleau, who never played professionally without a Sharks logo on his chest, notched goal 500 as well.
Now, in 2017, the twilight of their career is here and the Sharks have both Thornton and Marleau ready to skate into unrestricted free agency for the first time. Marleau said during the final day of media availability he feels he has five more good years left in him. While it sounds far-fetched, he led the Sharks with 27 goals, still is one of the faster players in the NHL and can play any forward position, although he is best at the wing. Either way, that is top-six production no matter what age you are and some team will pay for a speedy forward with a history of goal production.
Thornton's situation is now murkier. He underwent successful surgery on his left knee to repair torn MCL and ACL ligaments. He turns 38 on July 2 and is without a contract. His 43 assists were second to Brent Burns but can a player that already lost a step overcome a major knee injury?
DeBoer on Thornton's injury: "I've never seen a guy play with a torn MCL and ACL… It's a courageous effort as I've ever seen." #SJSharks pic.twitter.com/1jEc9FdLHL

— San Jose Sharks (@SanJoseSharks) April 24, 2017
The Thornton injury could give the Sharks leverage. Their doctors did the surgery and will know best how much damage there was and how confident they are in the recovery. Other teams, rightfully, might have cause for pause when sending over an offer. But with the questionable contracts of Boedker, Ward and Martin still on the books for 2017-18 and beyond, six significant RFA's to get under contract, the specter of a flat cap year and Martin Jones and Marc-Edouard Vlasic needing extensions, how much can the Sharks actually afford is the issue.
2017-18 Verdict: Thornton on a one or two-year deal makes sense. There is no other option at 1C for the organization, barring a spectacular trade. Marleau's goal production would be hard to replace, a two-year deal would be ideal. Both will have to take pay cuts and that could be the deal breaker.