When news surfaced on Wednesday about comments Nikita Kucherov reportedly made to Pavel Lysenkov, a reporter at Russia's Sovietsky Sport, the internet exploded with reaction and speculation.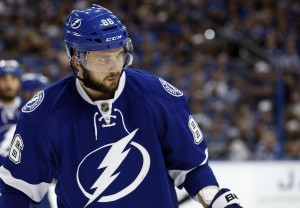 While some were disappointed with certain comments, others praised Kucherov for speaking his mind.
If you aren't familiar with the situation by now, Kucherov gave an interview in his native language to Lysenkov, it was translated to English and the gist of it was quite clear.
The 23-year-old forward is frustrated with how things played out this season with the Tampa Bay Lightning.
Kucherov is a man of few words for the most part with the media (sometimes, only one word), but he certainly let them flow in this one.
But if you are Kucherov, can you blame him for feeling frustrated?
His Comments
While the audio of the interview spans over 22 minutes, here are the most pertinent portions of it in English, as translated by The Hockey Writers' Alessandro Seren Rosso.
On The Loss of Steven Stamkos and Kucherov's Linemates: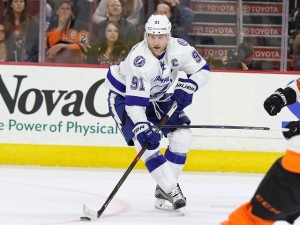 "It was hard at first. We just got a good line, me, Stamkos, and [Vladislav] Namestnikov. We played together for nine games, and on the ninth Stamkos got injured. We played well together, had great chemistry. I can say that those nine games were my best in my four years in the NHL. I was really upset. Then the coaches started shuffling the lines and trying me in different combinations. Linemates would change like in a kaleidoscope. It was very hard because no one of my partners would play at Stamkos' level. It's hard to explain how I played with them. We didn't understand each other and we had many problems. Steven, Namestnikov and I were like a unique wave. We thought alike. We didn't need to explain each other where to go on the rink."
Chemistry With Linemates After Stamkos' Injury
"I felt bad for the whole season because I couldn't find good chemistry with other players after Stamkos' injury. For some reasons the coaches didn't play me with Jonathan Drouin, even if we played well together in one game. And moreover, some guys were around too much in the team. They've got their money and stopped working. They knew that there was no competition in the lineup and the organization wasn't going to acquire anyone else. They didn't really play well this year, you can see it from their stats and play. When I was playing with them, they wouldn't even expect my passes. This is why this season was hard to me, in spite of the good stats."
His Frustration
At the root of Kucherov's comments is frustration with how things played out for the Lightning this past season. Kucherov's new agent, Dan Milstein, confirmed this much shortly after the comments surfaced.
Kucherov, thru agent, said quotes came out of frustration from no playoffs. Respects staff, SY, but didn't feel every player on board to win

— Joe Smith (@JoeSmithTB) April 26, 2017
If you are Kucherov right now and NOT frustrated with how things played out this season, something would be very wrong.
While these are the sort of comments that can make things harder on the team's PR department for now and are best kept in-house overall, importantly, these are the words of a player who is hungry for more from himself and his team. It's that sort of approach that makes good players great or makes great players some of the game's elite. Kucherov wants to win and he wants to do it with the Lightning. If you are the team, that's a beautiful thing to know, despite the way his message was delivered.
Nikita Kucherov, who bought house in Tampa, wants to stay long term. "He hopes to play for 1 team," agent Dan Milstein says. "Like his GM."

— Joe Smith (@JoeSmithTB) April 26, 2017
When Kucherov took a hometown discount to sign a three-year bridge deal worth $4.766 million per year he left a lot of money on the table. A lot! Sure, it was hours before the regular season when he signed the contract. He had the option to sit out, request a trade and potentially miss the entire season.
But he didn't do that.
Instead, he signed a bargain of a deal and joined his team to start the NHL's regular season — one that many in hockey felt had as good a chance as any other of winning the Stanley Cup before the season began.
Kucherov's Career Year
But things didn't go as planned for the club on the ice. There were the injuries to key players, extended bouts of inconsistency, defensive breakdowns and loads of reinforcements from the American Hockey League.
When the smoke cleared, the Lightning missed the playoffs by one point. By early April, Kucherov wasn't playing for a Stanley Cup, he was on a plane back to Russia to play in the 2017 IIHF World Championships.
That's a tough pill to swallow. Especially when you are a player who stepped up with Stamkos out of the lineup and played a consistent game from wire to wire. It doesn't make it any easier when it comes after signing a bargain of a deal to stay with the team, either.
When Kucherov re-signed, it was him saying he was "all-in" on the Lightning. Sure, he stands to earn big time money at the end of it if he is remotely as productive as he is now. But it was the sort of deal and came at such a time, that it sent a clear message to his teammates.
And Kucherov delivered. All season long.
He notched his first 40-goal season and lead the team with 85 points, earning his first trip to the all-star game. He helped the Lightning power play finish sixth in the league after notching 17 goals and 15 assists with the man advantage. (Kucherov had 14 power-play goals for his entire career entering the regular season.)
Simply put, Kucherov was the goal scorer that stepped up with Stamkos out of the lineup 17 games into the season.
Some Players Didn't Deliver
While Kucherov delivered, other players didn't. Like he said, look over the roster and at the statistics, particularly game-by-game numbers over the course of the season.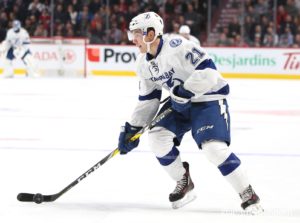 Sure, the team's defense wasn't stellar and the goaltending situation created uncertainty for a while, but the Lightning needed fairly consistent statistical output from some of their bigger offensive stars and didn't get it.
They got it at the end of the 2015-16 regular season without Stamkos in the lineup. They also got it throughout the playoffs, which is how they took the eventual Stanley Cup champion Pittsburgh Penguins to seven games in the Eastern Conference Final.
But things were different when Stamkos went down this time around.
Sure, there were multiple injuries, but look at how the team played the last 25 to 30 games of this past season. The potential for the Lightning to play that way was there all along, but for one reason or another, they didn't get it done earlier on.
Shuffling Lines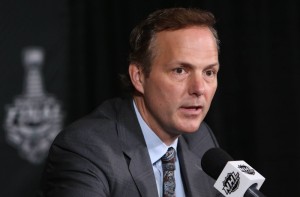 It's important to note that earlier in the interview, Kucherov said that part of his success came from head coach Jon Cooper "trusting" in him, according to the English translation. Some viewed Kucherov's other comments as reflective of an underlying issue with the coaching staff but that's just speculation at this point. In fact, his agent has come out and said Kucherov respects the (coaching) staff and general manager Steve Yzerman, according to Smith. Not that I ever doubted that, nor should you. After all, he did return to the Lightning at a huge bargain when he had other options, despite being a restricted free agent at the time.
Kucherov's reported reference to not playing with Jonathan Drouin despite success together points to frustration about not skating with one of the team's most gifted offensive players regularly. They had time together on the power play but were not played regularly at even strength. As talented as both those players are together, it is a coaching decision on who to put on a line together. I think they would complement each other quite well and if Drouin can be re-signed this summer, it's something that would be worth exploring more.
Cooper certainly shuffled the lines a bit this season but at times that was because of injuries and at others, you might think that he and his staff were doing anything they could think of to get something going. When things feel like they are spinning out of control, desperate times call for desperate measures. The Lightning were there at certain points this past season, particularly in January, when they won just three times in 13 outings.
Yzerman's Approach
Yzerman is known for being a smooth operator, carefully thinking his way through things before acting on anything.
This Kucherov situation is no different.
"The best thing I can do is sit down and talk to Nikita and get his thoughts on everything," Yzerman said on Wednesday, according to the Tampa Bay Times' Joe Smith. "I'm not going to comment on articles in Russia that are translated, what's right, what's wrong, not going to get caught up in it. But I'll certainly look forward to talking to him."
"I'm not going to make a big deal out of everything," Yzerman said, according to Smith. "Kucherov is a great player, been a great teammate. And we'll get things sorted out after the World Championships."
#tblightning Yzerman said no plans at this time to make changes to coaching staff. Said no players need summer surgeries.

— Joe Smith (@JoeSmithTB) April 26, 2017
Playing Out
When a star player like Kucherov speaks out like he has according to Lysenkov, this is a big deal. Not only because of the substance of the comments, according to the translations, but because Kucherov's outlook is crucial to the club's future success. Addressing his concerns is paramount to getting things started off on the right foot for next season and can set the tone for his future with the organization.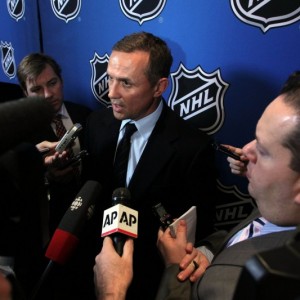 Yzerman will most certainly be speaking with Kucherov at the end of the World Championships to do just that, privately.
He also has a long list of decisions to make himself right now. Particularly the protection list for the expansion draft, who will return to the club next season and how he may be able to upgrade the team in an effort to take the next step.
Kucherov's feeling of frustration is not a surprise — no one on that team is happy with watching the playoffs right now. In fact, Kucherov's feelings reflect an accountability factor he possesses that's a defining characteristic of being an elite player.
But all of that aside, his frustration coupled with these comments, seemingly add another interesting twist in what will be an important summer for the Lightning.
Steven is a lawyer and writer with a passion for the game of hockey. He's the Lead Writer covering the Tampa Bay Lightning with THW. He's also been press credentialed through the Lightning since 2016. His work has been published at The Fourth Period, LightningInsider.com, Bolt Prospects, The Sports Daily Network, U.S. College Hockey Online and College Hockey News. He's had radio appearances on TSN 690 in Montreal, Lightning Power Play Live and multiple podcasts to give insight and analysis on the team. He can be reached on Twitter @StevenDiOssi and by email at sdiossi@gmail.com.