Nikita Kucherov had a great season for the Tampa Bay Lightning, scoring 85 points in the regular season. However, it has also been a rocky year for the team, who missed the playoffs also because of a serious injury to one of their key players, Steven Stamkos. In this translated interview, originally appearing on the popular Russian site Sovsport.ru, the Russian forward openly talked about his season in Tampa Bay, without a shortage of criticism.
* You can enjoy the original Russian language article by Pavel Lysenkov here. *
Nikita Kucherov & Team Russia
Pavel Lysenkov: In a few days you're going to play at your first IIHF World Championship. Did you use to watch the games on the television when you were younger? What do you remember the most?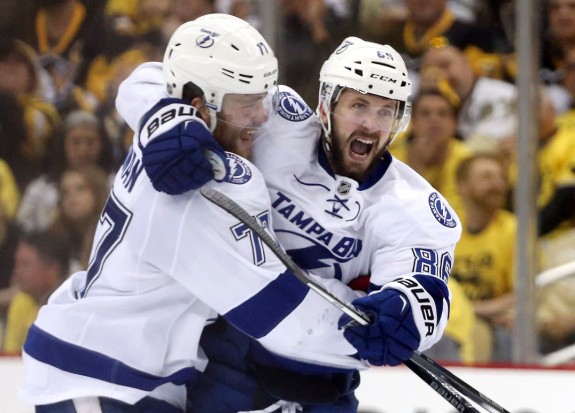 Nikita Kucherov: Of course the final game of the 2008 WC, when Russia won against Team Canada in spite of being down 2-4. When [Ilya] Kovalchuk scored the OT GWG. And the next year, in Bern [Switzerland], when the gold medal goal was scored by Alexander Radulov. Those are the two most memorable tournaments I remember. Generally speaking, I always watched the games when I could. I always dreamed about playing for Team Russia at this level. It's a huge honor and I am glad to have this chance.
PL: You had a chance to meet your long-time friend Nikita Gusev. Did you manage to follow him from America?
NK: During the Gagarin Cup playoffs I tried to watch the highlights from the most important games. I was cheering for Gusev and Igor Ozhiganov from CSKA [Moscow]. I wouldn't care about what team would win – just that my friends played well.
PL: Were you always good at hockey?
NK: Gusev and I always played together. I can't say that I was doing great right away. There were some bad moments, some games where we were out of luck. It's impossible to play all of your games at the highest level. When I was a child I didn't have consistency, like now. But earlier if I wouldn't score a goal, I'd get upset and my game was done. Now I think like an adult person. Maybe I didn't score, but you don't know what happens on the next play.
PL: Did you follow [your former KHL team] CSKA Moscow while playing in the NHL?
NK: I don't like watching CSKA because they play terrible hockey. I feel bad for the guys who play there. I'm happy for Igor Ozhiganov, he's doing great and now he's a key player for the team. I'm only following him.
PL: Did CSKA try to reach you when you were without a contract?
NK: No, but I wouldn't even have listened to their offers.
PL: Steve Yzerman offered you a fairly low contract. Everyone knows that you could get more money. Would you agree on that contract now?
NK: It really happened what's happened. I don't want to talk about my contract.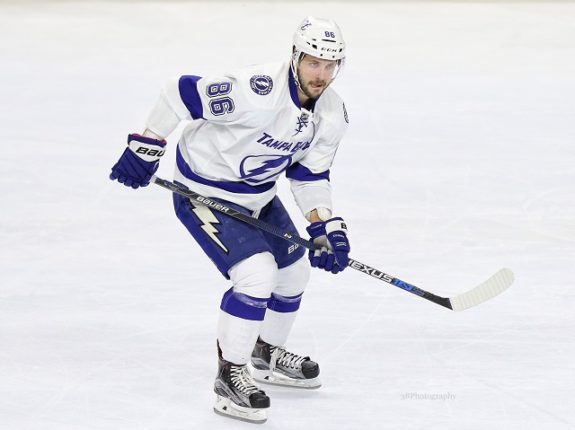 PL: At the World Cup you played on different lines. With whom did you enjoy playing more?
NK: When you're surrounded by so many players of this level, it's truly the same. Look at the roster: you'll find stars in any line. It was great to play with every one of them, and it was an unforgettable experience for me. I learned a lot from Ovechkin, Malkin, Tarasenko, Kuznetsov, Datsyuk. I tried to get something from them in my game. And I think that some of these things helped me during the season. I trusted myself more, I grew as a person and as a player. Team Russia did help me a lot.
PL: Forty goals in the regular season speak loud about your level. And you were the top Russian scorer (85 points). Do you feel more responsibility?
NK: I frankly don't read and don't listen to what [North American] analysts say. I simply try to play according to the game plan, play my style and be useful for the team. It's very important to enjoy what you are doing. And not just to get to the ice and throw the puck around. You need to create something unusual. Take decisions that other players wouldn't think about. This is why I succeeded this year. Many guys were traded, and others came from the farm team. I need to take on a new role. This is why I managed to reach a new level, and the coach trusted me. I got advantage of this chance and I managed to get many points. But most importantly, I did whatever I could to be useful for the team.
Nikita Kucherov & Lightning's Hard Season
PL: Was Steven Stamkos' injury tough to swallow for the team? You had more ice time, but Tampa Bay isn't the same team without him.
NK: It was hard at first. We just got a good line, me, Stamkos, and [Vladislav] Namestnikov. We played together for nine games, and on the ninth Stamkos got injured. We played well together, had great chemistry. I can say that those nine games were my best in my four years in the NHL. I was really upset. Then the coaches started shuffling the lines and trying me in different combinations. Linemates would change like in a kaleidoscope. It was very hard, because no one of my partners would play at Stamkos' level. It's hard to explain how I played with them. We didn't understand each other and we had many problems. Steven, Namestnikov and I were like a unique wave. We thought alike. We didn't need to explain each other where to go on the rink.
PL: For example, you explain to your new partner where to go, and he can't get there.
NK: I felt bad for the whole season because I couldn't find good chemistry with other players after Stamkos' injury. For some reasons the coaches didn't play me with Jonathan Drouin, even if we played well together in one game. And moreover, some guys were around too much in the team. They've got their money and stopped working. They knew that there was no competition in the lineup and the organization wasn't going to acquire anyone else. They didn't really play well this year, you can see it from their stats and play. When I was playing with them, they wouldn't even expect my passes. This is why this season was hard to me, in spite of the good stats.
PL: How did you feel when Tampa Bay traded Nikita Nesterov to Montreal?
NK: No one is happy when a friend leaves the team. We developed a great relationship in these years. I was very upset at first. But this is hockey, and everything can happen. You have to accept that. Later, I was very happy for Nikita. He wanted to change teams because he wanted to play more. He wasn't playing much in Tampa Bay. I was happy for my friend who got a chance in Montreal. I hope that he is happy now, we keep on being in touch. I wish him to achieve the highest success.
PL: What was your reaction when the NHL announced that the league won't take part in the Olympics?
NK: The way it's decided is the way it will be. I doubt my opinion would change anything. Of course, I would love to play in the Olympics. I always watched the Games, since my childhood, everyone dreams about representing their country. You don't have such a chance every year, you may have it once in a lifetime. It would be too bad if the players weren't allowed to go there and someone would lose this chance. This concerns not only me but every player in the league. Parents and relatives want to watch you representing your country, and feel proud, and I think it's awesome. But remember that it's not really up to us.
PL: Washington Capitals owner Ted Leonsis declared that he'll let Alex Ovechkin go. What is Yzerman's position on this?
NK: We haven't discussed it yet.
PL: This year you had two fights. Didn't your teammates tell you that scorers shouldn't mess around in fights?
NK: No, no one told me that. We had a period where our team was playing bad. We couldn't score and everyone was upset. I wasn't happy with my game myself. I think I simply freaked out, I wouldn't expect this from myself.
PL: Did the fights cheer you up?
NK: It was strange to me. But I got my game back and everything was the same old feeling.
PL: You almost shocked the whole world with your penalty shot against Buffalo. Did you try this trick often on practices?
NK: Yes, I try it quite often against [Andrei] Vasilevsky. Against Buffalo, I thought for a long time if I would do it. I did my attempt and was lucky. The goalie didn't react on the puck and it went in through his five hole. He didn't manage to put the stick down to the ice.
PL: Does this mean that you tricked him out with your body?
NK: Yes, I simply stopped playing the puck. Ask [former Vancouver Canucks] Sergei Shirokov. I learned this trick from him after he did it while playing for CSKA Moscow.
PL: How do you practice your fantastic wrist shot?
NK: If I have some spare minutes during a practice, I always pick up the puck and start shooting from any position. In the NHL you play on the small ice, and you are dangerous from any position. You always have to be ready. You need to have a good shot, otherwise it'd be too easy for the goalie to make a save.
I try to stay after the practice so to shoot 50-100 pucks. On the summers I am always shooting, for one or two hours. I set up a crease and shoot. I like it, and I don't have anything else to do anyway. I practice and work on my hands. It's a very precious moment, you don't have much time during the season. I don't like to rest. On the summers you shouldn't waste your time, but work to make yourself better.
I watch those players like Kane, Crosby, Ovechkin. They show excellent hockey season after season. I try to get closer to these great players and to reach them you need to make a little step every day.
A professional hockey writer and translator. Loves Russian culture, language, and hockey. Reachable on twitter @AlexSerenRosso