Note: This article is based on pure speculation, thanks in part to some working with revisionist history. We are aware that most of this scenario is highly unlikely to have occurred, but please let us have our moment. THW writer Chad DeDominicis took a look back into Vanek to Edmonton in October 2014, but this article expands and gives you a deeper look into what could have been.
What if I told you that after their highly successful 2006-07 National Hockey League season, the Buffalo Sabres should have begun a rebuilding process.
Off the bat, this sounds insane. Why would the defending Presidents' Trophy winners want to tear everything down while they're statistically the best team in the NHL?
Hindsight is why. Knowing then what we know now, Buffalo would have greatly benefitted from an accelerated rebuild.
Take a seat inside my DeLorean and let's go for a ride back to July 1, 2007 – a day that forever will remain burned in the minds of Sabres fans.
Daniel Briere and Chris Drury woke up that morning as unrestricted free agents after Buffalo failed to reach contract extensions with them. By the end of the day, Briere ended up signing with the Philadelphia Flyers and Drury joined the New York Rangers.
Fans immediately began to panic. What would the franchise do to replace two of their top point producers from the season before?
Days later, the other ugly shoe dropped.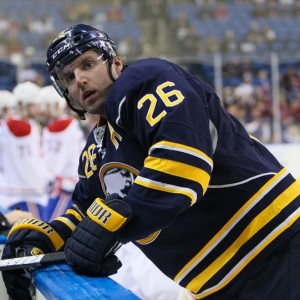 Restricted free agent forward Thomas Vanek signed a seven-year, $50 million dollar offer sheet with the Edmonton Oilers. Per CBA rules, if Buffalo failed to match, they would be rewarded with Edmonton's next four first-round draft picks as compensation.
Three days later, general manager Darcy Regier determined that the best route of action was to match the Oilers' offer sheet, instead of losing his top-three scorers from a year ago.
Had Regier lost Vanek along with Briere and Drury, a combined 248 points (112 goals, 136 assists) would walk out the doors of the, then, HSBC Arena.
This is where we stop the story and ask – what if? What if Regier decided to call Vanek's bluff and let the young, talented forward go off to Edmonton? This is where our story begins.
The Rebuild Begins
October 5, 2007, marks the start of a new beginning for the franchise – the first night of a major overhaul. The offensive pieces that remain are names like Derek Roy, Jason Pominville and Jochen Hecht. No Briere, Drury or Vanek to lift this team up anymore. Unlikely heroes would have to do the heavy lifting throughout all of this.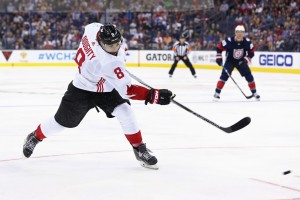 Fast forward through the very tough, long hockey season and we find ourselves at the NHL Draft Lottery. Buffalo's tough season has captured them the second overall pick in the 2008 NHL Entry Draft. As expected, Steven Stamkos goes first overall to the Tampa Bay Lightning, leaving top defensive prospect Drew Doughty for Buffalo.
Edmonton was impressive this season, netting the Sabres a pick in the middle of the first round. Regier ends up taking forward Matt Martin. Not the greatest turnaround in the first year of the "Vanek Picks" but there are three left.
Another year brings more struggles for the franchise, as the rebuild continues. A large amount of losing coupled with Edmonton's struggles makes for a very exciting offseason, with a very exciting prize for the worst team in hockey.
As luck would have it, the Sabres would end up with the first overall pick and the opportunity to select coveted forward prospect, John Tavares. Just like that, Regier wrapped up the first pair defenseman and first line center in two years.
With Edmonton's pick falling fifth overall, Buffalo gets another top prospect in Brayden Schenn. A solid day at the draft for the accelerating Sabres rebuild.
Year three of the rebuild is a solid one from Buffalo's perspective. They finish well enough to make their return to the playoffs but unfortunately bow out early. Their efforts net them defensive prospect, Mark Pysyk.
This season showed that the Vanek offer sheet indeed paid off when Edmonton finished dead last in the league. Buffalo won the Draft Lottery again and found themselves drafting top forward prospect, Tyler Seguin.
An already loaded rebuild getting built up faster and faster — what a weird concept.
Year four started off what would prove to be the final rebuild year for Buffalo. Another playoff appearance marred by an early exit, but the franchise would be getting one final giant break from their friends north of the border.
Despite finishing with the second-worst record in the NHL, the Oilers again won the Draft Lottery, which gave the right for the Sabres to select first overall for the second year in a row.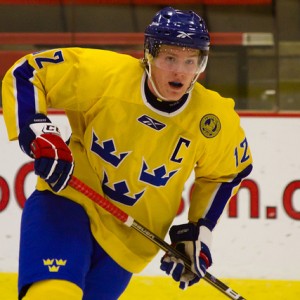 Without hesitation, Buffalo would finish off the "Vanek Picks" by grabbing forward, Gabriel Landeskog.
Adding to their forward depth, the Sabres would use their mid-first round pick to select forward, J.T. Miller.
When the final tally would be checked up, here is how the trade would have worked itself out:
Edmonton acquires: Forward Thomas Vanek
Buffalo acquires: 2008 first round pick (Matt Martin), 2009 first round pick (Brayden Schenn), 2010 first round pick (Tyler Seguin) and 2011 first round pick (Gabriel Landeskog)
Note: When you put it that way..
The Rebuild Appears Complete
Heading into the 2012-13 season, all loaded up and ready to go, a work stoppage put a halt to any excitement related to a potential Stanley Cup run from the Sabres.
When hockey would return in January 2013, the race would be on. Here is what we project a Sabres lineup would have looked like: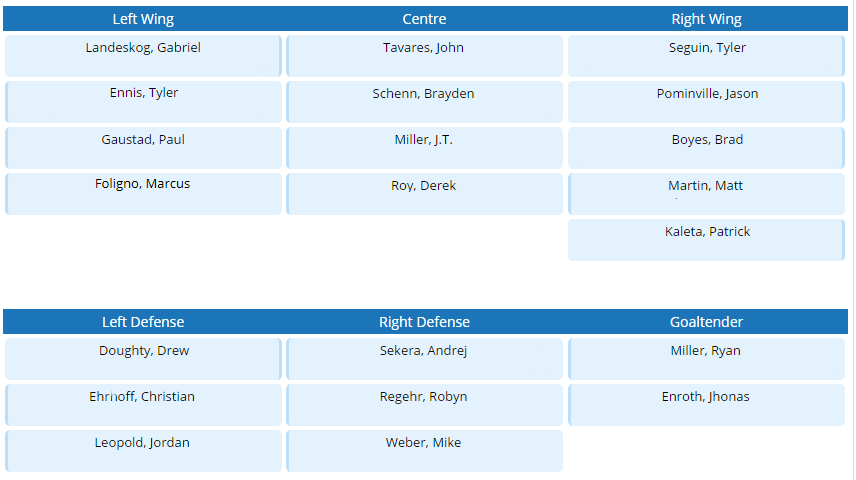 What a lethal starting lineup that would be.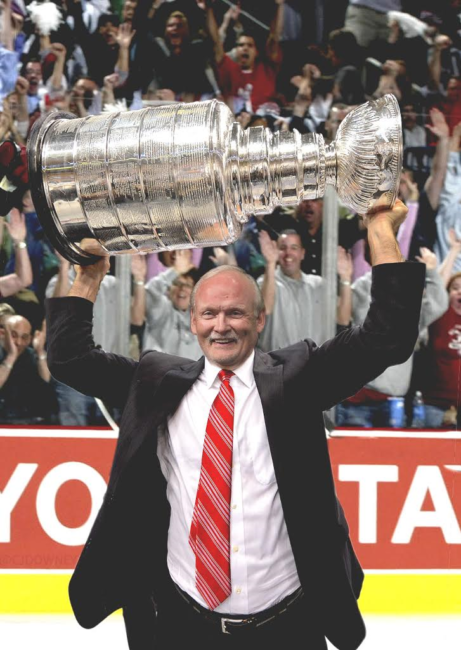 Our best prediction is with that lineup, in a condensed season, the Buffalo Sabres would have been hard to stop and likely would have been able to capture the franchise's first ever Stanley Cup.
*snaps fingers*
Hey, you. Wake up!
Welcome back. What a dream that was, eh? Sometimes it is real dangerous to let your mind wander like that.
Something like the Oilers / Vanek dream above is actually happening in real life between the Boston Celtics and Brooklyn Nets in the NBA. Long story short, Boston was bad and traded away big pieces to a good Brooklyn team a few years ago. The Nets traded a future first-round pick in the deal, among other things. As of regular season's end, the Celtics are the top team in the Eastern Conference and en route to a top pick in the 2017 NBA Draft. These kinds of deals do happen and they tend to cost a few people their jobs.
We always wonder what could have been while we stare ahead, waiting for better days. Hopefully, someday we'll be able to look back at the tough rebuilding days of the Sabres while they parade around Buffalo with their first-ever Stanley Cup.