The Sabres need a president of hockey operations, a new general manager, a head coach, at least two quality defensemen, a new training staff, and several amateur scouts.
But who cares? Buffalo has finally landed what it really wanted: Uber!
On the heels of a terse and viscerally upsetting press conference last week, announcing the dismissal of Tim Murray and Dan Bylsma, Terry and Kim Pegula are now doing backflips.
Uber's green light came earlier this month and the ride-sharing service will be in full effect this summer.
Just Enter 'Playoffs' and Hit 'Go'
The Pegula empire quickly signed and dotted Uber to be an official partner.
"We have no idea what direction we're taking with the Sabres and Bills, so to have someone to take us there is absolutely amazing," said Russ Brandon, president of Pegula Sports and Entertainment.  "We can just enter 'Stanley Cup playoffs' in the destination window, then hop in the back seat and hit 'Go!'"
Uber will have specially designated pickup and drop-off zones outside KeyBank Center, HarborCenter and New Era Field.
"As franchises that have been floundering and misguided, we're excited to have Uber drivers lead the way," added Pegula. "Even more important, now, we finally know what Russ Brandon has been doing for the past year."
There's been a shortage of cabs at big events held downtown – the NHL Entry Draft, the NHL Combine, and NCAA tournaments – which have drawn hundreds of thousands of visitors to the area. It's been a sore subject for journalists, fans, and many pedestrian's blistered toes.
Something to Celebrate
When lawmakers finally approved Uber coming to Buffalo, it unleashed the loudest roar the area has heard in several years. With a series of historically bad seasons as bottom dwellers in the NHL, fans have had little else to cheer about. They finally erupted.
The entertainment, hospitality, and tourism operators in Buffalo are excited, too.
"We're committed to offering our fans easy and safe access to the postseason," said Kim Pegula, Pegula Sports and Entertainment president. "Uber will work closely with us to make that happen. We were at a loss before."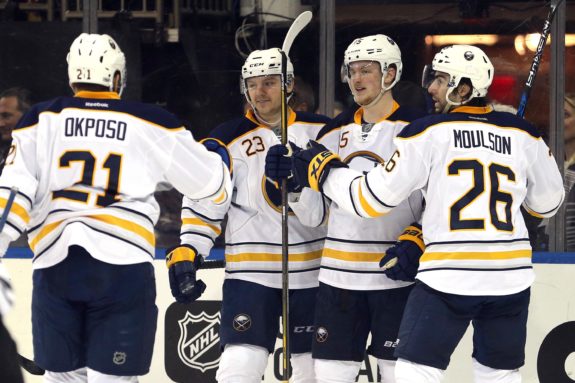 It's not known yet how many additional in-game Uber sponsorship will happen. However, you can bet the Sabres will try to force-fit something. Among the ideas being considered:
Bring the team out on the ice in an Uber for the opening faceoff.
Use Uber to shuttle players back and forth to their farm team.
Uber can bring fans home after the second period when the games' outcomes have long since been decided.
Uber can offer a free Tim Horton's coffee on rides returning fans to their homes—in Ontario.
Uber can shuttle all Leafs fans directly to Dundas St.
Post-game Uber Pool rides with Jack Eichel back to his apartment.
Uber Black rides home for the three stars of the game.
For now, management, players, fans, and visitors can get excited that Buffalo franchises have new leaders to take them in a new direction: Uber drivers.
Note: This is a work of fiction. Well, most of it anyway.