At the final press availability for the San Jose Sharks after a first-round exit, injury news was a focal point. Head coach Peter DeBoer came out to the media after the players completed their interviews and the first bombshell was the extent of the knee injury Joe Thornton played through in four Stanley Cup playoff games.
Thornton Injured Against Canucks
Thornton, 37, injured his knee against the Vancouver Canucks when he collided with Michael Chaput in the offensive zone. The play was not dirty nor was it a violent collision. The result, however, was.
Thornton had only missed nine games since coming to the San Jose Sharks 11 years ago coming into the 2016-17 campaign. The three regular season and two playoff games lost were the most he's been on the shelf since arriving in San Jose. It was also the first time he had missed postseason play. Thornton also did not divulge what he had to go through to get back onto the ice in Game 3 against the Edmonton Oilers.
"Just the normal stuff that hockey players deal with," Thornton said when asked what it took to get him out on the ice for the postseason. "It was just unfortunate the time of year. To happen three games before the end of the season and in the playoffs to deal with something like that. But hockey players are a different breed. There are probably five or six guys that had to deal with different stuff. It is what it is. Go get it checked out today and go from there."
When pressed for what percentage he was during the playoffs, once again did not hint at the extent of the injury.
"If I'm playing," Thornton said. "I'm 100-percent. That's the way I look at it."
DeBoer: Thornton "Courageous"
DeBoer called Thornton's return to the lineup "courageous." San Jose's bench boss went on to report that the Sharks' top center tore two ligaments in the collision with Chaput that kept Thornton on the shelf until Game 3 of the Sharks' opening-round match-up against the Oilers.
"I've never seen a player play with a torn MCL and ACL. Basically, his knee's floating in there," DeBoer said. "It was as courageous an effort, him doing what he did, as I've ever seen."
Thornton, the first player to come out for questions, disclosed none of this information. General manager Doug Wilson said team doctors would perform the surgery today.
Injury Concerns Could Linger as Free Agency Approaches
It will be interesting to watch how these discussions move forward. A player in the twilight of his career faced with major knee surgery, and already not the fleetest of foot, is not bargaining from a position of strength.
Thornton is an unrestricted free agent on July 1, and it appears he will be able to test the free agency water for the first time in his Hall of Fame-worthy career. During the interview, he did not mince word about his desire to play in San Jose and said he still sees the Sharks as contenders.
"Yeah, I want to come back. I think this is a Stanley Cup caliber team," said Thornton. "I'm a little bit older, and I realize how good this team is. So of course, I want to come back. But we'll have to see. I'm sure we'll be talking."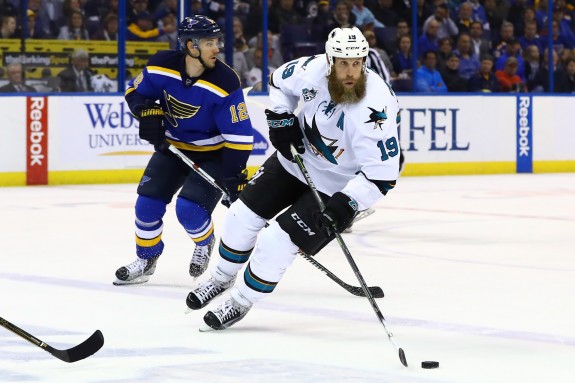 The extension talks will need to get moving — Thornton and the Sharks put contract discussions on the back burner this year.
"No, we kind of said we would talk after the season. I really just wanted to focus on hockey this year. There is no hurry, but I want to be back. This team is a real talented team, and I love playing here"
Returning to San Jose could make the most sense for both sides. With San Jose team doctors performing the surgery, no other team would be as well versed in the extent and potential rehabilitation time needed for the injury to fully heal.
Thornton has also made no bones about how much he enjoys playing in San Jose, has a family in the South Bay and his friendship with Brent Burns is well documented. With so many questions swirling around, it will be an interesting offseason for the Sharks' former captain.
Twitter's Response to Injury News Mixed
Reaction to the news on Twitter was a mixed bag. Most opinions split one of two ways: Fans either lauded Thornton for playing through a brutal injury or lambasted him for his decision to return to the ice.
https://twitter.com/SteveBurtch/status/856575128662138881
https://twitter.com/GrimTruth23/status/856576215213383680
Stop 👏🏻 playing 👏🏻 through 👏🏻 injuries 👏🏻 https://t.co/TTWK7XXIJt

— Αναστασία ✨ (@thebonyelbows) April 24, 2017
Man, imagine wrapping your beard around your knee for support and lacing them up?

Jumbo-sized effort. https://t.co/KABNaZZNBg

— /Cam Robinson/ (@Hockey_Robinson) April 24, 2017
https://twitter.com/gingerbrarian/status/856580531898765315
Can we stop praising stuff like this? Playing through serious pain is how painkiller addiction in athletes starts. https://t.co/bkGsdMy6GR

— Hannah Stuart (@HockeywthHannah) April 24, 2017
I have a big problem with this. No player should be on the ice with torn ACL/MCL. I will be in the minority here, but it's wrong. https://t.co/P4JGczCWpf

— Ben from the Circling The Cup #sjsharks Podcast (@circlingthecup) April 24, 2017
https://twitter.com/BrianoMobile/status/856576841917845505