Let's get this out of the way from the top. This isn't about excuses. There are none. The Detroit Red Wings are in a bad place. A place fans have not seen for a generation.
Some of it was inevitable. No team stays on top forever. But some of it – a good portion of it, in fact – has been self-inflicted by General Manager Ken Holland. Despite Holland's errors, which we'll get to in a minute, he's been given a vote of confidence by owner Chris Ilitch, saying the GM will be back next year.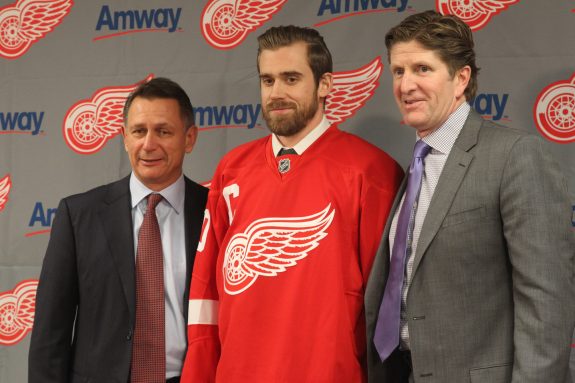 And that's the right move.
In his 20 years on the job, Holland has become one of the game's most respected voices and was the leading proponent of the 3-on-3 overtime. If he were to leave the game now, his legacy as one of the game's great team executives will be deserved, with three Stanley Cups and as the chief architect of the Wings' 25-year playoff streak.
But the streak is history and – based on fan chants during the team's farewell to Joe Louis Arena – more than a few believe Holland should be too.
While Holland's critics have sound reasoning for their displeasure with his recent performance, a GM with Holland's experience and accomplishments should not be so hastily shown the door. He still has a year remaining on his contract. If the Wings are still a floundering mess with no discernible direction next season, then it'll be time to make a change. But the next 12 months should allow Holland a chance to get the Wings back on track.
Has he shown too much loyalty to homegrown players, despite serious shortcomings? Yes. Has he committed too much cap space and too many years to middling players? Clearly. There is not a GM in the NHL, however, that hasn't made similar whiffs. Every GM has deals they'd like to have back.
Mistakes are costly and expensive. No doubt. Holland's history, however, has bought him the right to try to fix them.
Holland's Tools to Rebuild
The postseason streak now over is a burden off Holland and the franchise. The Wings have not been a true Stanley Cup contender for half a decade but they couldn't simply take a knee and halt the streak. Fans wouldn't stand for it and, frankly, neither would ownership. The ship had to sink on its own and now that it has, Captain Holland can begin an honest rebuild instead of trying to patch the holes.
The process starts when the Wings make their first top 10 draft selection since 1991. Holland could also be busy draft weekend working the phones and making deals. Don't forget, just last year he took the onerous contract left by Pavel Datsyuk and flipped it to the Arizona Coyotes and actually got a second-round pick in return. He knows how to make a deal.
The Wings have the pieces to put together an attractive package to a potential trade partner. As baffling as it sounds, Riley Sheahan drew interest at the trade deadline. His mind-boggling offensive ineptitude in 2016-17 notwithstanding, he has been a solid two-player which is always an asset for teams looking for third- and fourth-line help.
Gustav Nyquist, he of the great appear/disappear act, put together 30 points in his final 35 games last season, which may trick someone into thinking he's on the verge of breaking out.
Luke Glendening's speed and defensive tenacity may be attractive to a team needing to shore up its bottom six. The Detroit Free Press' Helene St. James' hypothesizes former coach Mike Babcock may love to have Glendening in Toronto.
One of these players, along with a prospect or two from Grand Rapids might be enough to aid the Wings to swing a deal for the puck-moving defenseman they've long needed, with Anaheim's Cam Fowler at the top of the wish list.
The Wings also have expendable goaltending with several teams in the market for upgrades between the pipes. Dallas, run by Holland's former assistant, Jim Nill, needs an improvement in net and either Jimmy Howard or Petr Mrazek would be a better option than Dallas' Kari Lehtonen and Antti Niemi.
Calgary, after being swept by Anaheim thanks, in large part, to inept goaltending, will surely be in the market for a goalie and could be swayed by Holland's relatively low asking price, since getting one of his netminders off the books is as valuable as any asset he might get in return.
Holland can also purge a contract at the expansion draft. All the Wings' most valuable pieces will either be protected or exempt, so Holland may be able to throw a low-round pick to Vegas GM George McPhee to entice him to take Darren Helm or a goaltender.
With some contracts off the books, the Wings will be on solid financial footing for the foreseeable future. That alone would be half the battle back to respectability.
Who Would Replace Holland?
If the Red Wings were to show Holland the door, who would replace him? The clear favorite would be Red Wings legend and Tampa Bay GM Steve Yzerman. Wings fans showered him with "Come home, Stevie" chants during the Farewell to the Joe celebration, a not-too-subtle rebuke of Holland.
But who is to say an Yzerman homecoming would actually happen? He is under contract through 2018-19 and Tampa Bay owner Jeff Vinik has no reason to allow him out of his contract. Even if Vinik were to allow it, maybe Yzerman wants to finish what he's started in Tampa. While the Lightning missed the playoffs this year, no one can claim the Wings are closer to Stanley Cup contention than the Lightning.
So if not Yzerman, who?
Calgary GM Brad Treliving's contract is expiring. He's done a fine job in Calgary and if an extension doesn't get worked out, he might be a viable option but odds are he stays put.
Dean Lombardi won a pair of Cups running the Los Angeles Kings before being let go at the end of the season. But a major reason for his downfall was committing to aging players that he'd won with. He'd shown too much loyalty. Sound familiar?
Want some experience? How about Brian Burke or Don Maloney? Except Burke showed he didn't know how to do a proper rebuild during his excruciating tenure in Toronto. And while Maloney did yeoman's work with one arm behind his back as GM of the Coyotes, what has he ever won?
What about fresh blood?
There are a lot of names: Norm Maciver (Chicago), Tom Fitzgerald (New Jersey), Bill Guerin (Pittsburgh) and Yzerman's assistant in Tampa, Julien Brisebois. All are solid hockey men who will likely run a team someday, but are they better than Holland?
Wanting to give someone the boot is easy. Once you do, you may quickly realize you had a pretty good guy to begin with.