Roughly one week ago, Chris Ilitch – president and CEO of Ilitch Holdings Inc. – expressed 100 percent confidence in the Detroit Red Wings' general manager, Ken Holland. He also made it clear that ownership supports head coach Jeff Blashill, though his future is in the hands of Holland.
After a campaign where the team missed the playoffs for the first time in 25 seasons, the comments ruffled a few feathers. In this week's edition of The Grind Line, we offer our thoughts of Ilitch's comments, and Holland's future with the Detroit Red Wings.
Tom Mitsos
I'm worried Chris Ilitch's confidence in General Manager Ken Holland is more unwavering loyalty — the same unwavering loyalty Holland shows when signing aging veterans to long-term contracts.
While Holland has had success in the past with three Stanley Cups, two of those Stanley Cups were before the salary cap era, when he could buy championships by signing a plethora of future Hall of Famers. That's not to say he's an overrated GM; he did find Pavel Datsyuk and Henrik Zetterberg in the sixth and seventh rounds, respectively.
But since that Stanley Cup Final loss to the Pittsburgh Penguins in 2009, the Red Wings haven't reached a conference final and have lost in the first round in four of the past seven playoff seasons. The veterans are aging, and Holland has been unable to lure top-notch free agents to replace them. In addition, the Red Wings' 25-year playoff streak hasn't allowed them to pick in the top 10 since 1991.
However, the long-term deals for mediocre players have been Holland's worst crime. All GMs have bad contracts, that's the nature of the business. But Holland signed Danny DeKeyser (six years, $5 million), Darren Helm (five years, $3.85 million) and Luke Glendening (four years, $1.8 million) last summer, and that doesn't even include his recent signings of Justin Abdelkader (seven years, $4.25 million), Niklas Kronwall (seven years, $4.75 million) and Jonathan Ericsson (six years, $4.25 million). He signed Kronwall and Ericsson after they turned 30.
It's hard to see why Ilitch has 100 percent confidence in Holland. While he has had success in the past, his past successes shouldn't drive Ilitch's decision to keep him. The Red Wings haven't been a Stanley Cup contender since 2009, and Holland's personnel decisions are only making the situation worse.
Brandon Peleshok
It's easy to take a quick glance at Ilitch's comments regarding Holland and Blashill, and feel a bit uneasy – that was my initial reaction. After all, the Red Wings' management has a history of relying far too heavily on its veterans.
However, there was also a glimmer of hope in Ilitch's comments, as he followed his vote of confidence by stating, "But make no mistake, our goal is very clear. It is to build another Stanley Cup champion and that's the process that we're going through right now."
Still, it's difficult to say what that process entails in the mind of Holland. After all, he has made it clear he is against a long-term rebuild for the Wings. Despite his hesitation to break down the team and start fresh, he says is willing to "shuffle the deck" and make some changes. It would be a welcome move from Holland, who has made just 27 trades since the NHL implemented the salary cap before the 2005-06 season.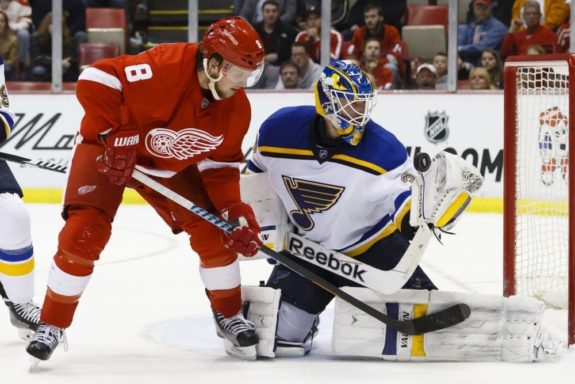 When you consider all of the underperforming Red Wings on long-term deals, it's fair to wonder just how management is going to shuffle the deck. Holland has fought tooth and nail to keep a nucleus of players like Abdelkader, Helm and Ericsson, etc. on the Wings' roster. To reiterate Tom's point: the problem is that group has not won together since 2009.
Perhaps change is on the horizon for the Red Wings, and maybe it's not. Despite Ilitich's expressed confidence in Holland, my guess is the Wings' general manager has one year to start really repairing this sinking ship, instead of just patching its holes the way he has in the past.
Tony Wolak
"Stick to the process" should be painted all over the interior of Little Caesars Arena when the Red Wings open the 2016-17 campaign next year.
Ilitch and his family are sticking with Holland. In turn, Holland is sticking with his guy: Blashill. And Blashill is all about sticking to the process. Stick to the plan and things will work out in the long run. Maybe.
I get the endorsement of Holland. He has made some mistakes in the past, but generally has kept the Red Wings competitive since taking over GM duties from Scotty Bowman and Jim Devellano. One (truly) bad season isn't enough to warrant a pink slip – Holland has earned to right to offer a rebuttal. He'll get that chance this offseason before his contract expired at the end of the 2017-18 season.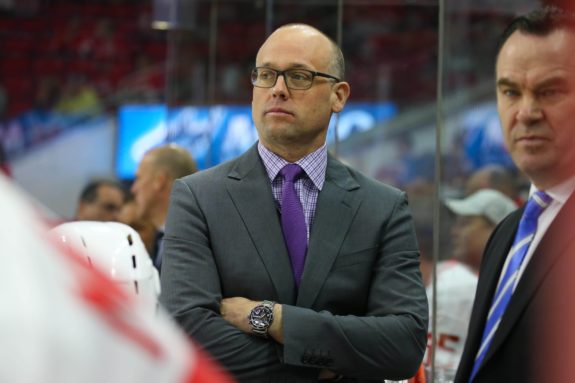 Holland has already promised change, but that won't come in the form of a new coach. Blashill is an intelligent person, but too many players have regressed under his watch to not have some sort of a prolonged review. Petr Mrazek, Tomas Tatar, Gustav Nyquist, Riley Sheahan, and DeKeyser have all struggled under Blashill's tutelage.
Holland promised he and Blashill would review the season and identify what was causing the team to perform poorly. Perhaps Holland, Devellano, Ryan Martin, and Kris Draper require a review instead and consider the coaching staff's performance as well.