There are not many young ladies who can say that their dad was a first overall draft pick in the NHL. There are also not many young ladies whose dad played in well over 1,000 games and scored even more points. More importantly, there are not many young ladies who are superb hockey players themselves, are well-spoken and have a good head on their shoulders, all the while being supported by loving parents. Valerie (Val) Turgeon fits all of the above.
The sophomore forward for the Harvard Crimson is a kindhearted young woman who imbues the hockey prowess and the personal character of her father. Looking to bring at least one national championship to Harvard (and maybe a few Beanpots too), Turgeon shared her thoughts on her own hockey career, and what her father has meant to it.
Father's Hall of Fame Worthy Career
Turgeon's father Pierre played 19 years in the National Hockey League. He was the first overall selection of 1987 NHL draft and was taken by the Buffalo Sabres. Across the seasons that he played, the elder Turgeon would amass 1,327 points – a feat he accomplished in 1,294 games. Turgeon also became the 34th player in NHL history to reach the 500-goal plateau. He would finish his career with a total of 515.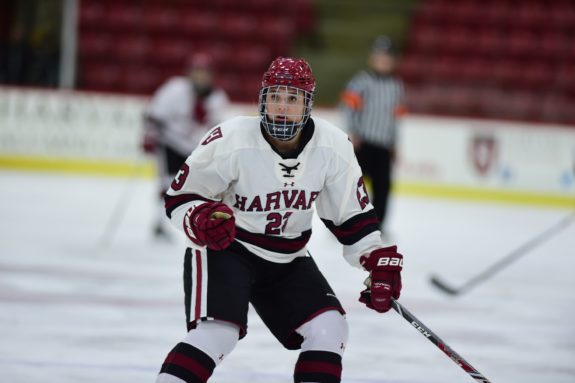 Turgeon's NHL career was played in Buffalo, Long Island, Montreal, St. Louis, Dallas, and finishing in Denver, Colorado. For the younger Turgeon, her memories of her dad's career come from that last stop.
"I remember most of my dad's career starting from when we moved to Colorado when he was playing for the Avs," Turgeon recalled. "It was when I was in about third grade. I always remember watching his games, going to his games after a long day of school. I loved seeing him play – it was the best thing to watch as a kid. Especially because I was starting to like hockey, and saw that my brother was playing hockey."
The Turgeons in Colorado
Even though it was the last two seasons of his career, Turgeon's father still scored 53 points in 79 games for the Avalanche. When he retired early into the 2006-07 season, he had recorded four goals and three assists in 17 games. The elder Turgeon quite arguably could have kept playing if he so desired.
Prior to her interview with THW, Turgeon recalled being interviewed about her dad when she was a youngster.
"Something special for me was for one of his games, I was asked to go onto the ice during intermission with some of the other girls. They had me do an interview afterwards about my dad. That was really special to me because it made me realize how great he is, and how much of an influence he has had on me both on and off the ice."
For a kiddo still in elementary school, it was when Turgeon realized that in her father's profession he was certainly above average, to say the least. Almost a full decade since his retirement, Pierre should be in the Hockey Hall of Fame.
Turgeon's Own Interest in Hockey Is Piqued
Hockey is oftentimes a family affair. In the Turgeon household it has been no different. When it came to Val however, her skating roots came initially without a stick.
"I actually started off with figure skating and I hated it more than anything," Turgeon laughs. "I did it because my sisters were doing that. But then I saw that my brother was playing hockey and I thought, 'That looks like more fun'."
Having a firsthand look at the skill level of her own father became the deciding factor and ignited Turgeon herself. Pierre's skill set stayed with him throughout his entire career. Goals from behind the net, All-Star skills competitions for puck control, shorthanded breakaways. Her father could do it all, and Turgeon has sought to emulate that.
"Seeing my dad play every year was just 100 percent what made me want to play. I just remember thinking to myself, 'I want to be as fast as him, as skilled as him, as passionate as him about the game'. Thankfully he gave me that opportunity to play this sport."
Home in Rouyn-Noranda and Colorado
Turgeon was born in March of 1998. At that point, her father was in his second season of five years with the St. Louis Blues. He would also play three years with the Dallas Stars before the family moved to Colorado to be with the Avalanche. While Turgeon has lived in multiple cities, including the Boston area while playing for Harvard, her heart finds refuge in two places.
"Home for me is Colorado. I have lived there most of my life. But I also consider Quebec, Canada and specifically Rouyn-Noranda as home as well," she shared.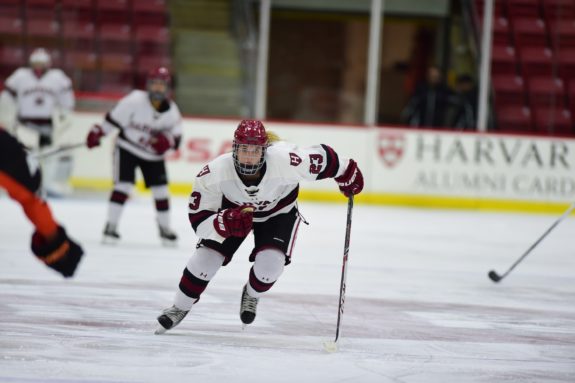 Rouyn-Noranda is her father's birthplace. The city of just over 40,000 people is located in southwestern Quebec, sitting on Osisko Lake.
"That is where we would grow up every summer," Turgeon said. "It is up where my grandparents are and cousins are. So that is definitely home as well."
It is particularly nice that Turgeon can find home in more than one locale. Both of which are very beautiful and picturesque. Vastly important to have places of solitude that can be shared with loved ones.
Turgeon Finds a Fit With Harvard
The Harvard women's ice hockey program is one of the most storied programs for women's hockey that there is. They have won a national championship and six Beanpot tournaments. Some of the all-time greats in the women's game played for the Crimson. Jennifer Botterill, Julie Chu, Angela Ruggiero, Jillian Dempsey, and many others.
So how did a player with ties to Colorado and Quebec end up in the city of Boston for college? Turgeon explained that a close family friend played a key role.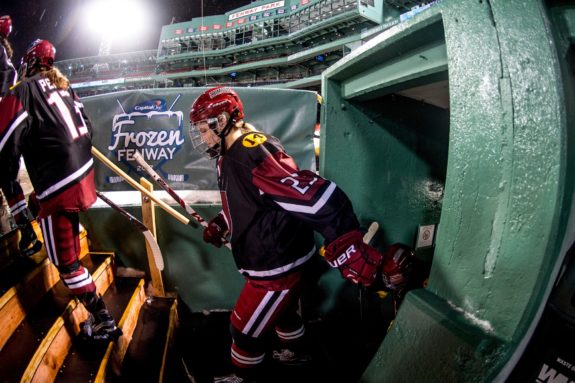 "I knew that I wanted to go to Harvard during summer of sophomore year of high school, so I kind of knew early on. It was because one of my close family friends, Lyndsey Fry, also went to Harvard. She is one of my family's best friends. We love her. She played with my sister, actually when my dad coached. Lyndsey was always telling me how great Harvard was, and how I should try to get in. When I got to campus I finally realized what she had been talking about all those years. The environment is just very family oriented. Very hard-working. We are not just given something without having worked hard for it, and that is an aspect of both sports and academics. That is also an aspect of the University that is really appreciated around here."
Hearing Turgeon speak, the pride that she holds for the school and the hockey program is incredibly present. One can tell that Harvard has become another home for her.
Freshman Year Under Turgeon's Belt
Turgeon appeared in all 29 games for the Crimson in her freshman season (2016-17). She would register four goals and seven assists during that year, while putting 73 shots on net. One of her assists came on a Lexie Laing tally in the Beanpot consolation game against Boston University.
The 2016-17 season was a challenging one for the Crimson as a whole. The team went 5-13-4 and put forth only 37 goals while allowing 51. Going forward though, that is not going to be the case. Not if Turgeon has anything to say about it. With her first season down at Harvard and three more to go, there is much that Turgeon aspires towards achieving on the ice and wants to accomplish for the Crimson.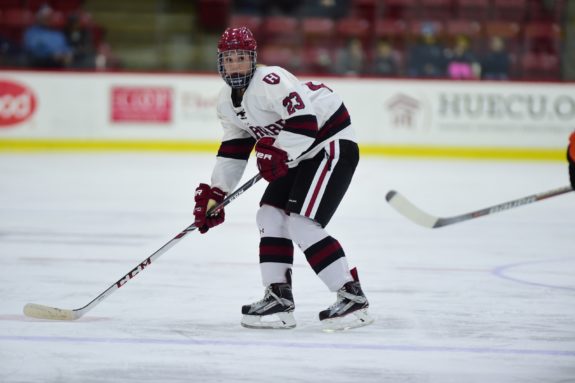 "I think most people know that last year was a little shaky for us," she stated. "We had a lot of players out. We didn't have many numbers. I think that what I am most excited about is getting out on the ice with the girls and to start making things happen. It was a bumpy ride last year, but without it, we wouldn't have learned from it. There was a big challenge but it did make our team stronger in the end. At this point, everyone is just excited to turn things up this year and hopefully get a lot of wins under our belt. I have not doubt that we can make it happen with the group of girls that we have here."
3 Years = 3 National Championships
Harvard University women's team has not won an NCAA championship since 1999. It is the first and only national championship in the program thus far. Turgeon is striving to change history. It is what she dreams about when it comes to her collegiate career.
"I think it is very well known that everyone has that dream of winning a national championship," Turgeon said. "I hope that we win three of them within our next three years here! That would be awesome. I think that every woman on this team works so hard behind the scenes. Everyone is so passionate about everything that they do here. They do deserve to win."
While three for three would be a steep mountain to climb, at least one is certainly fathomable. The 2017-18 edition of the Crimson showcases some choice talent. In addition to Turgeon, the roster consists of players like Laing, Kaitin Tse, Dani Krzyszczyk, and a range of other solid veteran players.
Turgeon's Intangibles
Achieving a national title as a unit, however, has to be done with intangibles having nothing to do with X's and O's or pluses and minuses. They are qualities more innate and are ones that Turgeon puts forth with the best of them. She described herself as such:
"I would say that my best characteristic is that I am very passionate about the sport and my teammates. If I put my mind to something, I am going to put my all in — all of it. Everything I do is for my team. Last year definitely was a learning-year. Every day counts. Every decision impacts not only me but my team. This year I am really looking forward to capitalizing on everything I have learned. I am very team-oriented and I definitely care a lot about it. I hope that I personally continue to learn from my teammates and challenge myself so that I can grow and become better each day."
The Thought of Playing Professionally
So much has been made of young men — hockey players — whose fathers have played in the NHL. Come the NHL draft each year, there is usually one teenager who walks the stage and has a familiar last name. Dad can be seen in the stands applauding for his son. Val's brother, Dominic, was drafted in the third round of the 2014 NHL draft by the Detroit Red Wings.
GOAL! Turgeon responds! it's 1-1 moments later #GoCrimson pic.twitter.com/lzckkq31lD

— Harvard W Hockey (@HarvardWHockey) February 11, 2017
With women's professional hockey in the NWHL and the CWHL, more and more young women are getting the opportunity to show that they too can be like dad just as much as the boys can. So is playing pro hockey something that Turgeon foresees in her own hockey future?
"I get asked this question so much," Turgeon laughed. "I love the game of hockey and would love to play pro hockey like my dad and my brother."
Finding Herself Over the Next 3 Years
She would go on to say, "I am very passionate about the game, but I am also very passionate about other hobbies as well. I think that throughout the next three years I am going to learn more about myself and then decide what I want to do when the time comes. But at this point, I think that it is hard to see myself saying 'no' to an opportunity to play hockey after college. As of right now, that is my mindset."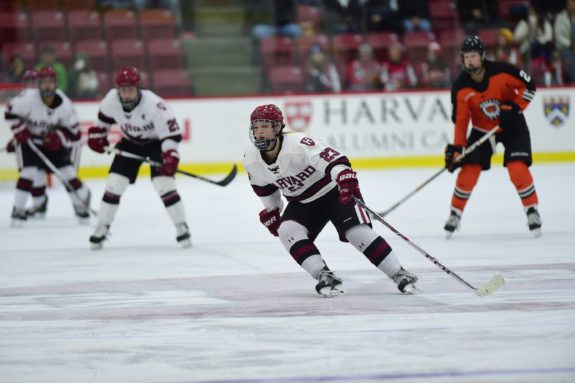 It speaks volumes for the Turgeon family that there is no pressure put upon their children to necessarily pursue a career in hockey. Oftentimes expectations can be placed upon a person by others. In reality, what others wish for a person may or may not be what that person wants in their own heart. Turgeon is doing it right, and taking the time needed to make her decision. There is no need to rush the process.
Advice & Support From the Turgeon Family
Perhaps in reading this, a new found respect is attained with regards to Pierre. While Val is very much her own person, her father raised her right. The support for the younger Turgeon's hockey career has been there since she first took to the ice. Likely, before she was even born. Her father did not have the easiest adjustment into the NHL. For starters, there was the language barrier between French and English. After scoring 69 goals and 154 points in only 58 games in his final season with the QMJHL's Granby Bisons, Turgeon would only score 14 goals and 42 points in his rookie NHL season. For a Sabres team that had not had the first overall selection or a superstar since Gilbert Perreault, there was undue pressure placed upon Pierre to be a savior of sorts for Buffalo.
For the first time in LA Kings history, there will be one coach dedicated to an "Offensive Coordinator" role.https://t.co/6CUVkWAI4w

— LA Kings (@LAKings) July 10, 2017
Perhaps knowing that pressure that can sometimes unjustly be placed upon an athlete, her parents have given Val a respect and an upbringing that is more conducive to building a daughter's spirit.
"My family has supported me ever since I started playing hockey," she shared. "I've never felt the slightest bit of pressure during games or practices from them. They always tell me that as long as I'm happy and having fun, then they're happy. For that, I am so grateful to have them as my parents. They have always been there for me and they never make me feel that if I don't do well that I'm going to be in trouble or something like that. They just want me to be happy. As long as that is the case, then they're happy."
"I Am Very Lucky to Call Him My Dad"
Val Turgeon wholeheartedly appreciates what life really should be about. Whether it is the splendor and wonder that she speaks of when discussing her "two homes", or the affinity she feels towards Harvard University and her Crimson teammates. Certainly it is noticed in the love she has for her parents and siblings. Perhaps especially when she speaks of her father. The admiration, the awe, and the thankfulness are all there. What Pierre Turgeon showed in gracefulness and skill on the ice is mirrored by his daughter's personality.
"My dad has influenced me in more ways than I can count," she said. "He has taught me everything in regards to this game. How to prepare, how to eat, what to wear to games. He coached my hockey team at one point and he would have every practice planned out two weeks in advance before a game. When conditioning day was going to be, when we were supposed to get our heart rates up, when we would focus on just skill work. In my eyes, he knows exactly what works to be ready to win a hockey game. He has it down to science. It's incredible. I am very lucky to call him my dad. I loved when he was coaching me because I learned so much from him."