From May 1-31, NWHL teams can re-sign players from their 2016-17 roster and their draft picks during the restricted free agency period, and beginning on June 1 any unsigned players left will be free to sign with any team.
The third season of the NWHL will begin in October as the Buffalo Beauts defend their Isobel Cup championship, and with up to 12 players unable to participate in the league this season due to their selection for Team USA's 2018 Olympic team, this will be the most competitive season yet.
My colleague Dan Rice will keep THW readers up-to-date on New York and Connecticut's signings throughout the summer, while I post updates on Buffalo and Boston.
Whale Ink a Trio, Russo a Riv Again
Whale and Rivs Kick Off NWHL Signings
Pride Ink Their First Three RFAs
Riveters Re-Sign Captain, Complete Goalie Puzzle
Pride's Emily Field Back For Third Season
Beauts & Pride Sign Perennial Champions
Pride Depth
There are lines from a World War I poem that have long been associated with the Montreal Canadiens. To you from failing hands we throw the torch; be yours to hold it high. In a way, those same lines are applicable to the Boston Pride as they head into the NWHL's third season.
Much has been made from the fact that Pride players like Hilary Knight, Brianna Decker, Alex Carpenter and Meghan Duggan will not be partaking in league play this coming season because they will be with the US National Womens Team. Most of these same players led Boston to the first Isobel Cup, and won a Clarkson Cup for the same city while playing in the CWHL with the Boston Blades.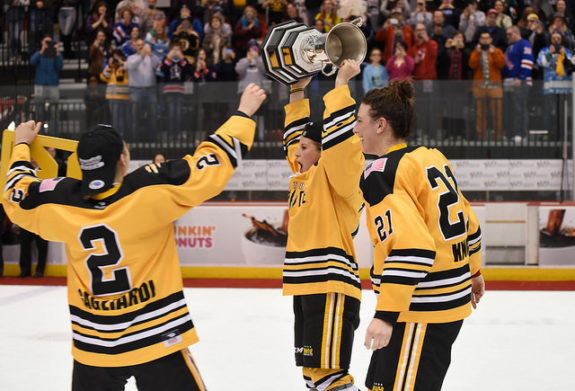 While these players will be absent for the time being, the Pride are by no means depleted of resources, and the "torch" is being passed on. Other key players will step up and take the reigns. This is part of what has made Boston such a dangerous team for the past two years and what vaulted them to an overall NWHL record of 30-4-0-1. A seemingly endless depth and a wide range of players who can get the job done.
Jillian Dempsey
One of those players is proven veteran winner, Jillian Dempsey. Word came out June 1 that the Massachusetts-native will be back for her third season with the team.
Across her prior two, Dempsey has never missed a game, appearing in all regular season and postseason games for the Pride. In that time, she has amassed 12 goals and 17 assists in 35 regular season games, plus a point per game in six playoff contests (three goals, three assists).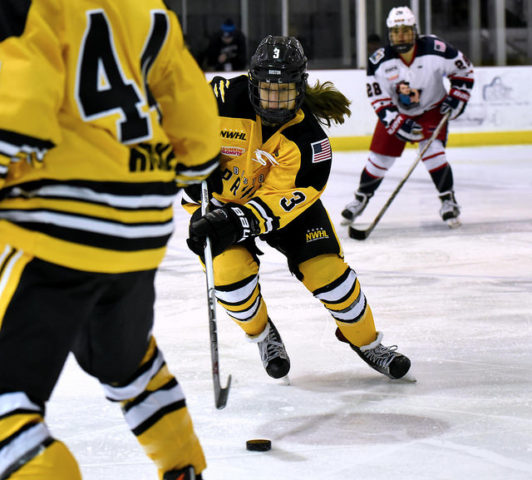 Her scoring prowess has been apparent since her time at Harvard University. In 129 NCAA games, Dempsey tallied 148 points for the Crimson. Her finest seasons statistically were her junior and senior campaigns when she posted seasons of 48 and 45 points in 30 and 34 games respectively.
Similar to the Pride's earlier signing this week of Jordan Smelker, Dempsey helped lead Boston to the first Isobel Cup championship in league history in 2016. The year prior she won the CWHL's Clarkson Cup with Smelker and the Boston Blades. With both of them back in the fold, expect Dempsey and Smelker to carry much of the load on the front end for the Pride this coming season.
Mary Parker
A name that Pride and NWHL fans became acquainted with during the 2017 playoffs is Mary Parker. After signing with the team as a free agent in early March, Parker played in one regular season game for the Pride plus both playoff games.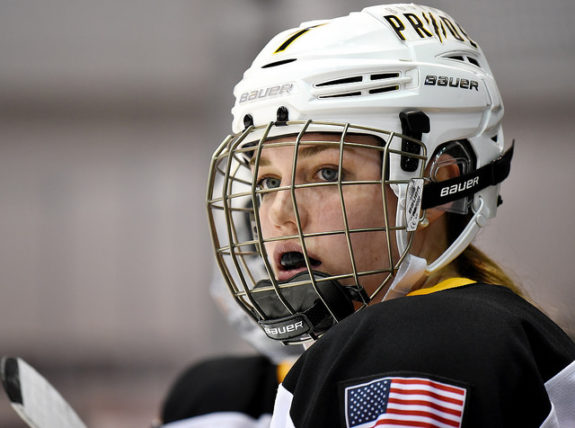 Parker may add some offensive flair for Boston. In four seasons with the Harvard Crimson, she notched 43 goals and 48 assists in 104 games — definitely decent numbers. In her fifth season of NCAA hockey, this time with Boston University, Parker exploded offensively with 24 goals and 21 assists in 36 games, the finest outpouring of her college career.
Like Dempsey, Parker is a native of the state of Massachusetts. While she may be a newer name to NWHL fans in general, those who follow women's college hockey, especially in the Bean Pot region, would be well acquainted with what she can contribute on the ice. Having Parker for a full NWHL season could very well be an X-factor for the Pride. It will be exciting to see what she can contribute offensively with a full season under her belt.