From May 1-31, NWHL teams can re-sign players from their 2016-17 roster and their draft picks during the restricted free agency period, and beginning on June 1 any unsigned players left will be free to sign with any team. The third season of the NWHL will begin in October as the Buffalo Beauts begin defense of their Isobel Cup championship, and with up to 12 players unable to participate in the league this season due to their selection for Team USA's 2018 Olympic team, this will be the most competitive season yet.
My colleague Dan Rice will keep THW readers up-to-date on New York and Connecticut's signings throughout the summer, while I post updates on Buffalo and Boston. 
Whale Ink a Trio, Russo a Riv Again
Whale and Rivs Kick Off NWHL Signings
Pride Ink Their First Three RFAs
Riveters Re-Sign Captain, Complete Goalie Puzzle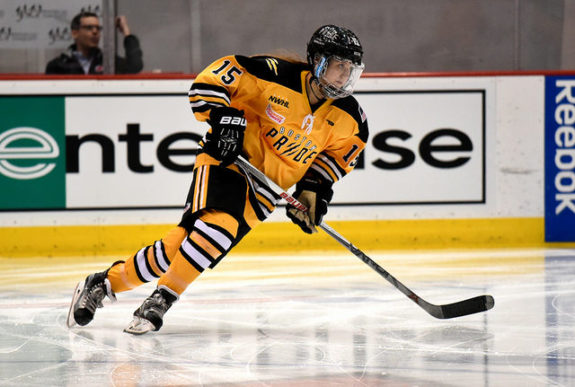 Veteran Boston Pride forward Emily Field will be back with the team for the NWHL's third season. Word came out on the last Friday of the month that the 24-year old would be rejoining the club. The signing, which comes a few days after the Pride retained Lexi Bender, Michaela Levine, and Kathryn Tomaselli, ensures that the team will maintain some consistency for 2017-18 while losing some of their marquee players to the U.S. national women's team.
Emily Field – Proven Leader
What is particularly nice about the Field signing is that she is the only player thus far retained from the original Pride squad of the league's first season. She brings the experience of having already won an Isobel Cup championship from the first year, which immediately vaults her into a role as a veteran leader on the team.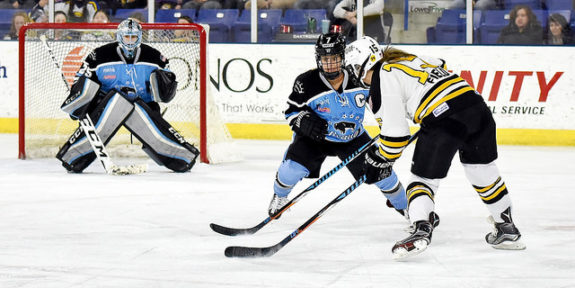 Take into consideration that Field served as a captain for her senior season of NCAA hockey at Boston College, as well as the fact that elder Pride stateswomen Hilary Knight, Meghan Duggan, and Brianna Decker will not be back with the team in the fall, it could be a strong likelihood and a nice little niche to place her into one of the captaincy positions.
Firepower In College
In college is where Field demonstrated that she could put the puck into the net. In 149 games with the Eagles, she tallied 52 goals and 86 assists for 138 points; her finest season statistically coming during her sophomore year when she compiled career highs in goals (16), assists (29) and points (45) in all of 37 games. Numbers and performances that led to Field finishing her collegiate career as a whopping plus 83.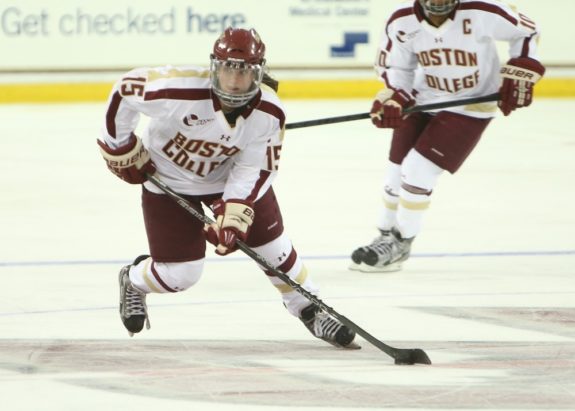 Field's NWHL Numbers
In 33 career regular season games in the NWHL, Field has recorded 7 goals and 6 assists for 13 points. Between the two seasons, Field had almost equal totals – 4 goals and 3 assists in '15-'16, and 3 goals and 3 assists in '16-'17 – despite the fact that it was done in three less regular season games in season two. Speaking towards her work defensively as a forward, Field has scored a shorthanded goal in each  NWHL season. The only other members of the Pride to accomplish the same feat are Decker and Gigi Marvin.
.@Emilyfield15 is ready to make another push for the Isobel Cup with @TheBostonPride in season 3. pic.twitter.com/Hlw3noybNH

— NWHL (@NWHL) May 26, 2017
Emily Field has the capability of filling in the gaps on the roster like a gorilla glue of sorts, and solidifying the team by the combination of her leadership, skill and experience. She is one of the reasons that Boston appears ever capable of vying for a second Isobel Cup title.
General Manager of the Buffalo Beauts (NWHL). Hockey history writer "The Hockey Writers". Credentialed media for the NHL Combine and 2018 IIHF World Junior Championships in Buffalo, NY, USA. Born and raised in Buffalo, NY. Lifelong hockey fan for over 40 years. Proponent of the women's game.