Conor Sheary has been part of two playoff runs for the Pittsburgh Penguins. Both runs have looked very similar for the team, each time seeing the Penguins make it all the way to the Final, but they have looked very different for Sheary himself. Sheary was an indispensable part of the group in the 2016 playoffs, earning four goals and 10 points in his first NHL postseason. His play was impressive enough that he earned not only a permanent place on the roster for the 2016-17 season but also a spot on the Penguins' top line alongside Sidney Crosby.
The 2017 playoffs have looked a little different for Sheary. His underwhelming play, which resulted in injury speculations and only three assists in 15 games, got him cut from the roster for Games 5 and 6 of the series against the Ottawa Senators as a healthy scratch.
From top-liner to healthy scratch is a far way to fall, and when Sheary was called back into the lineup for a do-or-die Game 7, he had the chance to redeem himself.
Motivation for Sheary
"I was upset I wasn't in the lineup," said Sheary after the scratch. "Everyone saw it coming. I'm not playing my best hockey."
This isn't uncharted territory for Sheary. After being scratched in Game 5 of the Conference Final last year against the Tampa Bay Lightning, he came back to score four points in his next five games. He has practice bouncing back. And he showed that on Thursday, returning to the Game 7 lineup with his best performance of the playoffs so far.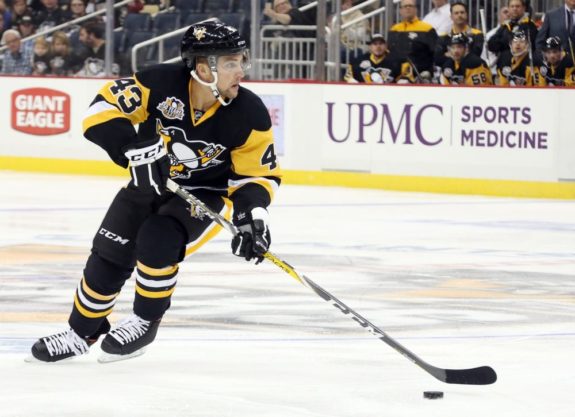 Thursday's game was a success for Sheary in more ways than just getting a point on the board. Sheary also had four shots on goal, at least two of which were extremely good opportunities. He set other players up for several high-danger chances. He tallied an assist and was on the ice for two of the three goals scored, including the final Chris Kunitz tally that ended the second overtime of the game. Sheary also recorded over 20 minutes of ice time. This was much more than other core Penguins forwards, such as Jake Guentzel (13 minutes) and Carl Hagelin (15 minutes).
Future of the Penguins' Lineup
Expect to see Sheary in the lineup for Game 1 of the Stanley Cup Final against the Nashville Predators. One reason why is his convincing performance in Game 7, in which he not only recorded strong high-danger shots and an assist but also sufficiently passed the eye test.
The next reason why has to do with space opening up in the lineup. We're still unsure if we'll be seeing Patric Hornqvist in this next series. His unknown upper-body injury was bad enough to prevent him from playing Game 7 even after he took warmups before the match.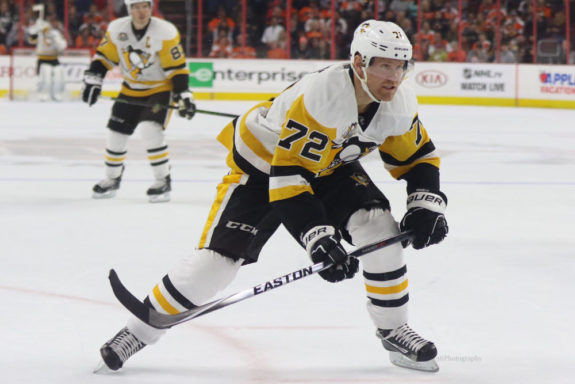 We're also unsure if Guentzel will be showing up at the level he was at the beginning of the playoffs. In the first two rounds, he recorded a whopping 14 points in 12 games; in the series against Ottawa, however, he was relatively quiet, tallying only two points in the seven-game series. Guentzel's ice time has since been reduced, down from about 20 minutes per game during the Blue Jackets series to about 15 per game against the Senators.
If Hornqvist is still unable to return and Guentzel continues to see reduced minutes, there will be places to fit Sheary into the lineup. So expect to see Sheary back in the final series of the 2017 playoffs, and hope that his two games as a healthy scratch continue to motivate him. Sheary says that coach Mike Sullivan told him while he was scratched what areas of his play needed to improve. That's a powerful motivator for a player who, although this is only his second season in the NHL, already has a Stanley Cup ring and experience as Crosby's winger to bolster him.