From May 1-31 NWHL teams can re-sign players from their 2016-17 roster and their draft picks during the restricted free agency period, and beginning on June 1 any unsigned players left will be free to sign with any team. The third season of the NWHL will begin in October as the Buffalo Beauts begin defense of their Isobel Cup championship, and with up to 12 players unable to participate in the league this season due to their selection for Team USA's 2018 Olympic team, this will be the most competitive season yet.
My colleague Nathaniel Oliver will keep THW readers up to date on Buffalo and Boston's signings throughout the summer, while I post updates on Connecticut and New York.
Whale and Rivs Kickoff NWHL Signings
Whale Ink a Trio, Russo Remains a Riv
Pride Ink Their First Three RFAs
Rivs Recap
The @NYRiveters have re-signed captain @strettyit, an All-Star defender who will also be a coach this year for the NJ Colonials U16 team. pic.twitter.com/GAGRq4dlWw

— NWHL (@NWHL) May 25, 2017
The Riveters re-signed their captain on May 25, making Ashley 'Stretch' Johnston the first player to be a part of the organization for all three seasons. Voted to the NWHL All-Star Game by the media last season, Johnston has compiled 11 points (3g-8a) while patrolling the blueline for the Rivs over 35 games. Her dedication to the sport is amazing as she commutes over three hours (each way) to New Jersey for practices and games from Albany, New York.
"I'm proud to say I play in the NWHL," Johnston said in a press release. "The league is really starting to catch fire; I'm looking forward to continuing that effort and supporting the league as it grows. Most importantly though, I'm looking forward to bringing Isobel to New York and New Jersey."
On May 24 the Riveters made a trio of signings, two of which were players elevated from last season's practice squad. The other was a player that joined the team midseason and impressed enough to earn a full-time spot for season three. All three players will be entering their second season as part of the NWHL.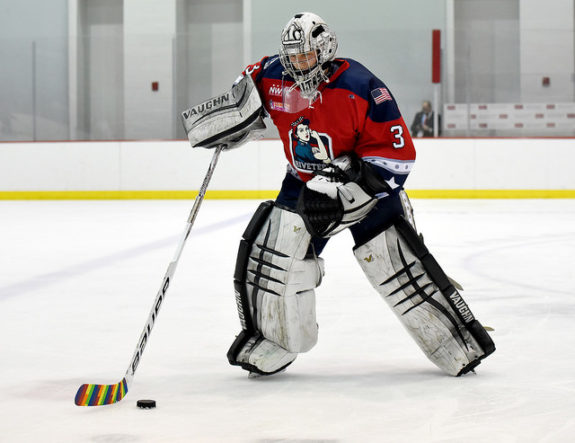 Last season's practice squad goalie Sarah Bryant is now sharing the Rivs net with Katie Fitzgerald. After playing four years at Providence College, 'Bowtie Bryant' only saw limited action in two games last season but was still an integral part of the team that had the largest improvement from season one to season two.
"I'm looking forward to being with the Riveters for another season," Bryant said in a press release. "Although we are still waiting for the announcement of others, I am thrilled to have Fitzy, Tatiana, Russo, Lauren, and Cheeky as teammates."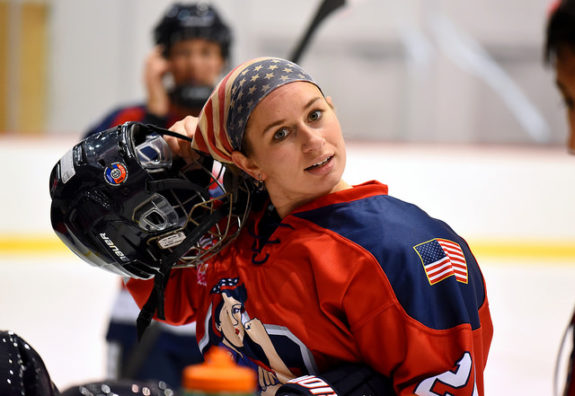 Scoreless in two games as a practice player last season, Julia 'Cheeky' Herr will see an increased role with the Rivs going forward. With 82 points in 90 career games at Trinity College, there's no doubt that Herr can contribute, and her speed will contribute to what could be one of the fastest teams in the league.
"This league provided me with the opportunity to keep playing the sport that has brought so much joy to my life, but most importantly, it provides every little girl out there playing the hope and dream (one that didn't exist when I was playing), that one day if they work really hard, they can play professionally too," said Herr in a press release. "I am incredibly excited, privileged, and honored to have an opportunity to join such a great organization and exceptional group of women for another season."
After joining the Riveters in January, Lauren Wash had three points (1g-2a) over eight games, and now will be able to have a full offseason of training for the league. Wash, like Herr, is fast and also originally from New Jersey. She was teammates with Miye D'Oench as a teenager and Alexa Gruschow in college at RPI, which made for a smooth transition when she was signed last season.
"After playing just the second half of the season, I loved it, but it felt like unfinished business," said Wash in a press release. "I believe we have something special with the Riveters; I'm really excited to be returning to the NWHL and what will be a great team next season."