From May 1-31 NWHL teams can re-sign players from their 2016-17 roster and draft picks during the restricted free agency period and beginning on June 1 any unsigned player will be free to sign with any team. The third season of the NWHL will begin in October as the Buffalo Beauts begin defense of their Isobel Cup championship. With up to 12 players unable to participate in the league this season due to their selection for Team USA's 2018 Olympic team, this will be the most competitive season yet.
My colleague Nathaniel Oliver will keep THW readers up to date on Buffalo and Boston's signings throughout the summer, while I post updates on Connecticut and New York. 
Rivs Recap
The New York Riveters, who finished with the league's second-best record, wasted no time and made the first signing on May 1 bringing back their goaltender Katie Fitzgerald who was selected by NWHL media as Goaltender of the Year last season. She was the first goalie to beat the Boston Pride last season, ending their perfect season in the final week of the regular season and in 15 games overall BrickWallFitzy (as she's known in the Twitterverse) was 7-6-1 with a 3.01 GAA, two shutouts and a .901 save percentage.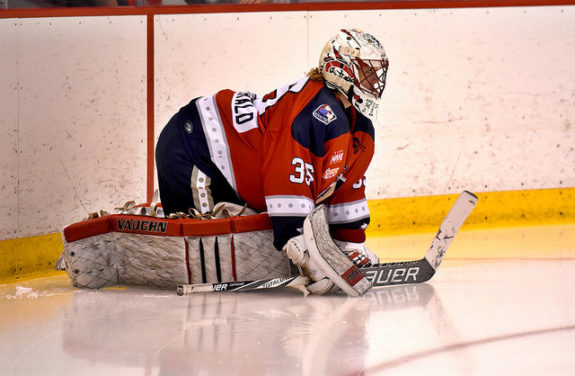 "It was an easy decision for me to come back, and I'm proud to stay a Riveter. The NWHL enables me to continue to pursue my passion, and I've learned so much," Fitzgerald said in a press release. "Hard to believe that I graduated (from St. Cloud State) last May 6, and now I look back at what an incredible year it has been."
Three days later the Riveters re-signed Tatiana Rafter, making her the first player to officially be a part of all three seasons in the NWHL. Over 35 games in the league Rafter has racked up ten points (8g-2a) with Buffalo (17 games) and New York (18 games); she netted her first NWHL hat trick on January 29, and also added a goal in the Rivs' semifinal loss to Buffalo in March.
"I really feel at home with the Riveters and in the NWHL," sad Rafter in a press release. "Coming into next season I feel like there is unfinished business. I fell in love with all of my teammates, so there was never any question in my mind – I was determined to see them again in October and I couldn't be happier to re-sign."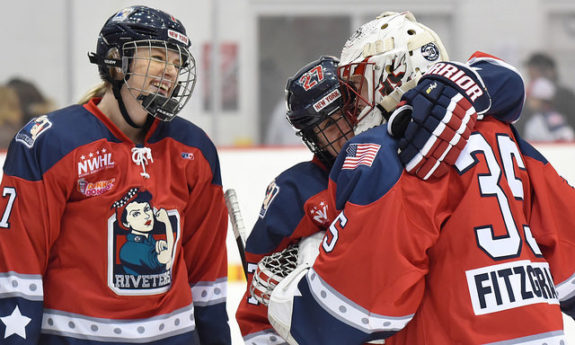 Whale Watch
On May 8 the Connecticut Whale made their first splash when they re-signed Kelly Babstock, bringing back the 24-year-old for a third season. Her 41 career points (19g-22a) in 34 games is tied for the franchise lead (Kelli Stack) and third in NWHL history; with the top two NWHL point-getters in league history (Brianna Decker, Hilary Knight) on Team USA duty it's possible that Babstock could be the league's all-time leader in points by the end of season three.
"It's awesome to be a part of the Whale and to have the opportunity of playing hockey while growing the game with the NWHL," she said in a press release. "I'm very excited about season three. I'd like to see the league get more positive attention. We have so many great players, we give our all — just as much as the men. But we don't get the same support and we need it. Sponsorship, attendance…we all need to do everything we can to see our league grow."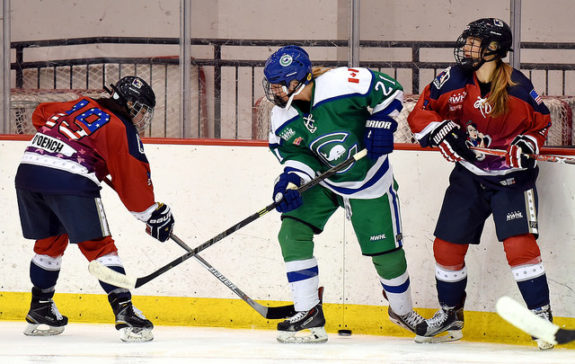 The following day Connecticut matched New York in rostered players when they re-signed blueliner Cydney Roesler. In her rookie season in the NWHL, she played in 17 games, scored seven points (1g-6a) as was one of eight members of the NWHLPA, a role she will reprise next season. The Whale has had three captains over two seasons, and Roesler (a captain her senior season at Quinnipiac University) would be an excellent choice to wear the 'C' next season. She is exactly the type of player, and more importantly person, that can be a steadying and stable influence on her team and role model/face of the league.
"It makes me (feel) very honored that the Whale organization and the NWHL wanted me back," she said in a press release. "To continue playing the game I love and promote women's hockey means a lot to me. I feel like this is going to be a special season for the league, and hopefully for the Whale. The Player's Association is going to be stronger and the communication with the players will be at the highest level. This year is going to be the NWHL's best, in my view."