Tatiana Rafter is a pioneer — a professional hockey player for the Buffalo Beauts in the NWHL. A native of Winnipeg, Manitoba, she has uprooted her life to follow her dream of playing professional hockey on the other side of the continent. Surely the 24-year-old has been through ups and downs, highs and lows since the inaugural NWHL season started in October. Now, with the playoffs rapidly approaching, Rafter has agreed to give The Hockey Writers a small glimpse into her daily world, and will be penning a diary/blog for us.
With the Isobel Cup playoffs now underway, she takes us behind the scenes during Buffalo's recently completed series against the Connecticut Whale in which the two teams played three games in three nights — from March 4-6.
Recap on the Weekend – Beauts and Whale Fight to Advance to the Isobel Cup Final 
This past weekend we faced off against the CT Whale in a best-of-3 series. ? This served as the semi-final, with the winner to advance to the first-ever Isobel Cup Final. A very historic weekend for women's hockey and a very emotional weekend for all the players. We were fighting for a chance to play for the Cup, but also to spend another week with our hockey families. ?
So let's recap the series!
Warmups are underway from Stamford, CT! pic.twitter.com/BE4QBGdyW0

— Buffalo Beauts (@BuffaloBeauts) March 4, 2016
Friday – Game One
The Whale took this game, winning 3-0 with the third goal being an empty netter at the end. Going into this game we all knew it would be an advantage to leave the rink with a 'W' under our belts. Taking the first game of the series alleviates some of the playoff pressure because you've created some cushion if something goes wrong the next night. That is why this loss stung quite a bit, but I think that it helped awaken the realization that if we don't win tomorrow our season is over.
2 hours until the puck drops! Win or go home. #Game2 #FuelTheFire #IsobelCup

📺: https://t.co/Q1iMiu8ksn pic.twitter.com/ZudgguPArO

— Buffalo Beauts (@BuffaloBeauts) March 5, 2016
Saturday – Game Two
Tonight, each of the Beauts played with a bit more fire because of the do-or-die aspect of the game. A large tweak to the game plan was having everyone commit to playing our style of hockey. 'Beauts hockey' means playing with grit, teamwork and never taking our foot on the gas pedal. I heard that an announcer during the game actually said, "Teamwork makes the dream work". Love it!
So what was the outcome?! We came away with the W (winning 4-1) for the first time all season (seven games total) against the Whale! Yeah baby! After Christmas the Beauts have returned as a new squad. We've been working hard in the second half to put some demons to rest. Among the adversity the Beauts have faced this year, defeating the Whale was arguably the biggest demon of them all. The win tonight is a huge moment for the Beauts because each time we have faced CT we have suffered some heartbreaking losses. Each loss being a one goal game or settled in shootout fashion. I cannot tell you how accomplishing it feels for our team to overcome this challenge. There are a lot of good vibes and smiles in the dressing room tonight knowing our season is still alive, well, and breathing.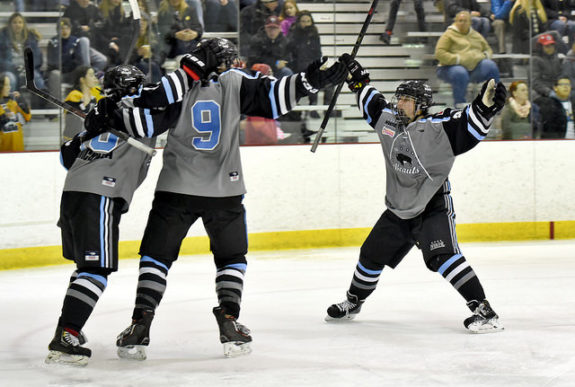 Sunday – Game Three
Beauts Win!!!!!!! Am I allowed to start off saying that? (Haha!). Sorry, I had to because I am so excited to be moving on to the Isobel Cup Final!
I want to talk about playoff hockey for a second. Nights like tonight are textbook proof that playoffs are an entirely new season. We have played Connecticut six times in regular season without recording a win and then the Game 1 loss; to walk away from the best-of-3 victorious with TWO W's shows you that whatever happened in regular season takes a back seat. It comes down to what team makes fewer mistakes, capitalizes on their opportunities and ultimately delivers on game day.
We're all in, together on this journey. The next chapter starts Friday! #IsobelCupFinals https://t.co/R4zF1BhC2f pic.twitter.com/eyA2DTDT0v

— Buffalo Beauts (@BuffaloBeauts) March 9, 2016
The game ended with a score of 4-3 which sends us off to Newark, New Jersey next week in pursuit of the Isobel Cup.?
The Boston Pride defeated the New York Riveters in their semi-final series, so we will be seeing the Pride in NJ.
Friday #IsobelCup pic.twitter.com/ulRCpIxeOU

— Boston Pride (@TheBostonPride) March 7, 2016
There are some people who didn't believe the Beauts would be successful against the Whale this past weekend. There are also some people who don't believe we could take the Cup. I would say to those people that it's easy to pick at the things the Beauts haven't done this season, but I would challenge you take a few steps back and look at what we have done. You'll see that the Beauts have accomplished a lot this season and ultimately turned our team around. We have been informally deemed the underdogs of the NWHL and you know what that's a good place to be right now!
Two days until the #IsobelCup finals begin! Join us in NJ! History will be made.

Tickets: https://t.co/2TcaYTsyUw pic.twitter.com/d5AnGSuFk2

— Boston Pride (@TheBostonPride) March 9, 2016
Don't know about you.. but I'm getting excited for the Isobel Cup Final! Is it Friday Yet!?
Boston, we'll be seein' ya in Jersey ✌?️
To follow my journey, I will be posting updates via Twitter @tatianarafter and my IG @tatsabeaut. 
New fan to the league? Toss @BuffaloBeauts and @NWHL a follow on Twitter!
Tatiana Rafter: My Life as a Pro, Behind the Scenes Part I
Tatiana Rafter: My Life as a Pro, Behind the Scenes Part II
If you have any questions that you would like answered more in-depth, my fan mail address is:
Tatiana Rafter
100 Washington Street
Buffalo, New York 14203
Buffalove always,
#43
***
Can't get enough hockey? Want to talk about it with our writers, and fellow fans? Join The Hockey Writers Group on Facebook today for the best hockey conversations on the web!
Dan Rice is in his 9th year of reporting for THW & has covered NJ Devils home games for 15+ years at various websites. He began his journey working for legendary broadcaster/writer Stan Fischler from 2002-04 & completed an internship at the ECHL; he also has been writing features for the NWHL (nwhl.zone) website since 2016.